I'm pretty bummed I didn't end up getting a photo of our cruise dinner waitress, Galina from Bulgaria…. She was all kinds of awesome.
Our first night on the cruise (Sunday) our waitress was this intense Thai girl named something like Trixie. I don't remember. She seemed to be rushing us and not really paying attention. Luckily for us, she started out the night saying that she was temporary and our normal server would be back tomorrow.
Thank goodness.
Our assistant server – Marian but spelled differently – was adorable and sweet and I just wanted to take her home with me!
Marian is from Serbia and she had a great accent and was young and blonde and genuinely interested in us. Throughout the week she would ask us about our day as she brought us drinks or cleared our plates. We found out at the end of the week that she is up for a promotion – which is great for her because she totally deserves it

Our main server – Galina – was …. very professional. Very no nonsense. And very generous. My guess is mid-late-30s, short brown hair, Bulgarian.
The first night we had her, I ordered my dessert and she just looked at me …. and said, "No. Pick again." hahah!
Who DOES that?

She proceeded to tell me how "boring" the dessert I chose was and how I really wanted something else (perfectly nice and kind of teasing about it). So. …. OK. You've got to trust your waitress, right? I ordered something else.
She ended up bringing me both. …. Just so I could see/taste what I had originally ordered.
And of course she was right

Every night Galina would give us her recommendations – at least 1 from each course – and if we didn't order it she'd bring it to us anyway.
One night, Katie and Julie skipped the formal dinner so it was just Andrew and I …. Once we got to desserts, we each ordered…. and then Galina ended up bringing us 4 or so MORE desserts! The sugar-wreckage strewn about the table was incredible

The servers are always a fun part of your cruise …. Having the same person (or team) every night really makes the "formal" dining room less formal and more inviting.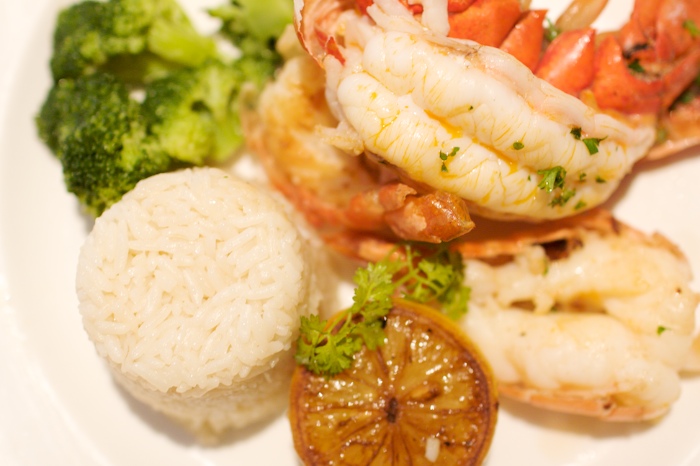 (I can't believe I didn't get a photo of them!)