For those of you just joining us, I have been chronicling Andrew's and my week in Italy …. Rome, Florence for a wedding, and then Rome again. ….   It was magic.
Our last morning in Florence (Thursday) we made time to visit the Basilica of Santa Croce (note: this is post 1 of 2 about the church).
This church was huge and ornate and so interesting. Granted, there are churches/basilicas EVERYWHERE in Italy. Everywhere. On every corner, in every nook.
But this was one of the bigger ones ….
The front – faces a a big empty square :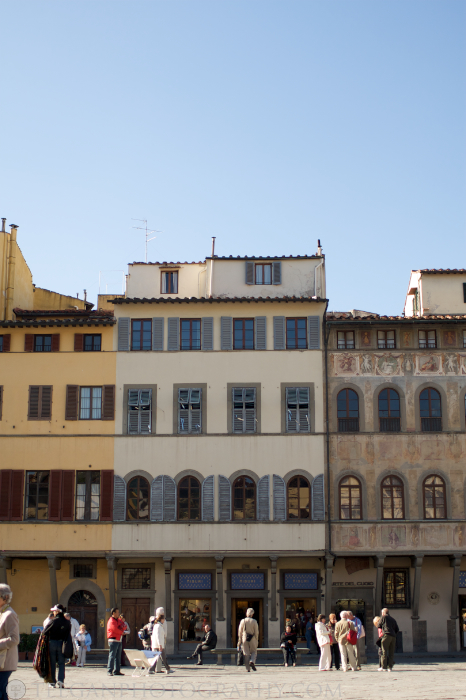 (the tickets were pretty neat:)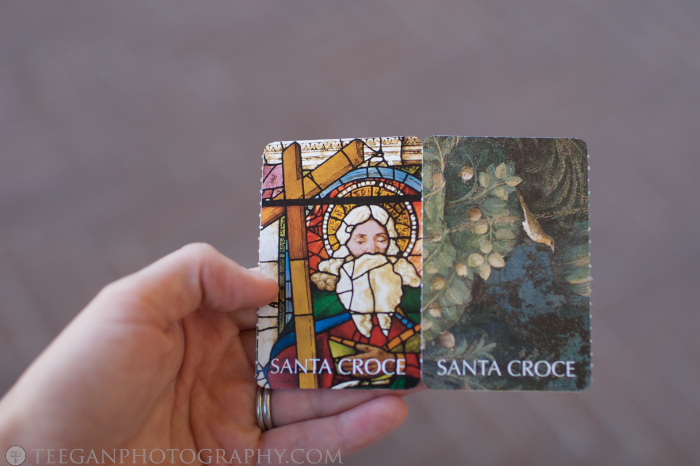 You pay for your tickets and enter the building from a side entrance …I'm sad for Miranda that she didn't get a chance to go in … because it was …. overwhelming. Before we even left for Italy, I decided I really wanted to come to this church (if we had time) because of how many amazing people from history who are buried or memorialized here (like at Westmister Abbey in London). Soo so interesting.
From Rick Steves:
This 14th-century Franciscan church, decorated with centuries of precious art, holds the tombs of great Florentines. The loud, 19th-century Victorian Gothic facade faces a huge square ringed with tempting shops and littered with tired tourists. Escape into the church and admire its sheer height and spaciousness.
Seriously, so many tombs. So very many. And a bunch were even under scaffolding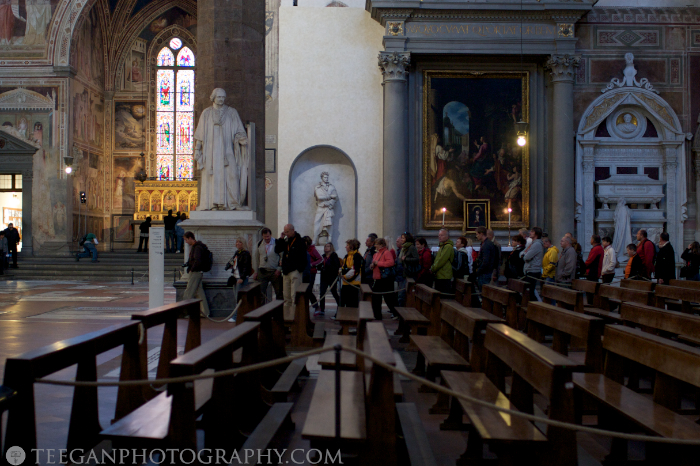 This is going to sound terrible – but I've already forgotten what many of these tombs/memorials are for. I knew when I was there – and I tried to take the photos that would help me remember. … but – in the image below for example – I can't read what the tomb says, can you?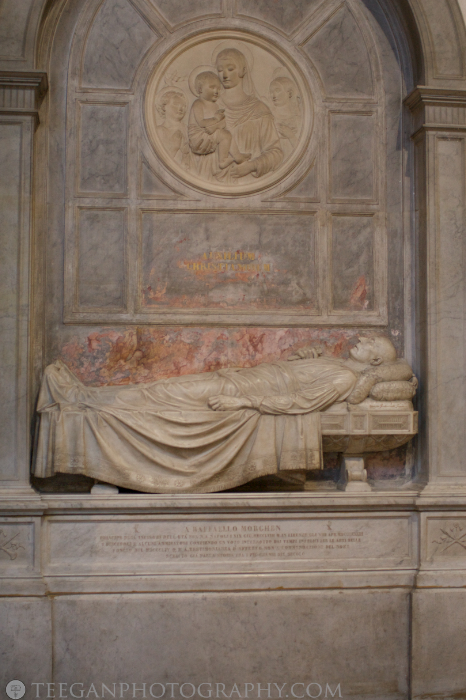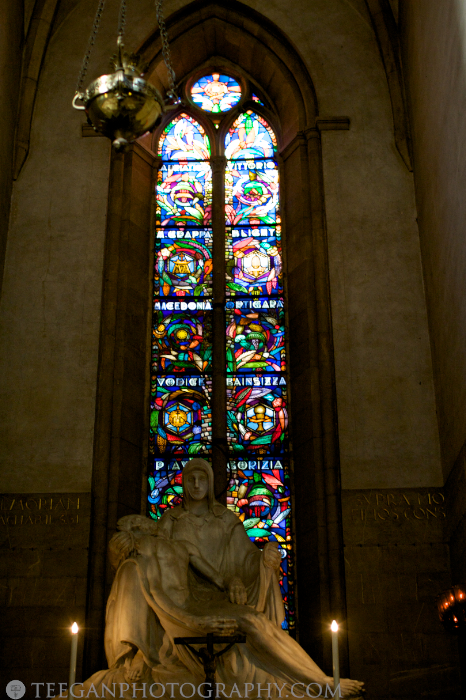 Image below, there was a private service going on in one of the smaller chapels. I love that. I love that these huge, historic, touristy churches are still actually used as places of worship.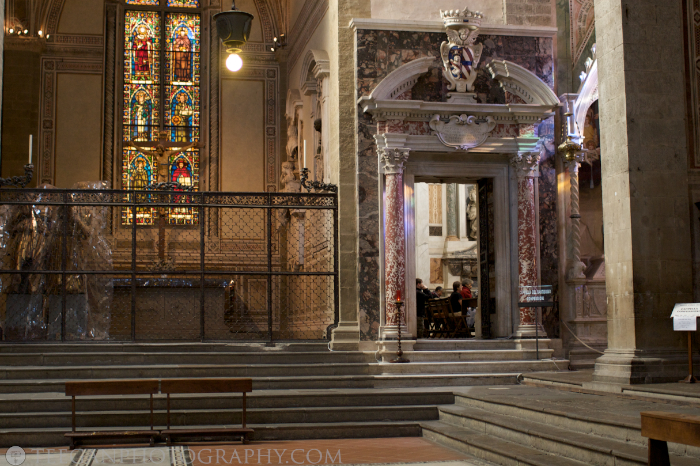 (image below looks back towards the main entrance)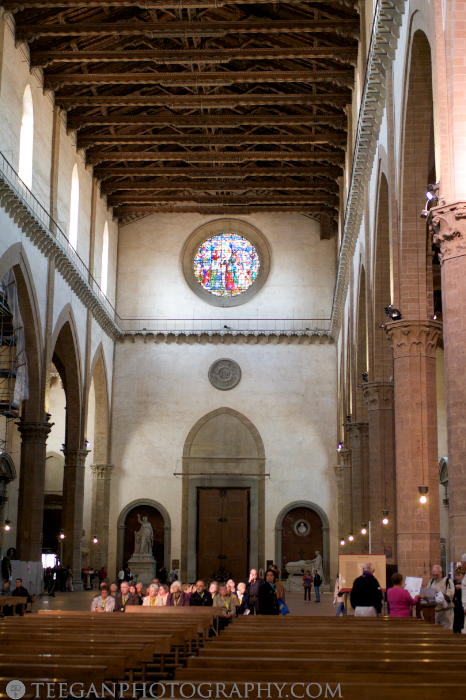 (see? scaffolding)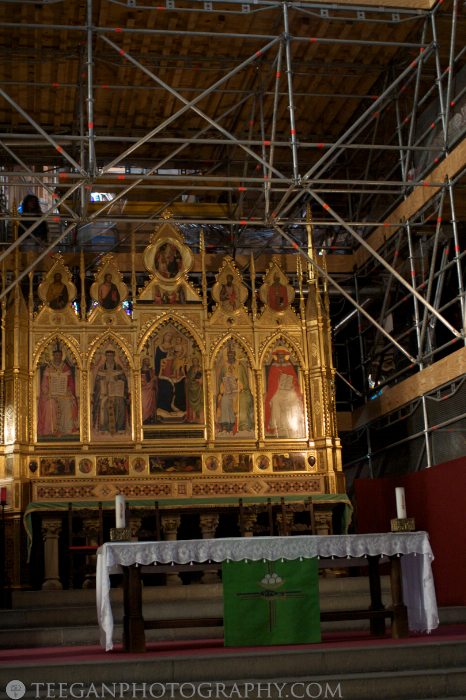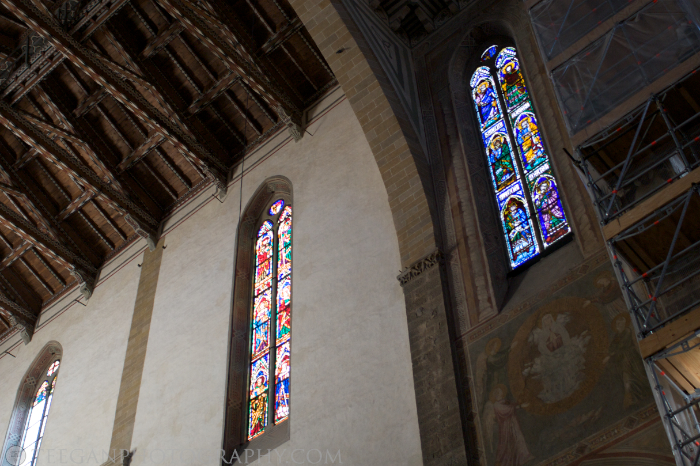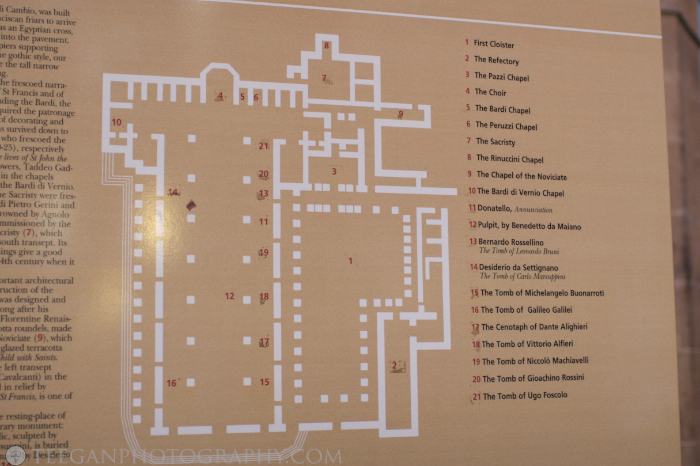 (look at the intricacy of those stained glass windows)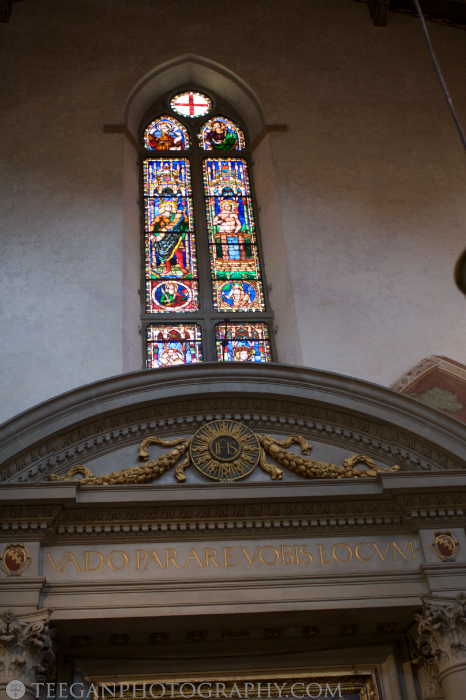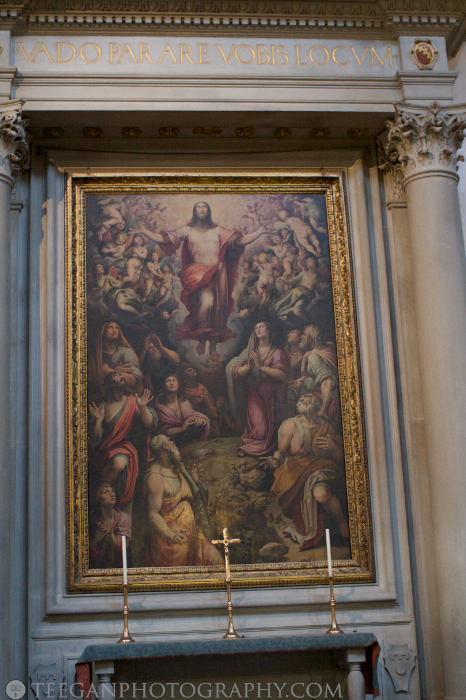 (the tomb below was roped off : the carving made the floor uneven.)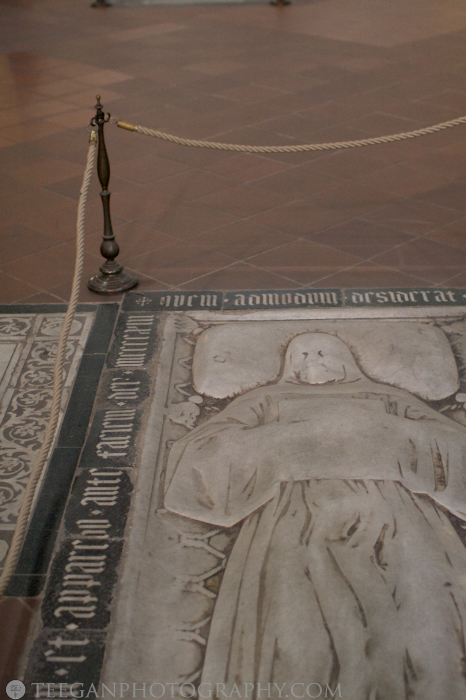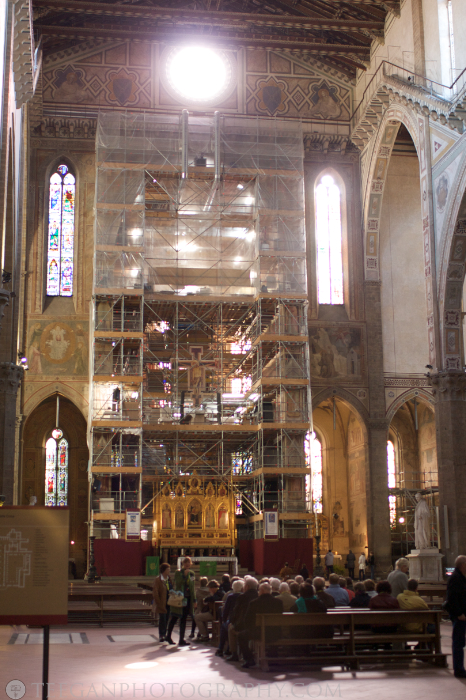 (roof)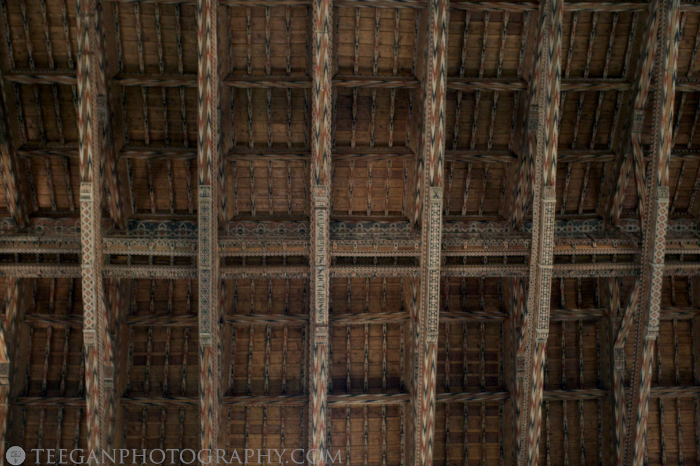 Below is (I'm pretty sure) the tomb of Galileo Galilei: Being condemned as a heretic in life, his remains were only allowed to return to the church long after his death.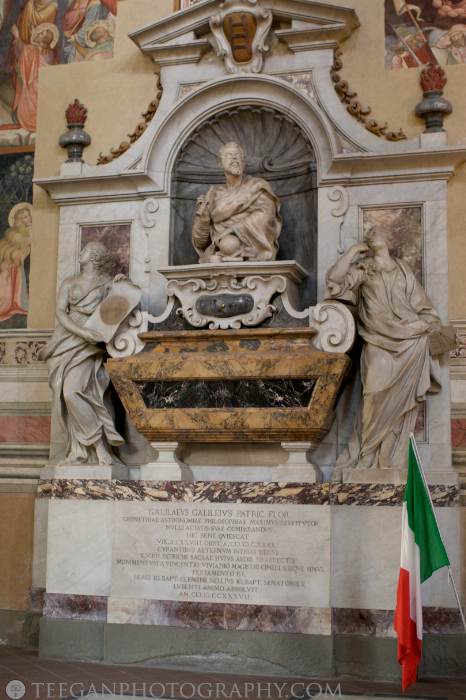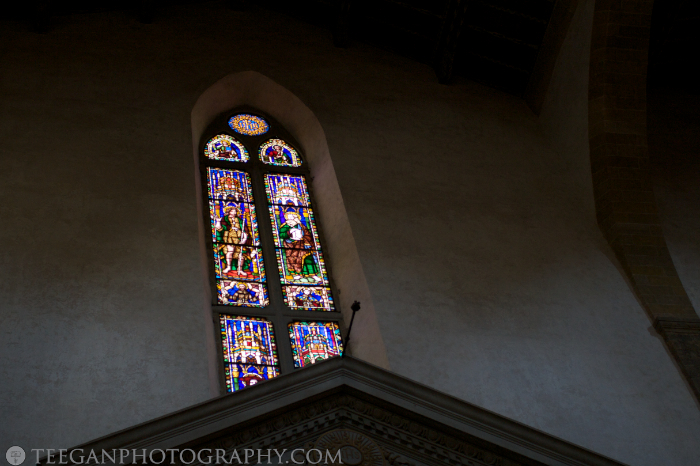 This image below, we weren't entirely sure what had happened …. look at the image on the wall. Either that top part had been removed, and they had drawn in where it used to be …. or the top part was covered up, and it's in the process of being restored. Unclear.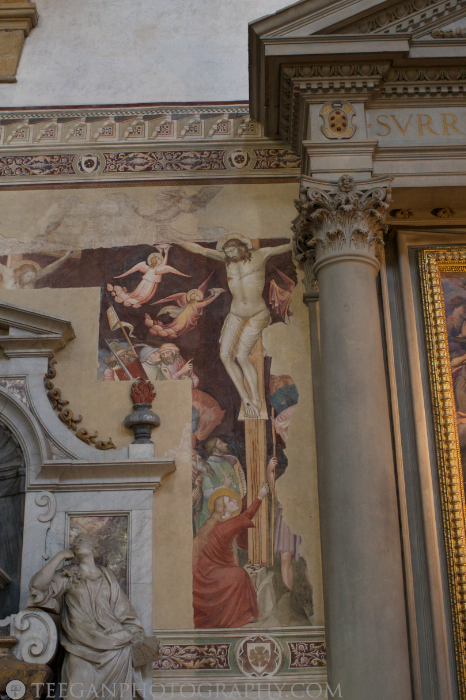 Come back Thursday for the 2nd half of Santa Croce. Friday will be the leather school adjacent to the church.