You all know I love guided tours. I love them. LOVE THEM. So when we found ourselves Sunday night with no definite plans for the next day I thought, "TOUR!" The Stanley Hotel – well known from inspiring The Shining and appearing in several ghost hunting shows – is in Estes Park. The hotel offers various ghost-hunting, history, fire engine and other tour options. The Stanley Hotel tour that we were able to book was just the first one listed : The Stanley Tour. Larger group, good overview, and LOTS of availability. We went online Sunday night and booked for 11a Monday morning.
We woke up, left Kevin at home (he claimed he was going to write, but who knows), drove to Estes Park. When we pulled into the parking lot we had to give the security guard our confirmation number that we actually had tour tickets before being allowed to park. Slightly weird, considering it is a hotel with a restaurant that you would think they want guests to visit.
The Stanley Hotel is kind of amazing …. I think I love it.
Learned recently that Kristen Schaal got married there and I am so jealous. Seems like a perfect blend of outdoors and historic mansion-ish.
It opened in 1909 … so not terribly old (not like Europe, or even New England) but old enough for the West. And old enough to have ghosts and all kinds of stories …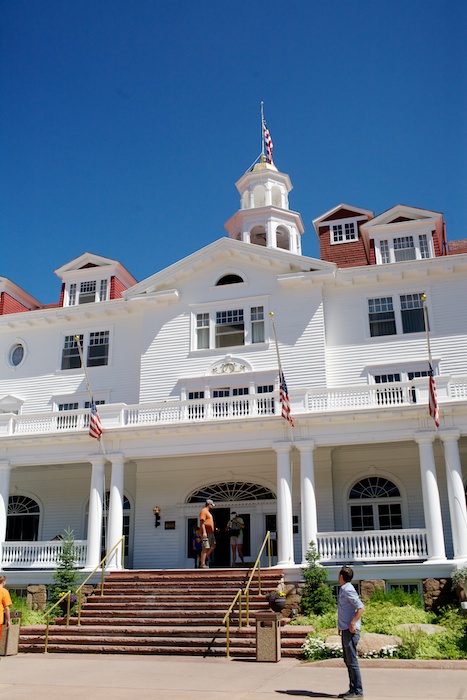 While I would like to use this space to recount the hotel's history and details … you should probably just read the Wikipedia article if you care.
First step was to FIND the tour. It's in the basement, in case you're wondering. There's a whole room set up with a welcome desk-area near the door (where we checked in and got our tickets printed and our we're-on-the-tour stickers) and then the rest of the room has rows of chairs and a TV screen.
Because it's a working hotel, our tour did not include actually entering any of the guest rooms – instead they have produced a short, 5 min video that gives you a little tour of the (haunted) guest rooms. Just so you can see the inside.
Our tour guide was this cute actor kid named Ryan. This is why I love guided tours – the guides are inevitably former or aspiring actors. I love actors

Ryan is apparently a college student in Chicago, but has come to work at the Stanley for the last few summers.
Our first stop was the auditorium … a building separate from the main hotel, so we had a little bit of a walk.
This auditorium is, I believe, a one-third replica of the Boston Philharmonic's music hall (the Stanleys were from Boston). And Mrs. Stanley loved to play the piano so her ghost is rumored to hang out around here. Of course.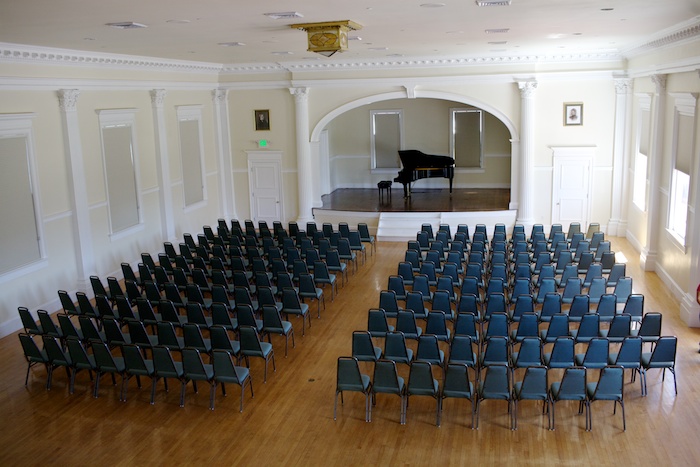 Ryan was kind of great in that he pointed out the places where ghosts are rumored to have been seen, and then suggested we take multiple photos of the same spot so we can compare images for anomalies. Brilliant – catering to that kind of tourism

Obviously Andrew and I did just that.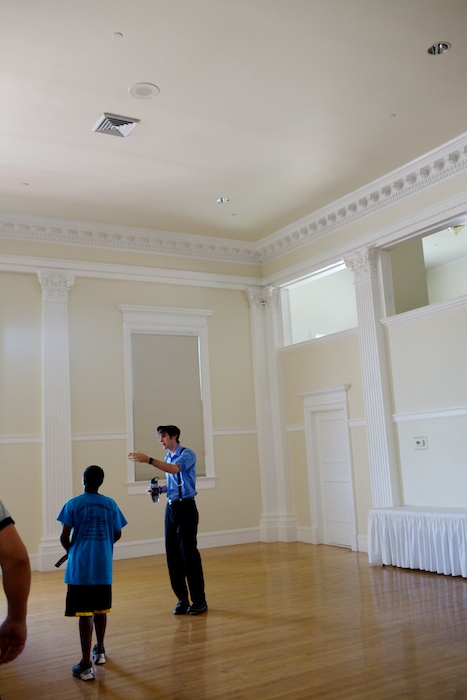 This room is below the auditorium …. It originally had a bar and a bowling alley for the men to … I don't know. Hang out in? I'm not totally clear on when/why this room was used.
Now, though, it's a piano graveyard. People hear that Mrs. Stanley loved pianos so they donate their vintage, period pianos to the Stanley. But Mrs. Stanley loved HER OWN pianos …. and these strangers' pianos don't really have a home anywhere. They live here under the auditorium (where, btw, I think they might have wedding receptions. We definitely saw a couple getting the tour while we were there).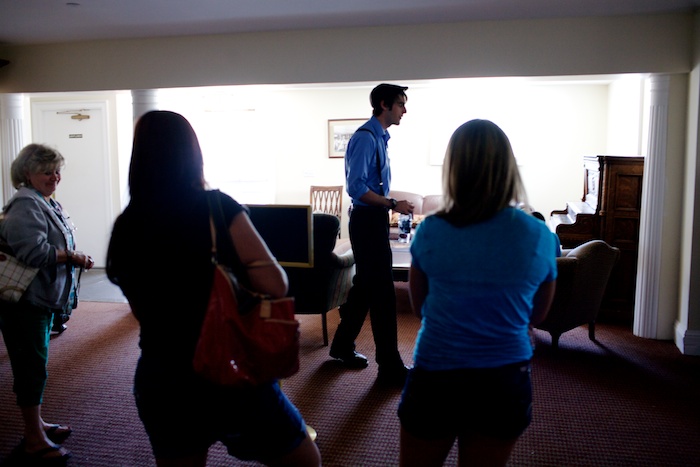 Next, past the main building to the outbuildings on the other side.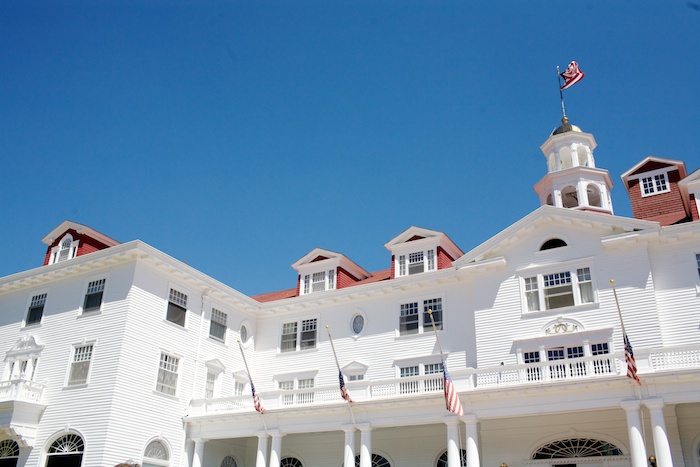 That little balcony in the middle of the second floor (it's also on the far left of the photo above) … ? That's where Stephen King stayed when he got the inspiration for The Shining. The Presidential Suite (at that time). And it must have been some hell of an inspiration – the book was written, edited and on shelves 6 months later.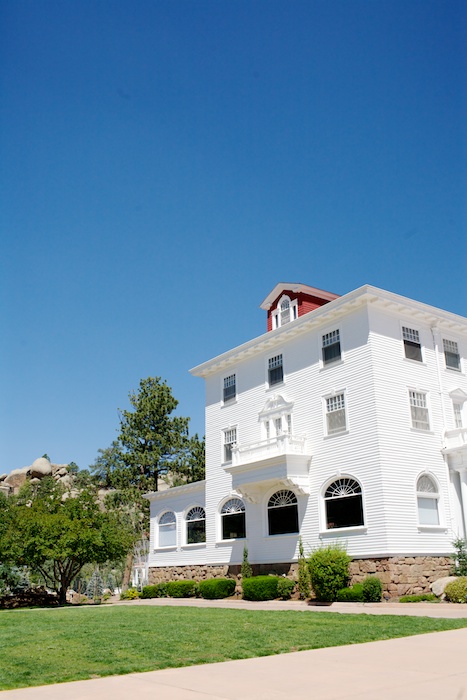 F.O. Stanley and his brother made their fortunes in the photography (tech) business … but then, later in life, they got bored? We'll call it inspired. And they started another company – Stanley Motor Carriage Company.
The Stanley Hotel has this small Stanley Steamer 'museum' that was part of the tour. This is why I love guided tours. I wouldn't have even known to LOOK for this building otherwise, and without the guide I would only have a vague idea what I was looking at.
Sidenote: also on this side of the property is the pet cemetery that began way way at the beginning of the hotel's being open. Dating back from the days when their guests were friends from back east coming for the summer. And bringing their pets. Apparently, this pet cemetery doesn't have anything to do with Stephen King's Pet Sematary … but you never know.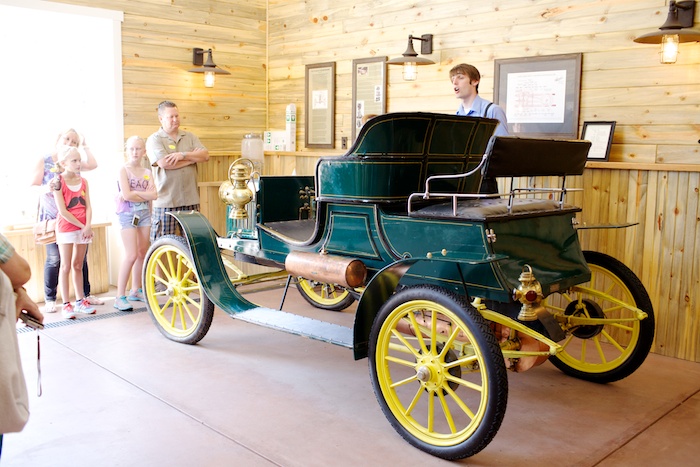 then back to the front, main entrance of the hotel to tour the inside …. check out that view: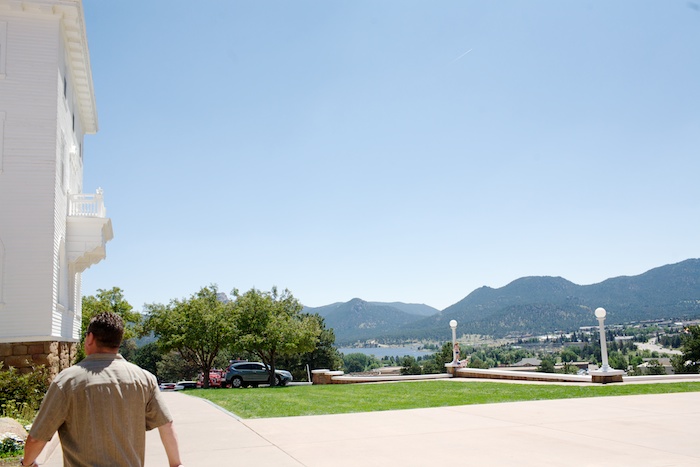 First stop INSIDE the main hotel was the music room ….
Again, the piano is said to be haunted by Mrs. Stanley's ghost. So don't go past that velvet rope.
We also learned a bit more about Stephen King's stay, how the hotel inspired the book, and all about why the Stanley Kubrick film wasn't made there. Fascinating. I had no idea any of this stuff ….
And then, Ryan took us to the landing in the main stairwell.
This is where he told us about the rooms and the ghosts and what to look for and a bit of the history of this part of the hotel. Again, because it is a working hotel, he couldn't really stand out in front of some poor person's hotel room and yell to 20 people about the room, so instead he gave us the low down right here…
tomorrow … the rest of the tour …