Continuing on our drive up the mountain, taking Trail Ridge Road across Rocky Mountain National Park…. We turned a curve and saw a small handful of cars stopped along the road. Usually when that happens it would be because there was wildlife of some kind – deer or elk or even just a marmot, so visitors would hang out of their car window to take photos.
But, as we turned the curve of the road, I didn't see any reason there would be cars stopped.
Turns out I was just looking in the wrong place.
This group of elk were RIGHT by the road. As in 15′ feet away from the road. As in, the lip of the road hid them because they were so close to it.
CRAZY AWESOME!
Obviously Andrew pulled off the road a little bit ahead of where all the other cars were and we crossed the (little 2-lane) highway to get a bit of a closer look: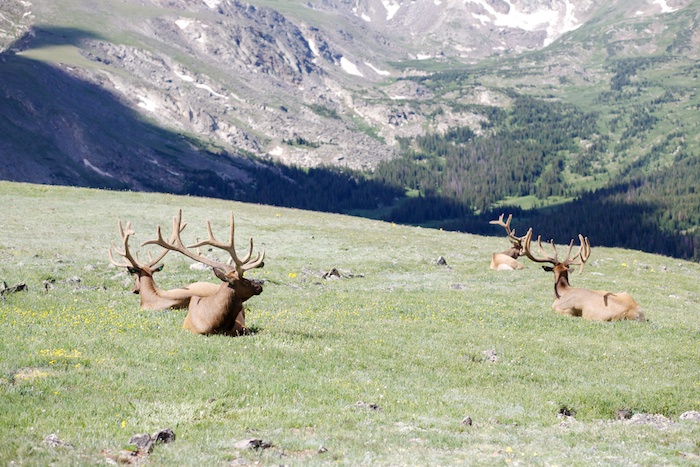 Look at that. LOOK HOW CLOSE THEY WERE.
SO gorgeous! Just calmly scratching their backs with their antlers and ignoring us (and the other 20+ people who were stopping too).
After just a few minutes, we started walking back to the car. No need to be part of spooking any wild elk. Right as we were leaving, a ranger pulled up. We saw him make everyone else scatter. Not surprising, considering how close these elk were to the road. I can't imagine the park wants visitors to mess with them.
Not too much farther up Trail Ridge Road was the peak elevation (12,183 feet ! ), and then just on the downhill side was the Alpine Visitor Center – where we stopped for bathroom, water and my National Parks Passport stamp!
The boys were itching for a real hike, and we noticed a trailhead just across the road from the Visitor Center parking lot. Hiking!! Crossed and started walking through the tundra …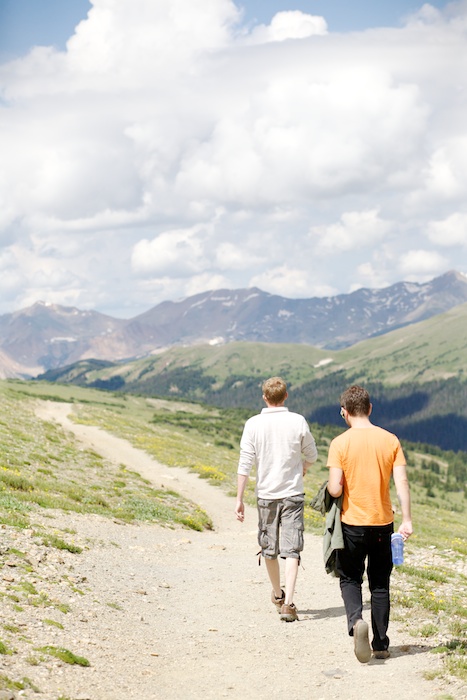 But, first let's stop for some photos (thanks Kevin!) …. Andrew and I need current photos of us on all our adventures. OBVIOUSLY.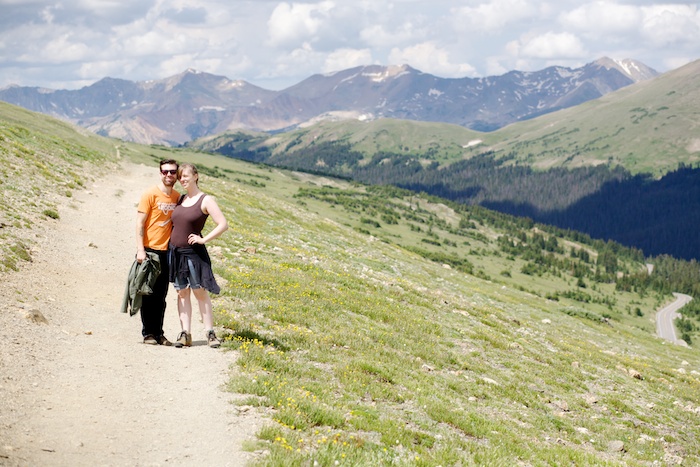 But, then, we walked a little farther and realized we didn't want to hike THIS trail. First of all, since it's in the tundra, you could see it for yards and yards and yards. No trees, no corners, no mystery.
But second, we were all feeling the elevation by then. Headaches galore.
Back in the car to drive back down the mountain.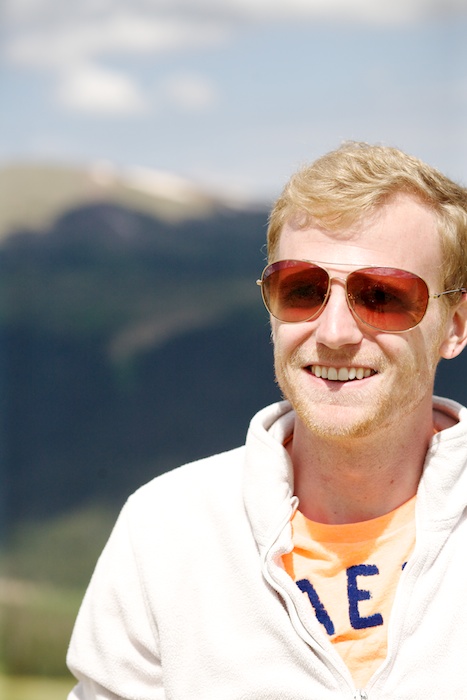 Rocky Mountain National Park is gorgeous. Period. Anywhere you look. Even the busy, crowded parts are popular for a reason.
Andrew drove us down back through the treeline, past a few overlooks, all through trees and loveliness.
About halfway down, we found another trailhead – I believe this is at Lake Irene – and got out for a proper hike.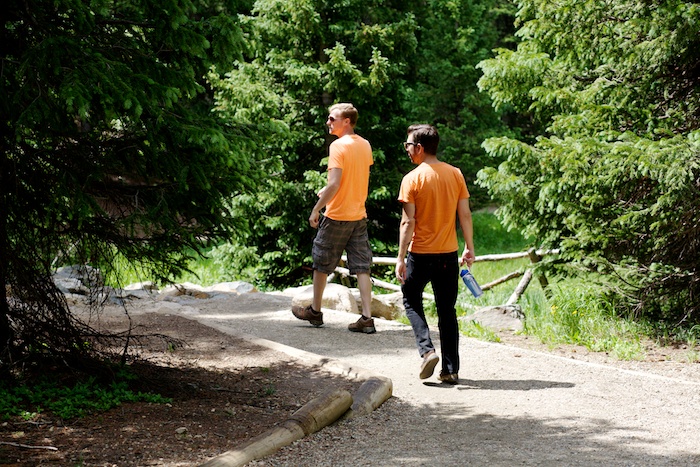 This was a super easy hike, almost all level, mostly shaded, and obviously beautiful. It's just a small loop, and it maybe took us 30 minutes or so.
We were all still feeling a little bit of the effects of elevation, but overall this hike was fantastic.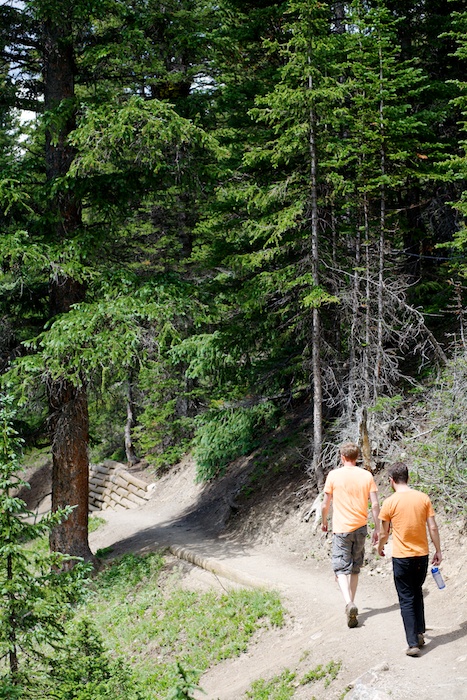 (I kind of love that the boys both wore orange shirts this day)
Then back in the car down the mountain. …  I don't know if we were all just hungry for lunch or just didn't see any likely spots, but we basically drove the entire rest of Trail Ridge Road without stopping again.
We drove past this far western section of the park – Kawuneeche Valley – that was supposed to be the best place to see moose … but alas. None. It was starting to rain a little when we got there too.
(Notice all the dead trees from Mountain Pine Beetle)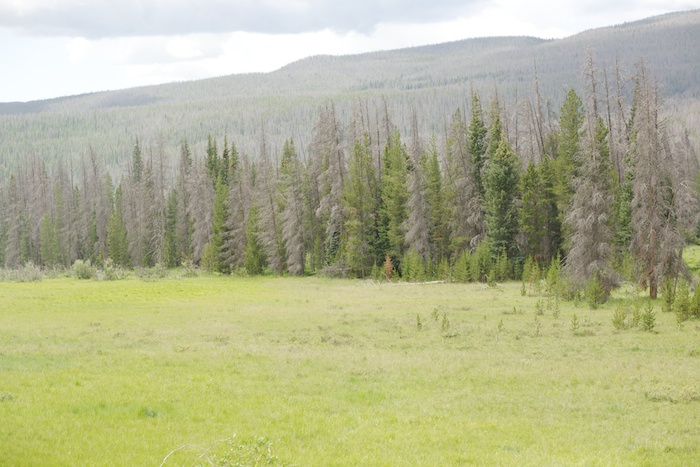 And then all of a sudden we found ourselves exiting the park! That's it. We were done. We drove through the entire park. Our choices were to drive that same road back through the park, to another section of the park or to Estes Park and home …. But between elevation headaches, car sickness, and just wanting to see something new, we decided to press on.
Lunch in Grand Lake, then using our iPhones to figure out how to get home through a part of the state Kevin had not yet had a reason to visit.
(spoiler: it was gorgeous)
Tomorrow: Our afternoon drive home through Colorado in the rain. It was actually pretty awesome