Wednesday morning we woke up in my brother's guest room.
His apartment is actually a converted basement. The house he lives in has 1 rental unit as the main level of the house, and then Kevin's rental unit is below. It's 2 bedrooms, with his own private access through the 2-car garage down stairs to his living room.
So because it's the basement, all the windows are kind of small and high up, so we were able to sleep in without a ton of morning light. Kind of the best set up for a guest room.
Since I quit my day job, I've been waking up early early early and having a couple hours to myself to work, and our trip to Colorado was no different. This first morning I woke up around 8a and no one else showed their face for hours.
But since it was vacation, I just read a novel instead of work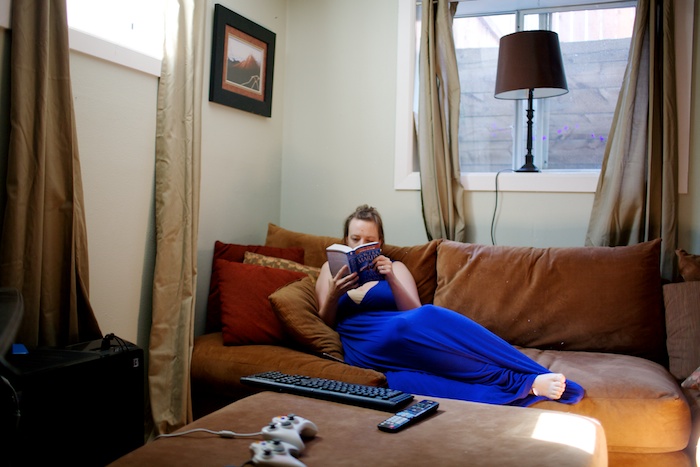 Figured out Kevin's coffee pot by myself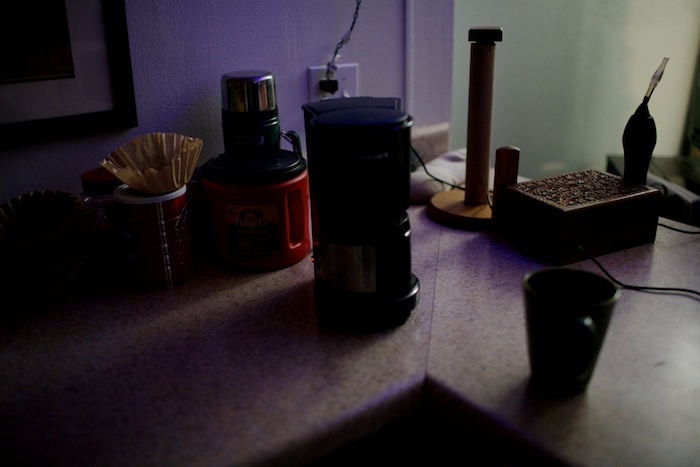 Kevin got up around 10a or so …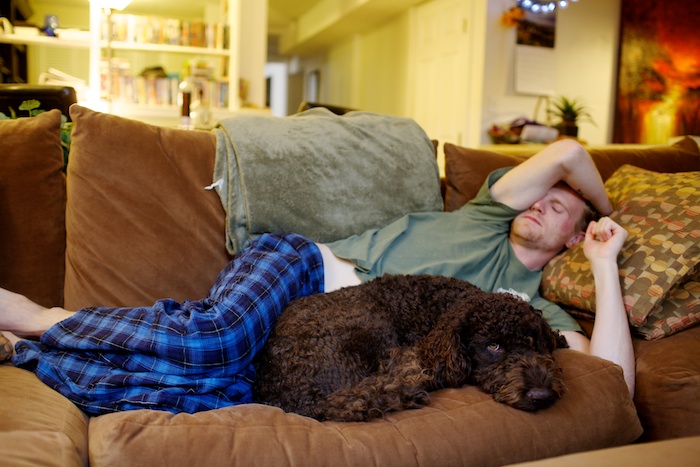 Because Kevin's apartment is built in the basement, the dimensions of all the rooms are a *little* awkward. The kitchen and the living room are both really long and narrow. The bathroom is ENORMOUS. Bigger than the bedrooms, I think.
But he has a washer and dryer, which I'm sure is nice for him.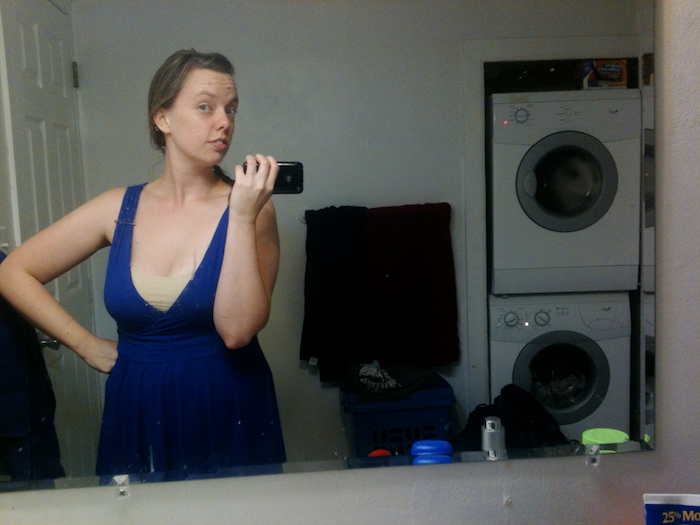 But, for whatever reason, the shower and toilet are on this ….. stage? Platform? What would you call it?
You all should go visit Kevin just to experience sitting on a throne-like toilet. Bizarre!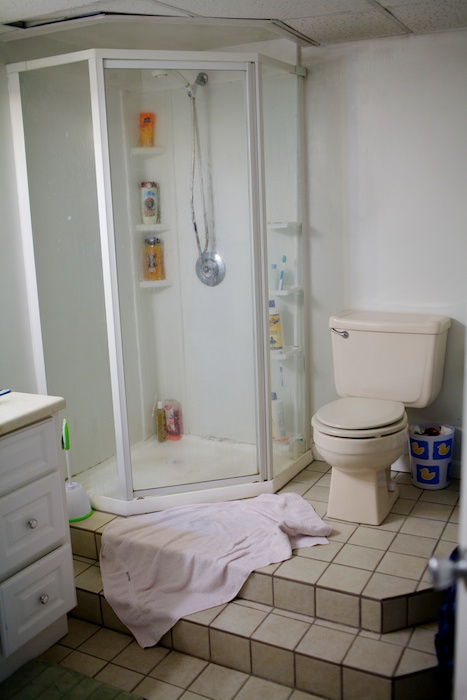 ….and I finally went to wake up Andrew around noon. I'm telling you, it was DARK in that room!
lunch, watching a show, letting Andrew wake up.
It's nice to ease into your vacation. I love spending trips GOING, with lots of plans and seeing all the things and all. But Andrew likes downtime.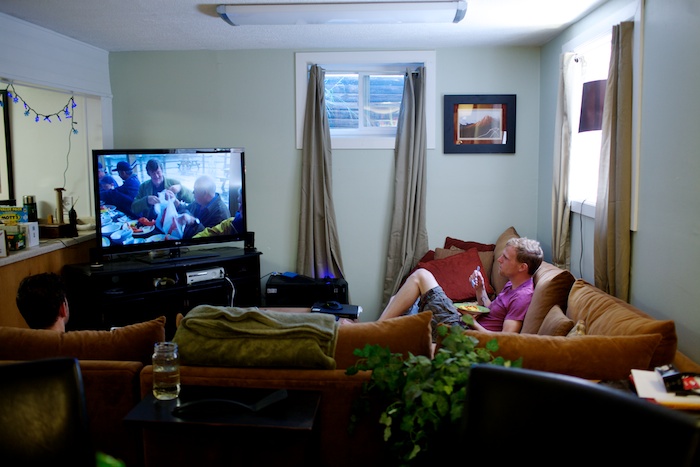 The only definite plans we had were to go over to Kevin's girlfriend's house for dinner, but until then … you know. Whatever.
So Kevin showed us Boulder! We drove by his school and he told us about going to school there and the town a little bit.
We drove up Flagstaff road, which took us up into the mountains above Boulder.
Boulder is on the eastern side of the Rocky Mountains, so looking over the city you can just see straight east to the Great Plains and the middle of the country with little to no obstruction.
Kevin goes hiking all the time – you can't NOT if you live in Boulder – so he showed us a couple spots.
Muppet is a sweet dog and pretty good off the leash, so it was fun to go with her ….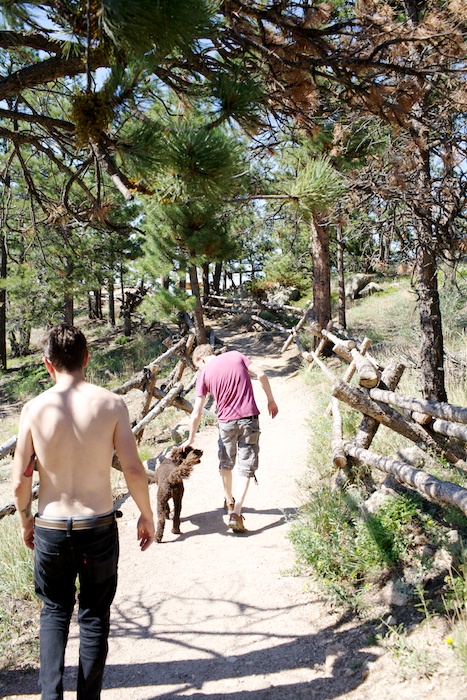 This was really just a short little walk off the road!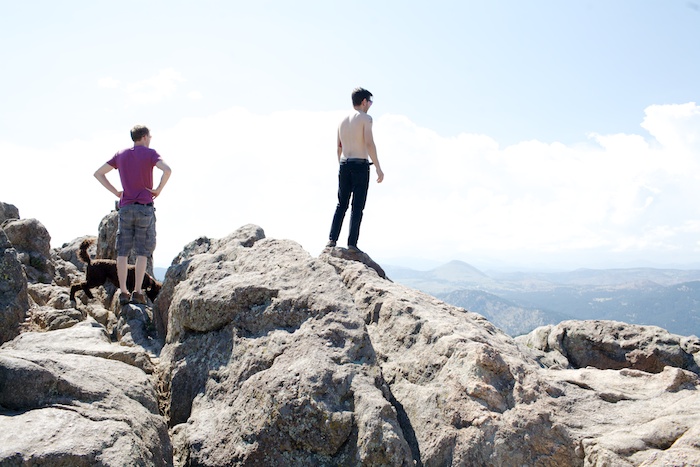 So lovely. God bless America.
Next: We went on a longer hike in these mountains that you'll love.