On our second day in Colorado, we spent the whole morning in Rocky Mountain National Park (part 1 and part 2). We drove Trail Ridge Road all the way through the park, where it finally dropped us off on the south-west side of the park in Grand Lake, Colorado.
Just in time for lunch.
We had recommendations for a couple restaurants (thanks to the guidebooks), but couldn't find what we were looking for. So we ended up eating at this right-on-the-main-strip, just-ok restaurant. Burgers for all of us, beer for the boys.
Leaving Grand Lake it started to rain …. and then a little south of town it started to POUR. Full on torrential pour so that all the bugs from our 1000-mile drive were washed off the windshield.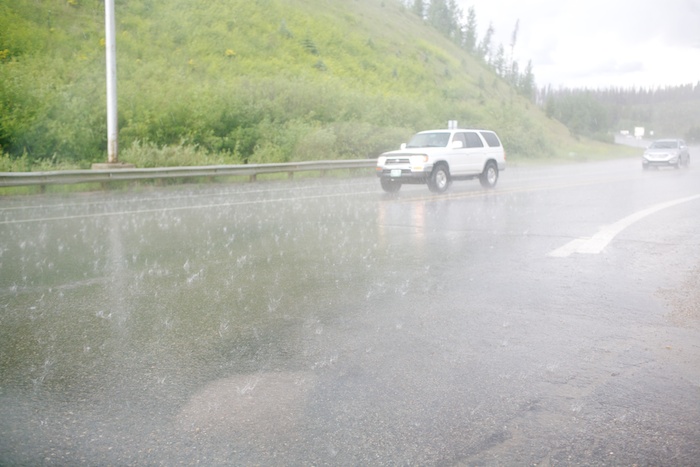 The first part of our drive through Colorado was just straight south, and we drove alongside Lake Granby. Right near what I'm pretty sure was Rainbow Bay there was just a small dirt turnout with a practically invisible trail down through wild flowers to the water.
With the Rocky Mountains in the distance.
And thick dark rain clouds all around.
It was gorgeous
As you can clearly see ….
About halfway to the water, looking back up the hill to the road: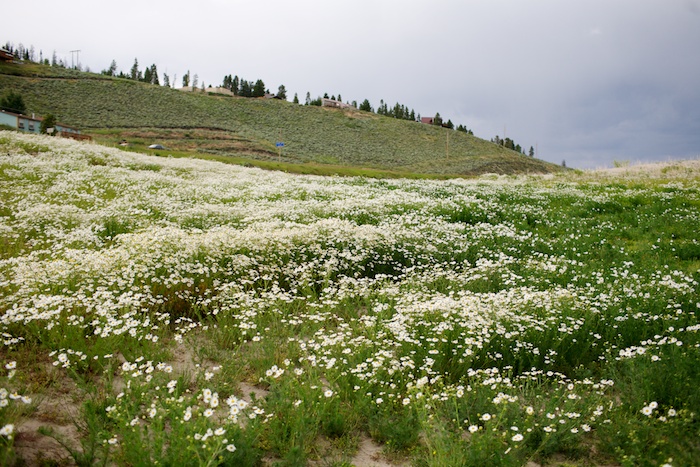 It probably wasn't real easy to skip rocks on such choppy water. The rain/storm/wind made it a bit chilly. But, again, it was gorgeous and I brought a jacket so who cares about a little wind.
You can see over the mountains in the distance where it was still raining …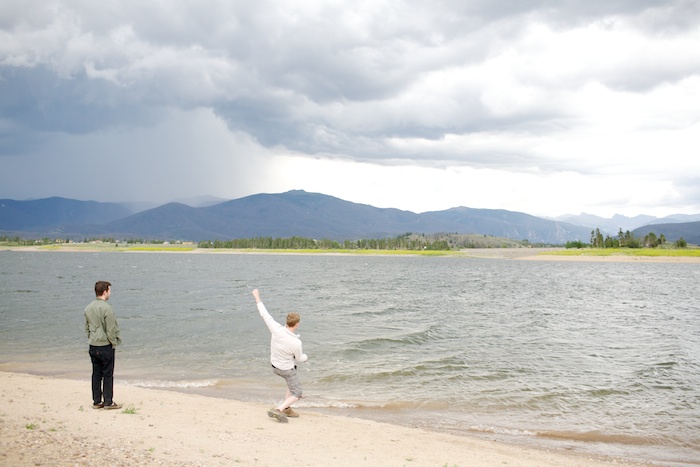 After leaving Lake Granby we just had a LONG drive ahead of us. … .I wish I could have taken more photos, but from the car and with the rainy weather you wouldn't have really been able to appreciate how gorgeous it was. It got down to maybe 60 degrees or so as we wound through these mountain roads, tall pine trees on either side.
Kevin kept making note of campgrounds (Robber's Roost) or trail heads to come back to because he had never been to that part of the state before.
34 highway south to the 40, down further south past towns called "Winter Park", through Arapaho National Forest…. all the way to the 70. Which we then took east, and then north again on the 36 to Boulder. Totally a long big circle around, but it was really our only option other than going the exact same road back through Rocky Mountain National Park.
It rained off and on through the whole trip, and once we got closer to the 70 we stopped for coffee which was just about the perfect treat for that point during the day.
We got back to Kevin's apartment in Boulder around 5 or 6p or so …where I made sausage lentil soup! It's a recipe I've made so many times I know it by heart. Kevin had homemade chicken stock, so I just told him the rest of the ingredients to get at the store and we had delicious homemade soup.
For a couple days, even.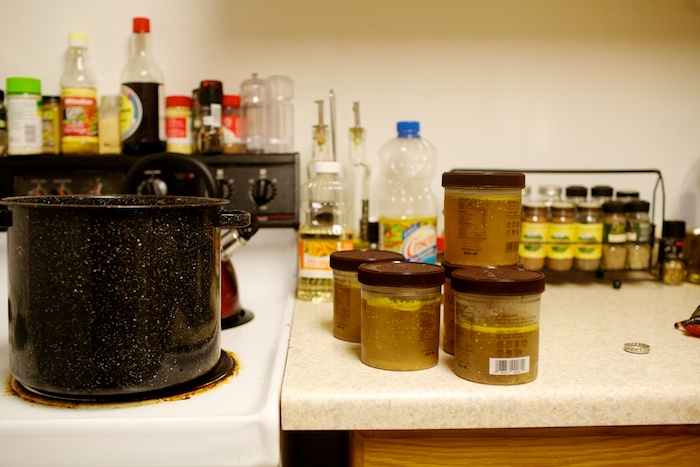 (Kevin helped chop)
Sam came over later that night (brought Muppet back home) and we just relaxed, drank beer and watched movies all night. LONG drive during the day, relaxing night at home.