Thursday we visited Rocky Mountain National Park – Andrew's first time ever, and my first time in at least 20 years!!
I love National Parks! Not *quite* as much as my friend Kam* does, but we definitely want to visit all of them and I've got the National Parks Passport and all!
Kevin's apartment is about 45 minutes away from the Estes Park entrance, so we decided to leave early-ish so we could get in a full day at the park. Since all our plans for the week in Colorado were tentative, I wasn't sure if we would be coming back at all.
Left Boulder ~8:45a or so and got through the gates of Rocky Mountain National Park at about 9:30a. $20 for a 7-day pass (deal) so we could easily come back later.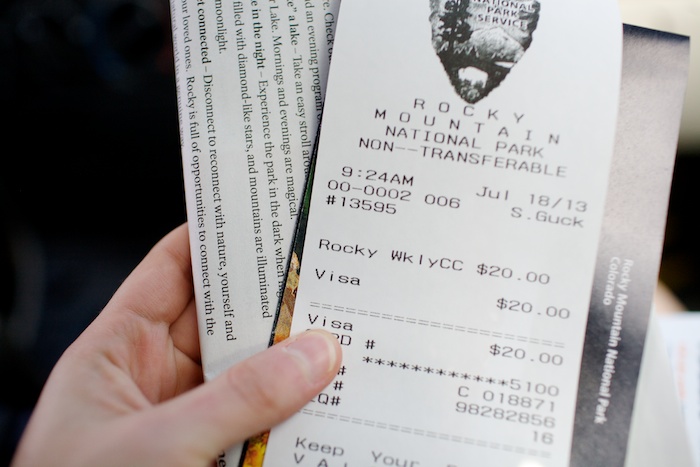 For those of you who have no idea what I'm talking about. From Wikipedia:
Rocky Mountain National Park is a national park located in the north-central region of the U.S. state of Colorado. It features majestic mountain views, mountain lakes, a variety of wildlife, varied climates and environments—from wooded forests to mountain tundra—and easy access to back-country trails and campsites. The park is located northwest of Boulder, Colorado, in the Rockies, and includes the Continental Divide and the headwaters of the Colorado River.
Andrew likes to drive. Which is good because this park is A) pretty big and B ) includes long stretches of drives.
We brought a bunch of CDs, but ended up listening to Earth most of the time in Rocky Mountain National Park. Not only is it instrumental music, but it has this deep bass that really makes you feel more connected to the mountain range.
I have a couple National Parks guide books (thanks mom!) so we had a rough idea of what we wanted to do during our day in the park. You have a ways to drive before reaching anything. We came to the first inner section, turned right, and that basically decided the rest of our day!
After a few miles we turned around a curve and found this little parking lot, and a short pathway to cross the street and have a sweet lookout over the park.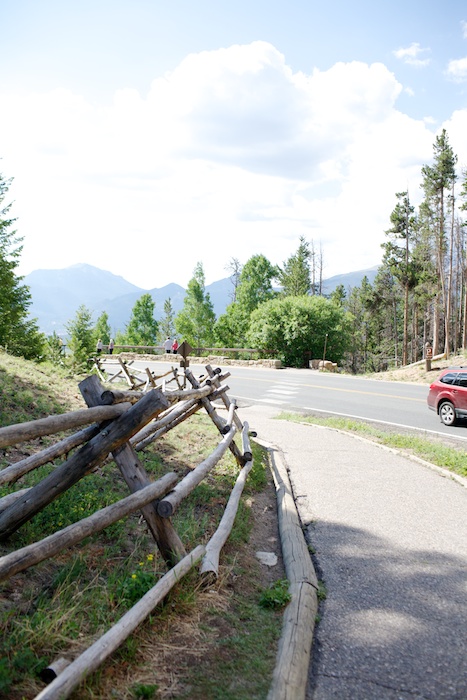 our first wildlife sighting!!
heaven's above it was gorgeous… Can you even imagine being among the first groups of white people to see this and report back?
The park's peaks in the distance…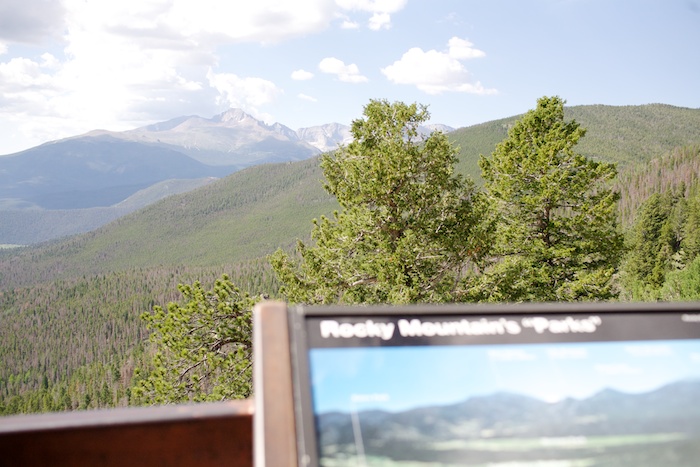 This little peak was right next to the parking lot. Kevin dubbed it "Bran's Folly" … or "Fally". Get it? SUCH nerds.
We hopped back in the car and started driving farther up the mountain. Eventually, after consulting the map, I realized that we were on the one (1, single, uno) road that went all the way across the park. Trail Ridge Road – the road that would take us all the way up the the highest elevation, above the treeline, and help us truly experience the Rocky Mountains that this park was named for. Check out a map here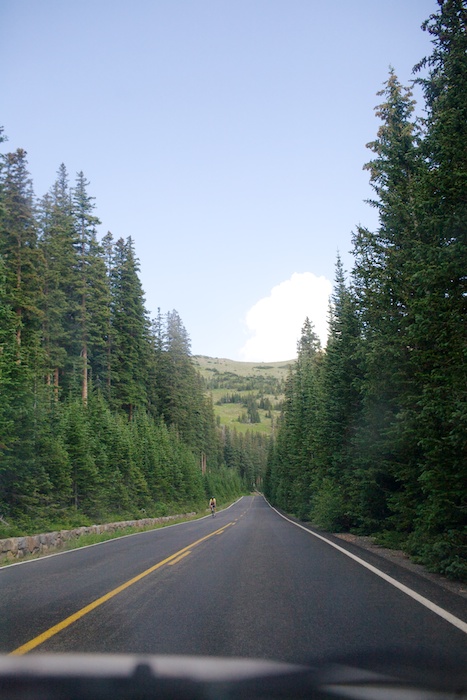 We stopped at another lookout partway up. Really we were looking for trails to hike, but we were in the wrong part of the park for that.
After awhile (30 or 40 minutes) we found ourselves above the treeline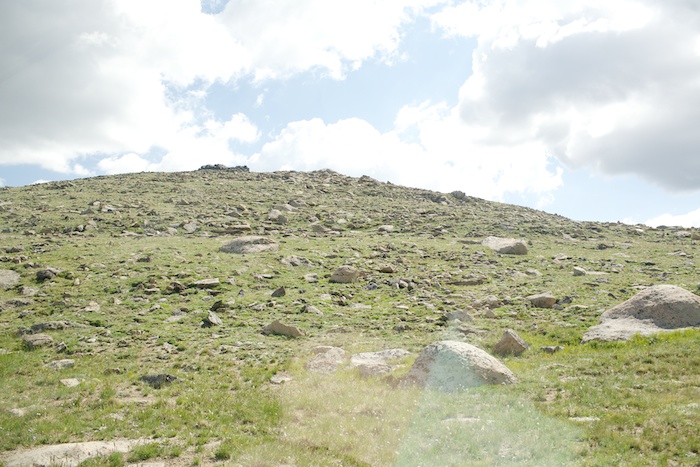 Whether they begin their journey at Estes Park or Grand Lake, Trail Ridge Road travelers climb some 4,000 feet in a matter of minutes. The changes that occur en route are fascinating to observe. A drive that may begin in montane forests of aspen and ponderosa pine soon enters thick subalpine forests of fir and spruce. At treeline, the last stunted, wind-battered trees yield to the alpine tundra.
Up on that windswept alpine world, conditions resemble those found in the Canadian or Alaskan Arctic. It's normally windy and 20 to 30 degrees colder than Estes Park or Grand Lake. The sun beats down with high- ultraviolet intensity. The vistas, best enjoyed from one of several marked road pullovers, are extravagant, sweeping north to Wyoming, east across the Front Range cities and Great Plains, south and west into the heart of the Rockies.
But for all its harshness, the Trail Ridge tundra is a place of vibrant life and vivid colors. Pikas, marmots, ptarmigans and bighorn sheep are commonly seen. About 200 species of tiny alpine plants hug the ground. Despite a growing season that may last just 40 days, many bloom exuberantly, adorning the green summer tundra with swatches of yellow, red, pink, blue, purple and white. All are seen from the Tundra World Nature Trail, a half-hour walk beginning near the parking area at Rock Cut.
Yup – that's snow in July.
Right about here is where we started to feel the elevation. Slight headaches, for sure. We brought snacks with us and ate grapes and granola bars and banana chips in the car while we just watched the scenery…
Second wildlife sighting! Elk in the grass off the road….
This photo is zoomed in – they were about20 or 30 yards away….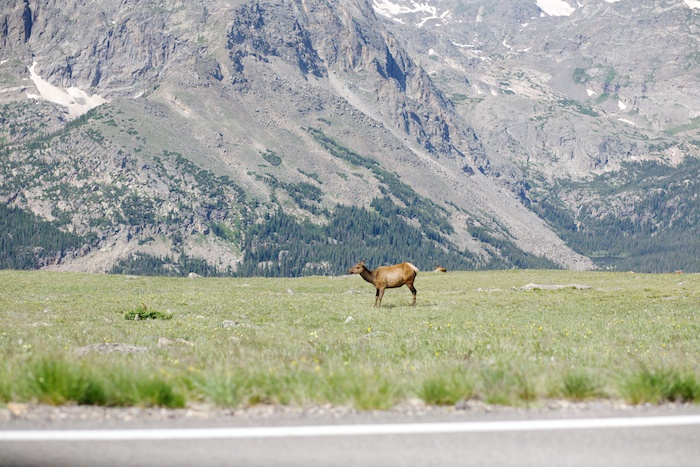 We stopped at a second tiny little trailhead in the tundra. It started right off the road and just went 100 or 150 yards into the mountain and stopped. The idea, I assume, was to allow visitors to see the tundra landscape a bit more up close … but not actually affect it very much.
It's just as well. We were already at about 12,000 feet? (I think it's the Tundra Communities Trail on this map)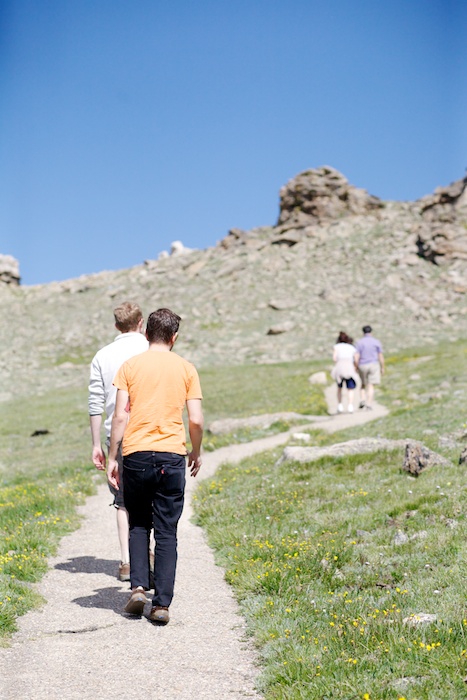 I mean, let's be honest. It doesn't *look* like a whole, lot, right? Mountain peaks and scraggly ground cover. But let's be honest – when else are you really going to get to experience the world at that elevation? Few and far between. And for most visitors, never again.
Still a bit more drive to go before the highest elevation … but that post is tomorrow.
Have you ever been to Rocky Mountain National Park?
*I think I am full-on going to copy Kam's National Parks page idea