You guys. It is HOT in our house.
It's 2 stories (heat rises), and the sun beats down on the back of the house in the afternoon.
Our bedroom is by far the hottest room in the house – which is extremely inconvenient since we always spend at least 8 hours/day in there, right?
Last summer I think we had a couple electric bills north of $150 for the month. Not great, considering our bills in the winter are less than $50. This summer I was bound and determined to save some of that money.
Just in order to get our bedroom cool enough to fall asleep, we were putting the AC down to 71 or so. Yea. $EXPENSIVE$
Of course, keep in mind that last summer we didn't have any window treatments on any of our windows. AND I was getting home at midnight, so we often didn't turn down the AC until *right* before we went to bed – so it would need to be on HIGH to make any difference.
This summer, we've got thick curtains that hopefully are helping hold in cold air AND reflect sun/heat. PLUS, since I quit and I'm home during the day, I can go upstairs to open the window around sunset to help cool the room earlier.
But even with all of that, some nights it's just way too hot.
So instead I've been sleeping downstairs: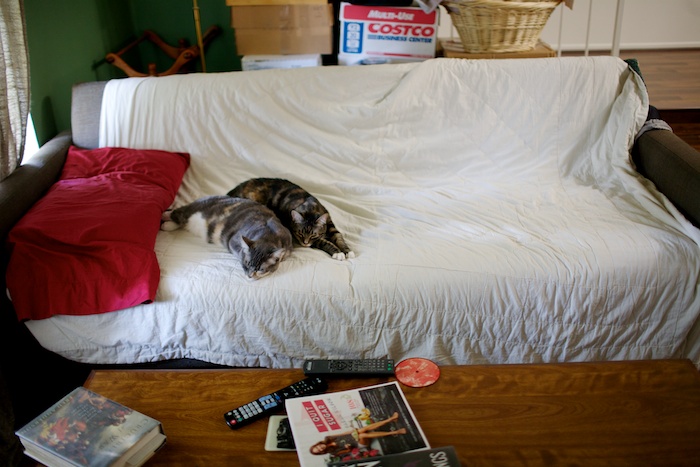 Our downstairs stays cooler anyway, and there is virtually ZERO direct sunlight in our living room, so that room always stays the coolest.
Plus our couch is pretty fantastic and just about the size of a twin bed.
So all the nights that Andrew is recording over night and doesn't come home til 5, 6, 7am, I just sleep downstairs.
In fact, between the new floor fan we got for downstairs (we love it) and opening the front window, it can be a little chilly in the mornings.
I love it.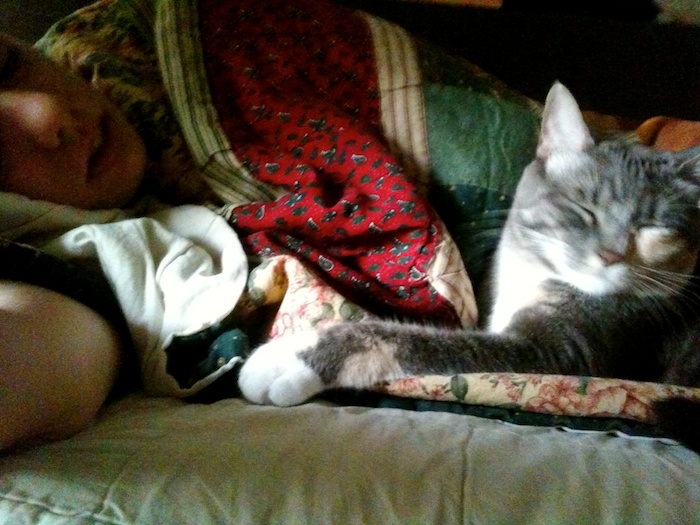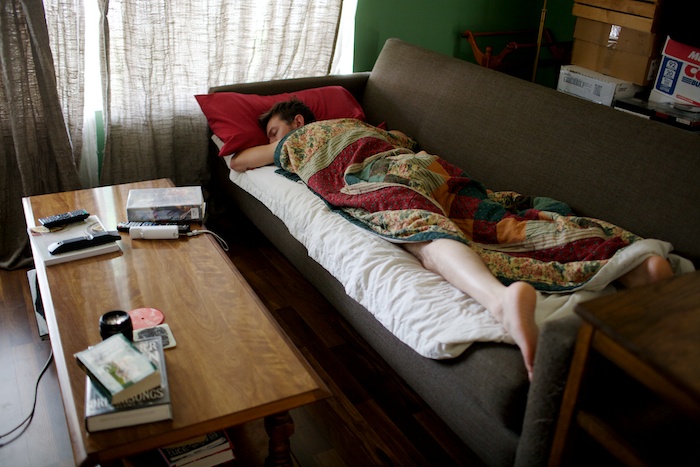 …. and our last electric bill was HALF of what it was last year at this time.
Plan for next summer?
We're going to get another new floor fan and we'd like to get a futon for Andrew's office before next summer.
He's using the downstairs room for his office (which is a whole other story since the last you all heard, that was the guest room). It's about halfway set up, so we're hoping by next summer we'll be able to get a futon for he or I to sleep on when it gets too hot. And then it can also double as another guest room if needed.
Do you guys have any smart tips for keeping a house cool? Particularly 2 stories?