Andrew and I don't really buy each other gifts. We haven't done Christmas for each other in years. We did 30th birthday gifts, but no birthdays for awhile.
That doesn't mean we don't think about gifts for other people!
Here are just a few ideas for holiday gifts for your loved ones…
(note: Because I don't really go shopping all that often, this gift guide may seem a little limited. But every item on here is awesome)
For the new home owners:
Custom rubber stamp with the new address 
I like these from AnnMarie Loves Paper. I've put off getting Andrew and I something like this since we were moving every year. But now that we'll be staying put for awhile I think it could be fun.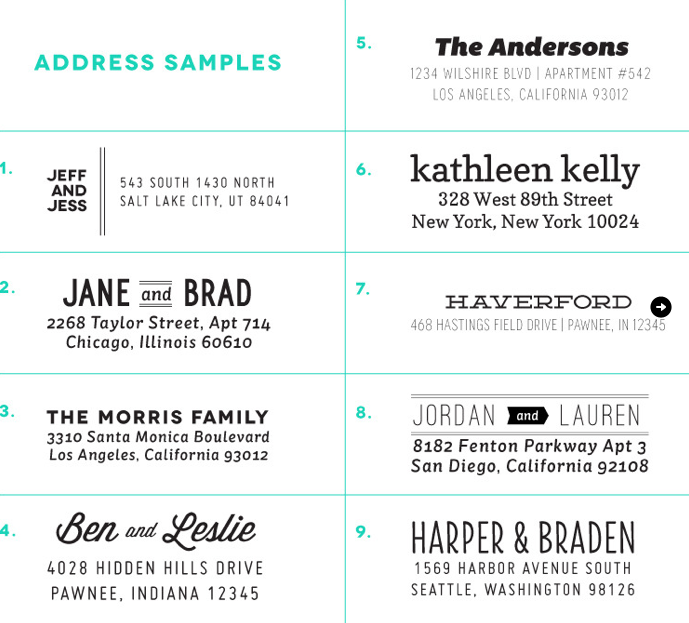 Young House Love: 243 Ways to Paint, Craft, Update & Show Your Home Some Love
by John and Sherry Petersik
The Petersiks have a very popular home DIY blog that I've been following for awhile. They're much braver than I, but I imagine this book has some fantastic ideas in it.
Cookbooks:
I love to cook … and I love looking through my cookbooks for something new to try.

Sprouted Kitchen: The Sprouted Kitchen is a popular food blog that focuses on whole foods. Every single recipe on that site looks amazing, so I'm sure the cookbook is as well. It's actually a husband-wife project – he shooting the photos, she writing the recipes. " Sara Forte is a food-loving, wellness-craving veggie enthusiast who relishes sharing a wholesome meal with friends and family. The Sprouted Kitchen features 100 of her most mouthwatering recipes. Richly illustrated by her photographer husband, Hugh Forte, this bright, vivid book celebrates the simple beauty of seasonal foods with original recipes—plus a few favorites from her popular Sprouted Kitchen food blog tossed in for good measure. The collection features tasty snacks on the go like Granola Protein Bars, gluten-free brunch options like Cornmeal Cakes with Cherry Compote, dinner party dishes like Seared Scallops on Black Quinoa with Pomegranate Gastrique, "meaty" vegetarian meals like Beer Bean– and Cotija-Stuffed Poblanos, and sweet treats like Cocoa Hazelnut Cupcakes. From breakfast to dinner, snack time to happy hour, The Sprouted Kitchen will help you sneak a bit of delicious indulgence in among the vegetables."
Smitten Kitchen: Also a popular blog. I've made several of her recipes and they are fantastic. "Deb Perelman loves to cook. She isn't a chef or a restaurant owner—she's never even waitressed. Cooking in her tiny Manhattan kitchen was, at least at first, for special occasions—and, too often, an unnecessarily daunting venture. Deb found herself overwhelmed by the number of recipes available to her. Have you ever searched for the perfect birthday cake on Google? You'll get more than three million results. Where do you start? What if you pick a recipe that's downright bad?
So Deb founded her award-winning blog, Smitten Kitchen, on the premise that cooking should be a pleasure, and that the results of your labor can—and should—be delicious . . .  every time. Deb is a firm believer that there are no bad cooks, just bad recipes. She has dedicated herself to creating and finding the best of the best and adapting the recipes for the everyday cook."
The Dutch Oven Cookbook: I believe my mother gave me this for my birthday … and it is now so well-loved I have essentially memorized a couple of the recipes. One of my favorite things is to make a big pot of soup or chili or similar and have it for several days, and this cookbook has a lot of great options. (P.S. The tagline is THE BEST "Recipes for the best pot in your kitchen" …. none of the recipes call for marijuana though, which was surprising.
For the tech geek:
iTunes gift card: Always
For apps or movies or songs. SO many ways to use this.
Cell phone lenses: Looks like so much fun!
Buy the Photojojo Phone Lens Series at the Photojojo Store! The Fisheye, Telephoto, Wide Angle and Macro Lenses are like pro-lenses for your phone! Especially for that friend that is interested in photography, or is addicted to Instagram, I would imagine this kind of toy would get a lot of use.
Castegram: Create an iPhone case out of your Instagram photos via Castegram (there is also an app for iPhone). What a fun idea!
What are some of your gift ideas this year?