A few days after Andrew hung our downstairs gallery wall, he hung the smaller grouping of pictures we had designated for the upstairs gallery wall.
If you check out the BEFORE house tour, this wall is between our master bedroom (left) and my office (right).
Again, I just arranged the grouping on the floor, and Andrew did all the rest. Measuring and double checking and setting out the boundaries with paint tape.
Here's a great resource on how to hang art groupings, if you don't have Andrew around to do it for you.
There's only a few pictures here …. including this 8×10 of Andrew and I from our wedding in another big chunky frame (from Andrew's days as a framer). That photo was taken almost 7 years ago. Can you believe it??
Also included a framed photo of Kevin and I (that I've had for a LONG time). I think this photo is from 2001 or 2002. Whenever we went to Ohio for a family reunion.
Below that is a framed photo of Andrew and I at California Adventure (again from 2001 or 2002). Such babies …
That A J Schubert on the top right is metal – and used to live in Andrew's great-grandfather's front yard (also an Andrew J Schubert).
FINISHED (for now):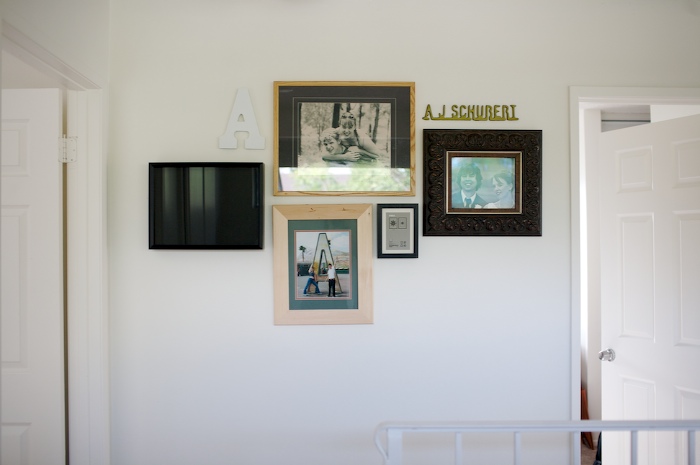 Some notes on what we've still got to do …
Again, thinking about painting the A. I don't love the color on the A J Schubert, but I don't know if I hate it enough to repaint it.
The black frame on the left is a shadow box. We're going to make a wedding shadow box (someday), with maybe our invitation, fabric from the bridesmaid skirts, our cake toppers, etc. We'll see. Not a priority at this moment.
The empty vertical frame will be a photo of Katie and Joe from their wedding, and we'll add another vertical photo just like it in the empty space below of Joey. How to choose which one?
And then we also want to add a photo of Daniel (or Andrew and Daniel) …. but don't know which one yet. Or where. We'll see.
If/when Kevin and Daniel get married we'll probably add wedding photos then too…. someday.
What do you think?