Monday morning Memorial Day!
The first Memorial Day in 4 years that I haven't worked – previous years I volunteered to work for the overtime pay because I assumed Andrew would be working. And then he never did.
SO this year I elected to just take the day ….
We got up Monday morning and Andrew went right to work on changing the oil in my car …. because he is a crazy person.
And I love him for it.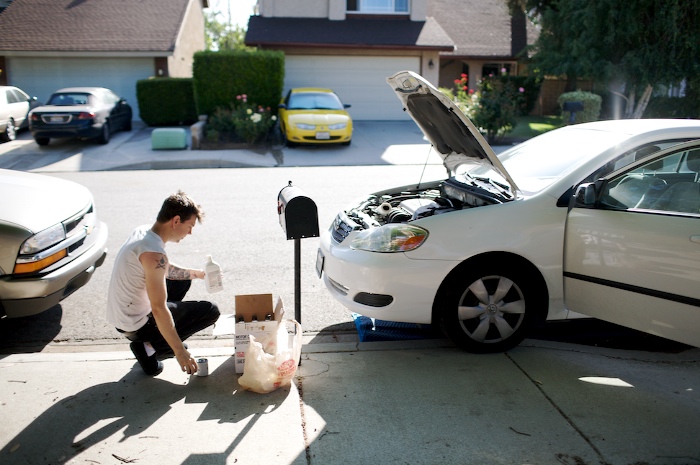 My dad's brother Ted and his family (Kristi, Spencer and Lucas) all live a few blocks away from our new house and they came over for breakfast on Monday morning!
God bless my parents for doing the necessary grocery shopping AND cooking for this crew!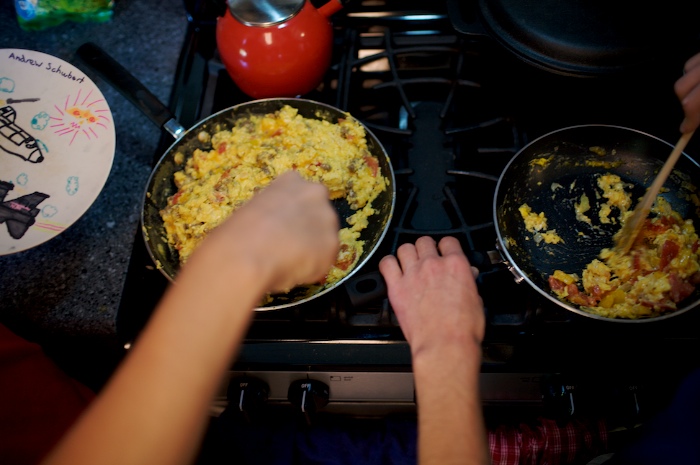 It's always fun to visit with the 'other Hanns' …. geeking out about the new Les Miserables movie with my uncle, for example… Talking about the idiocy of English professors with Spencer.
Finally, the Hanns left around 1p, and my parents left to drive back to AZ not long after that ….
So for the first time in 3 days our house was empty – but it only lasted a few hours as Angela stopped by for a bit and then more friends came over that night.
But in those few hours, what do you think we did? That's right! ANDREW WENT BACK TO WORK ON THE HOUSE.
Maniac.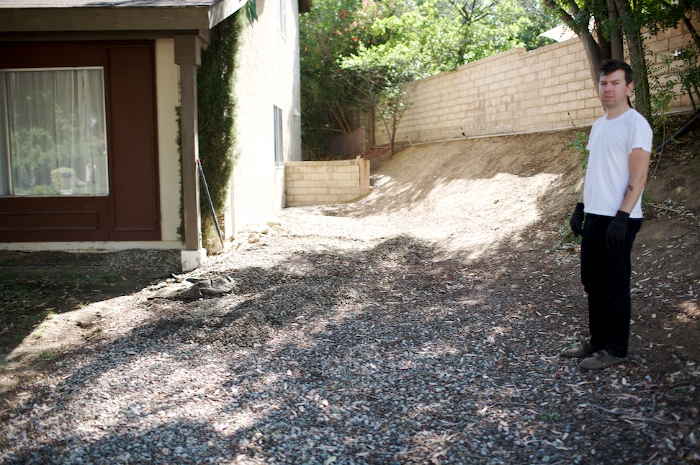 We really need to reseed the front lawn (we need to be all landscaped by mid-August for our HOA), and part of that project involves getting rid of ALL THIS gravel.
And there is a ton! …. more or less literally. I actually have no idea how much it is, but nearest the street the patch of gravel is about 6 feet wide and about 6″ deep
So, you know. A lot of rocks.
We're going to end up keeping *some* of it for other projects, but the bulk of it we just need to haul away … (another post about that to come)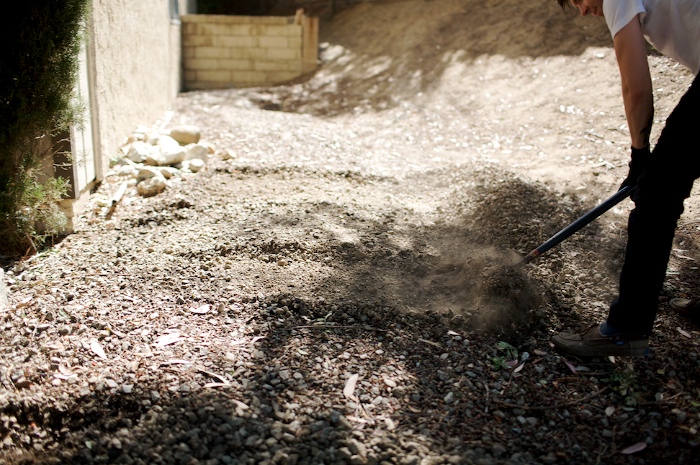 (Andrew is planning on building screens for all the windows, but in the meantime, this side window works perfectly for his outside-music-listening)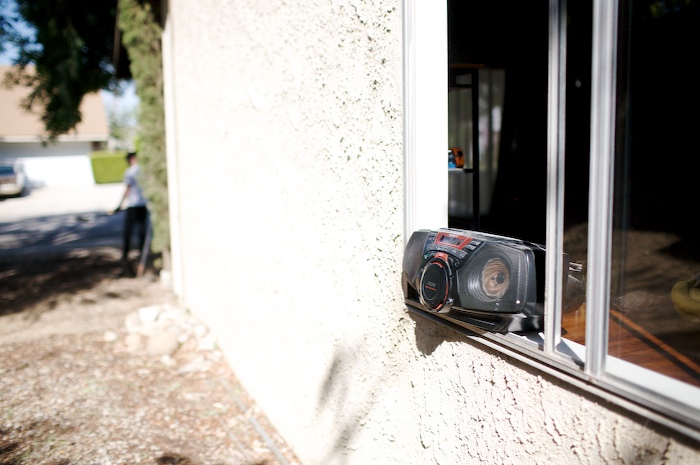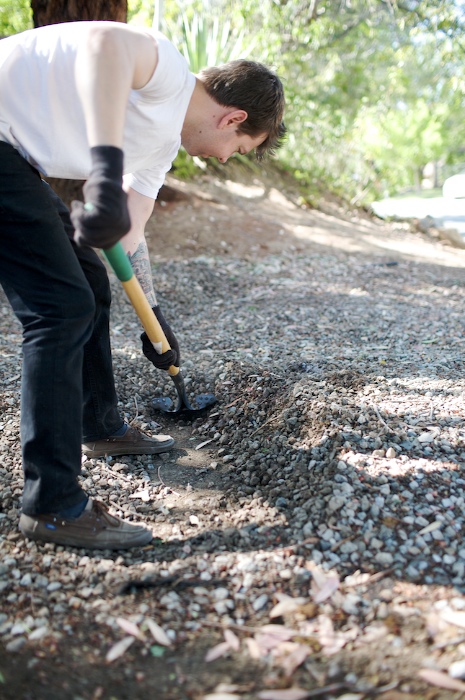 And finally, as a cap to our LONG weekend ….. Monday night Andrew invited over some friends for a record-listening-party.
Andrew's record company (post to come) is putting out the LP of Justin's band …. so we got the test lacquer the week prior and Andrew just needed Justin to OK it before we had all the actual records printed.
So, we had over Justin (photo below – Andrew has known since high school, and I've known since  1999 or 2000 or so), our friend Marie (who I've known since junior high and Andrew has known since high school)…. Jenae, Wallace, Jihae, Fernando and Jessica ….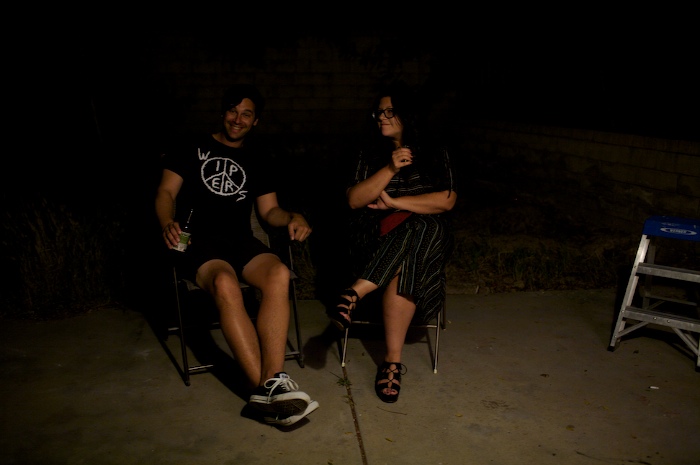 Andrew grilled burgers, got some beers, and we listened to Justin's band ….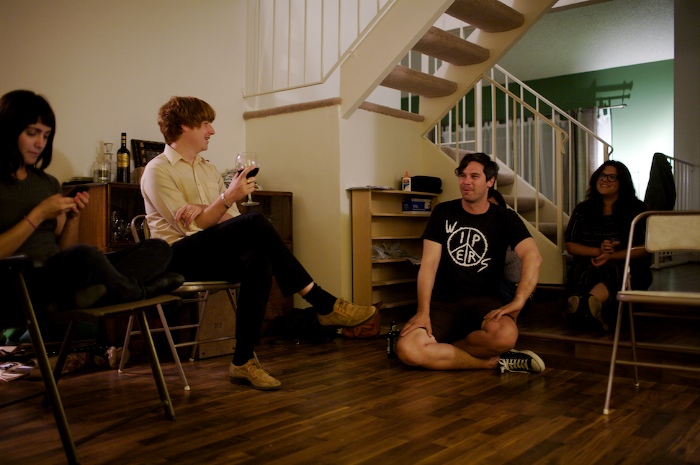 I got them to finish the Marie Callendar's pie from the night before, and the deviled eggs that Ted and Kristi brought over that morning.
And Andrew broke out the NES for some Mario Bros games!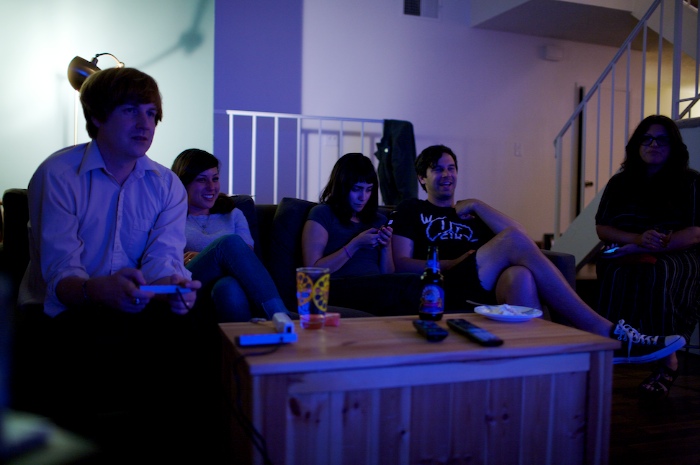 We finally got to bed around 130a or so ….
I woke up Tuesday morning still exhausted and physically sore …. and I spent the rest of last week just relaxing …. because apparently I am OLD!
But we had such a great long Memorial Day weekend!
What did you do for Memorial Day?