Last weekend we added to our team!
I loved having cats growing up, but A) Andrew is allergic and B ) We haven't ever had a permanent-enough-home to bring in a pet.
But ever since we got a house, Andrew has been OBSESSED with getting pets. We need to do a TON of work to the backyard, including building fences, so it's not exactly the time to get a dog.
In the last few weeks, Andrew and I decided to get a kitten … .which somehow changed into two. And, coincidence! My cousin's girlfriend's aunt happened to have a brand-new litter of kittens!
She sent us a few snapshots, and Andrew fell in love immediately….
So, after acknowledging he'll never breathe well again. After promising me that he will be in charge of feeding them and cleaning the cat box. After assuring me that he is prepared for a possibly 20 year commitment. …
Last Saturday we got 2 kittens – sisters.
Fangsana and Khaleesi
Fangsana is the one that is mostly gray, slightly larger and shyer than the other. She is in this photo below.
Khaleesi is more of a tortoise-shell. Slightly smaller and a bit bolder than her sister. She's in the photo below.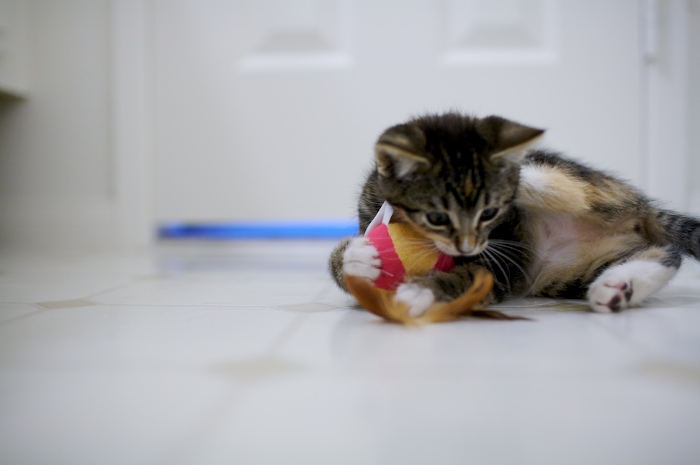 The first day we set up a 'safe room' in one of the bathrooms…. They only *recently* started living indoors, so we wanted a space where they could get to know us, a small area to explore and a room that could be "theirs"
They didn't seem very timid when we first let them out of the crate …. and in fact played together most of the afternoon.
I was down in the kitchen below "their" room and heard all kinds of bumps from their tumbling and pouncing.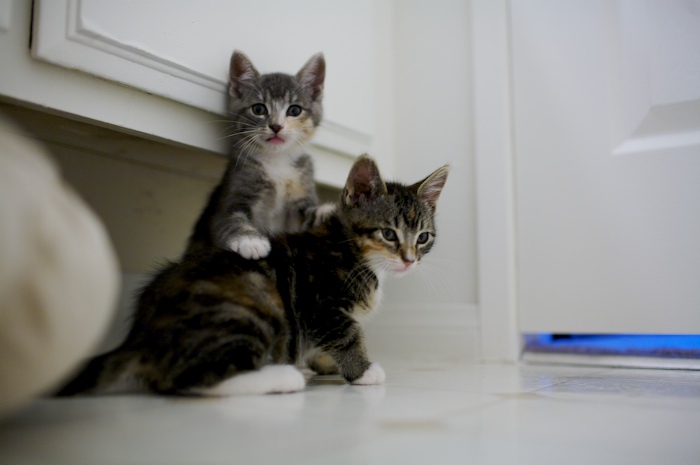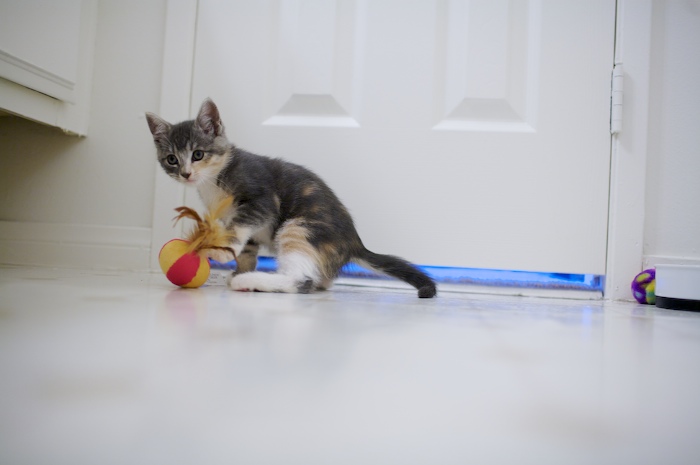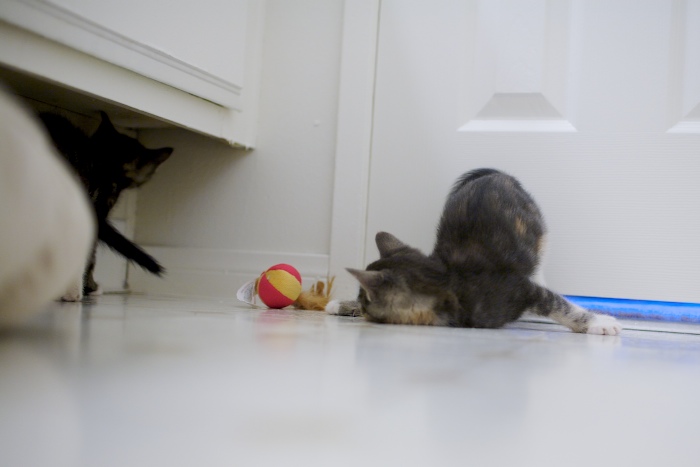 They're just barely 9 weeks – born April 5 – and are still getting to know themselves.
They've discovered that the other has a tail – but don't quite know about their own tail.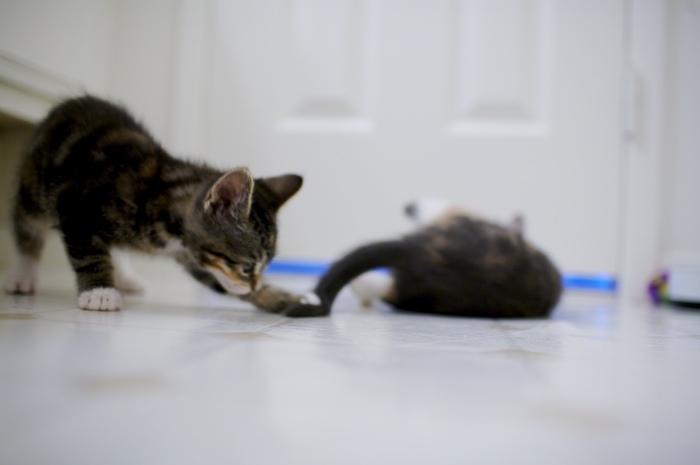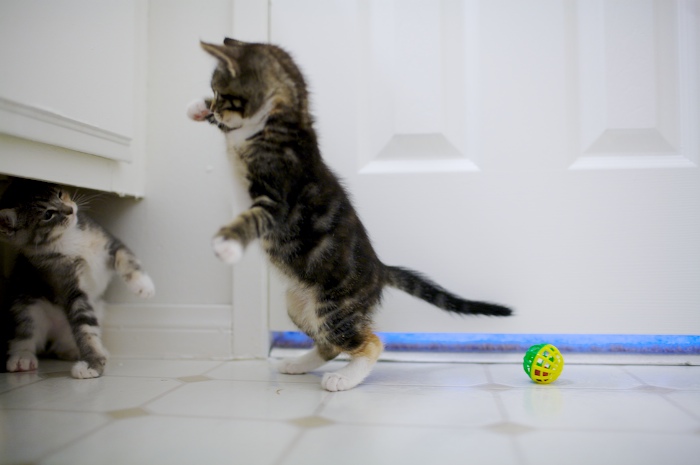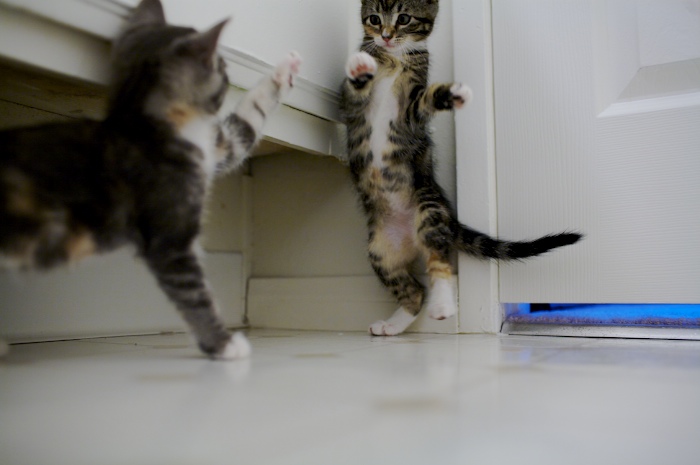 When I went up later that first afternoon, they had found their way into the under-the-sink cupboard.
Not to worry – there's nothing in there AND the cabinet door doesn't close all the way, so they're welcome to play in the space if they like.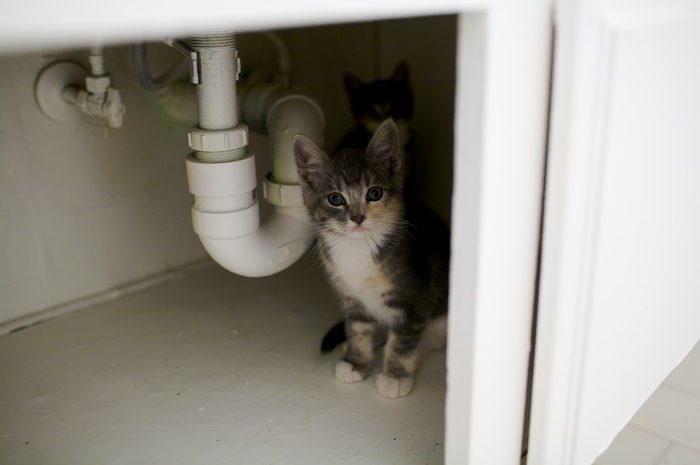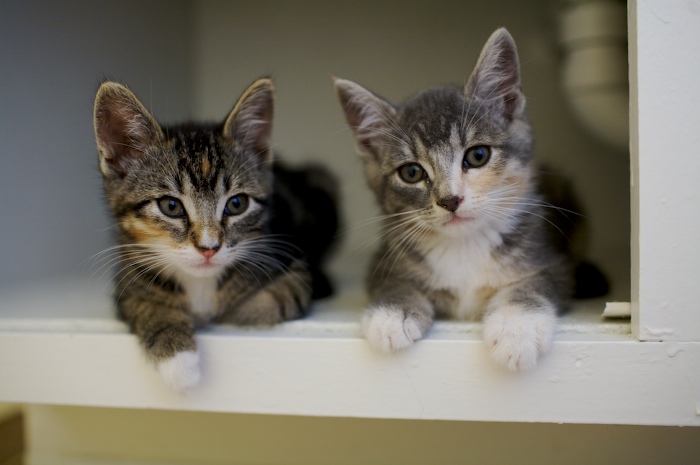 Of course, as they wore themselves out playing all afternoon, by late afternoon it was naptime.
In the cupboard, instead of the $20 bed I bought them.
Of course.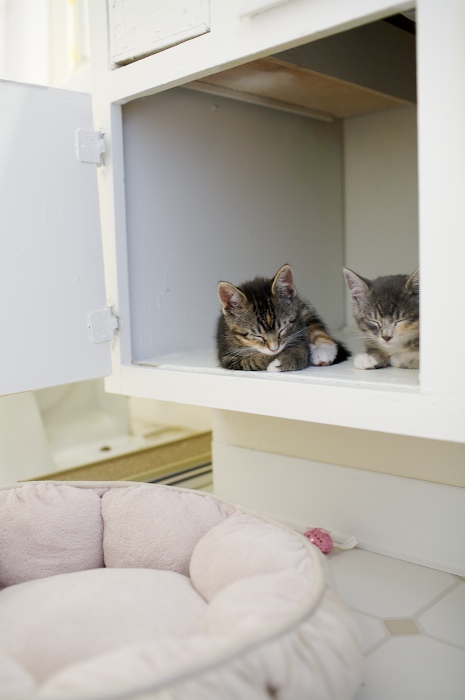 Andrew was at work all day that we got them, so I kept myself busy texting him photos and video…. and he is in love!
Sunday morning we opened up one of the bedrooms to them, Tuesday morning we opened up the other bedroom. And then Wednesday night we opened up the hallway.
We'll try to keep them upstairs as long as possible …. just because I think they're a little too small to be able to handle the stairs. But I figure as soon as they're smart enough to figure out how to get over the barrier, then they'll be ready to head downstairs.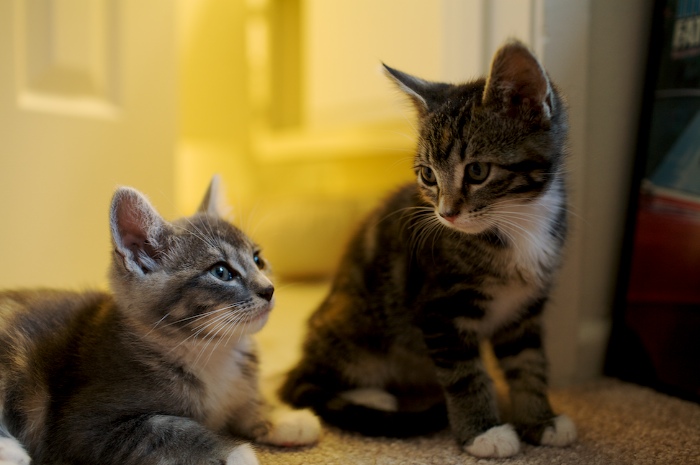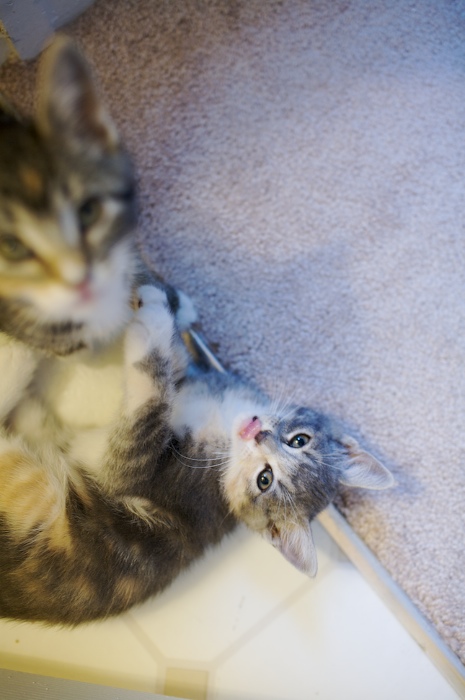 Now, a week later, they're no longer afraid of the humans who come into their room.
They purr quite readily when we pet them, but they've only barely (and even then not really) found their meows.
They don't appear to need or want attention, but they will allow themselves to be pet.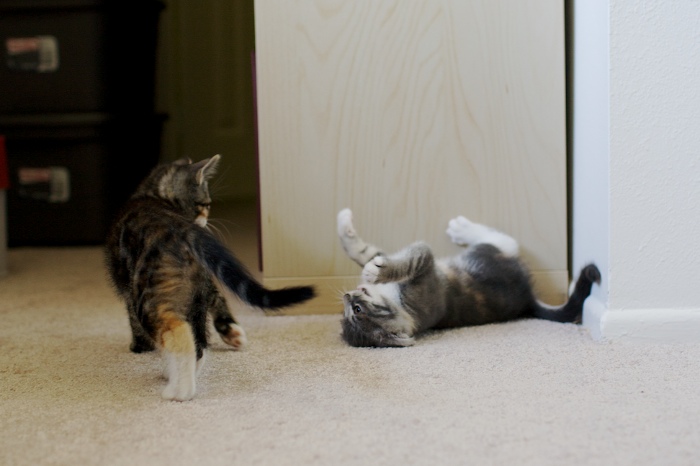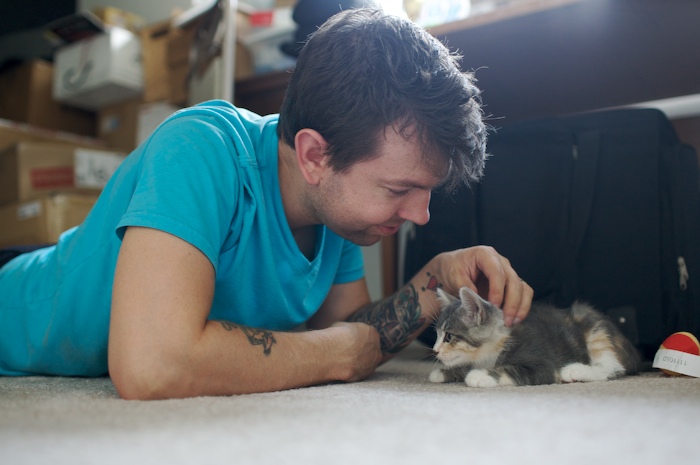 They're both really sweet, so far. And curious and playful and fun….
Andrew and I are totally in love!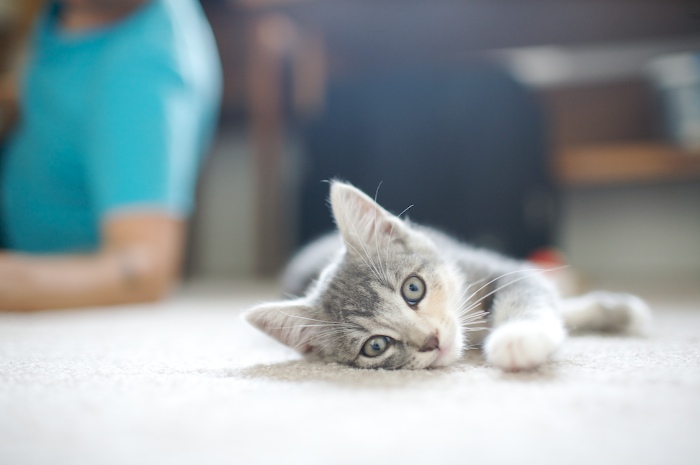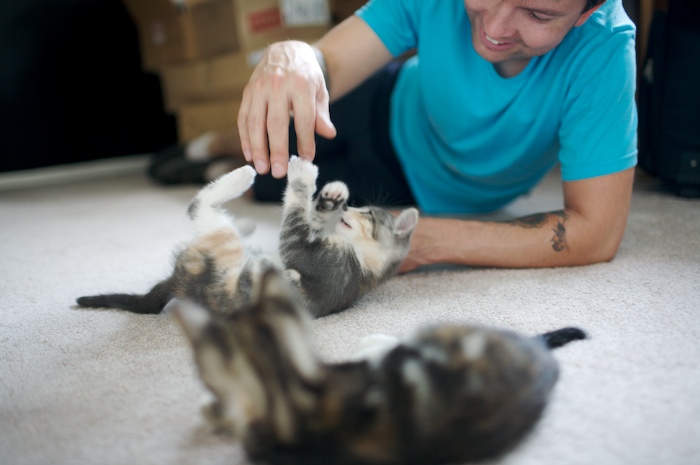 We're really excited!
Anyone want to volunteer to cat sit when we go out of town?