After visiting Stirling Castle and the nearby cemetery … by this time it was far too late to go on to Edinburgh so we headed home.
This time Kevin drove the car with GPS and Mom and Dad rode with Andrew and me.
Now, I'm pretty good at reading maps. Without the GPS to confuse me, I'm sure I could have gotten us around the country just fine with the AAA map Mom and Dad got.
But for whatever reason … we followed the car with GPS.
On the way TO Stirling we ended up going way out of the way on a highway parallel to the one we wanted.
On the way BACK from Stirling, we're following Kevin (who is following GPS) … who goes on the MOST DIRECT route back to Aberfeldy. Which is NOT the route on the larger (faster) highways.
Nope. Instead we spent SEVERAL miles on a one-late road.
One-lane for BOTH directions. The kind of one late when you're praying the whole time you're not going to encounter any other cars, because then either they or us will have to back up til we find some kind of turnout.
And considering long stretches of this one lane had waist-high meadows on either side, I'm not so sure how easy that would be.
But, like I said … It was the most DIRECT route.. Straight north instead of east-north-west.
(landscape photos all taken from the moving car)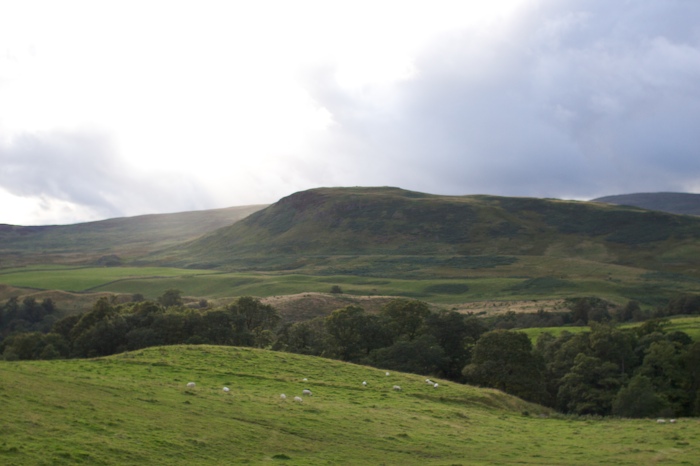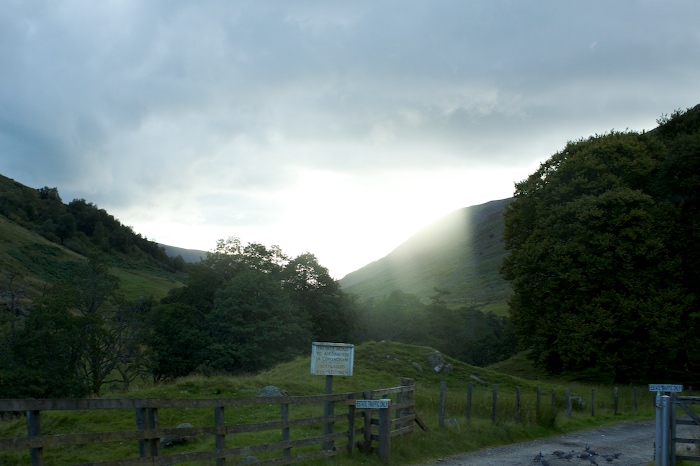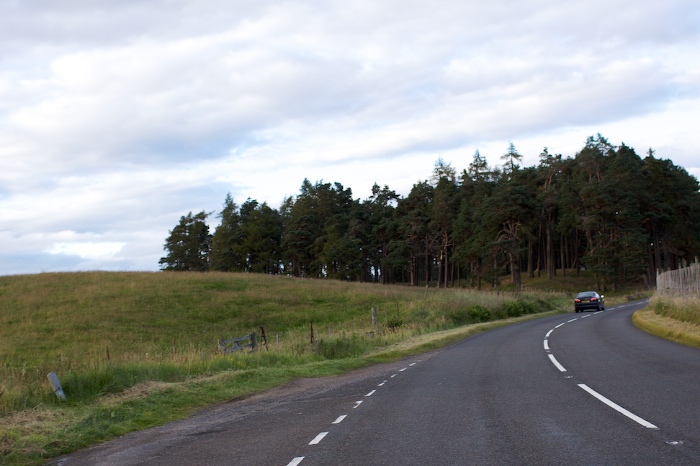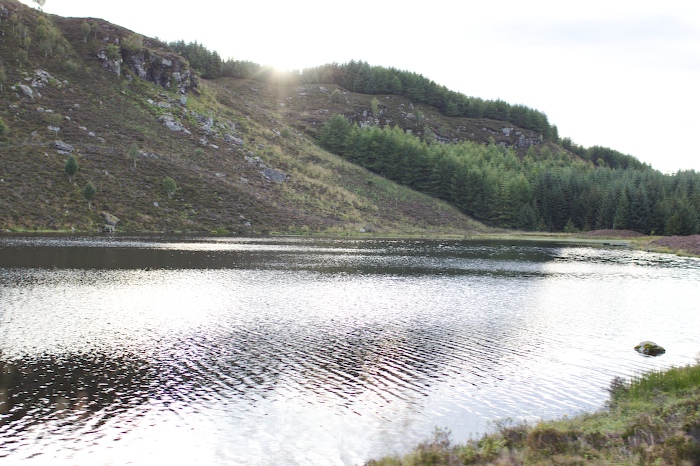 By the time we got back to Aberfeldy I was hungry-hungry! I had barely eaten anything for almost 3 days now (from being sick) …
We got home and agreed to walk into town to find some food.
Since Andrew had already (basically) scoped out the route and the restaurants he led the way.
Aberfeldy is teeny tiny but there is a little 'square' – what feels like the center of town.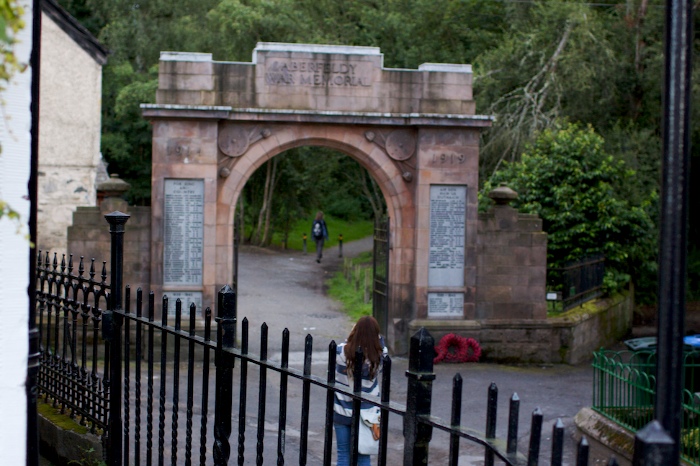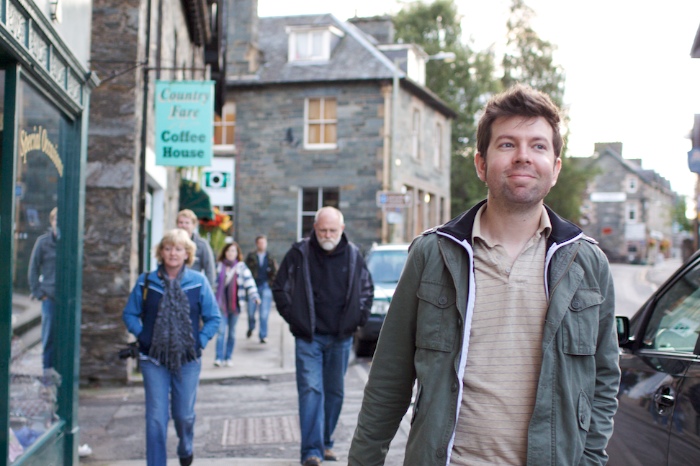 Located there is a little takeaway fast food restaurant called 'A Place on the Square' that serves pizza, burgers and (among other things) "Donner meat" …
For someone who grew up in California, Donner meat can only mean one thing: The Donner Party of 1846, known for cannibalism.
Aweome.
(we found out later that Donner meat is lamb).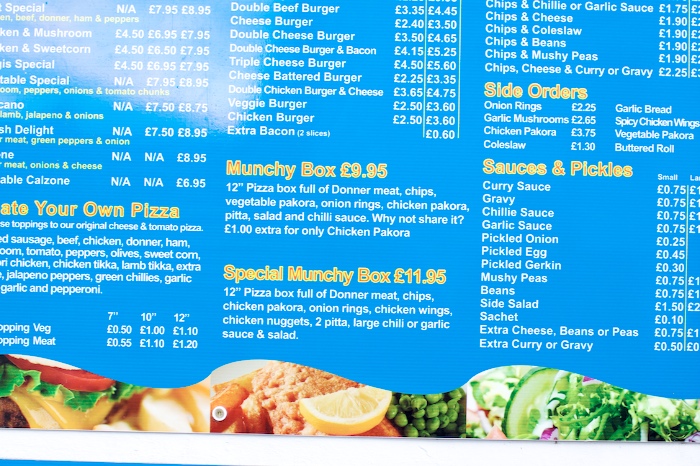 We settled on dinner at "The Fountain" – a pub that was more affordable, but whose kitchen was about to close so we were hurried through our order.
Still on the lookout for vegetables, I ordered "vegetable lasagna" thinking at least I'll get some tomatoes… (even through the lasagna is even served with 'chips'). Everyone else ordered some version of meat and potatoes.
Sadly for me … my 'vegetable lasagna' was mostly cheese, cream and noodles. Very few tiny pieces of veggie, no tomato sauce at all … and far far too rich fro my sensitive stomach.
(It would have been funny if I wasn't so hungry!)
Luckily for me, Andrew came to my rescue (again) and gave me half his meal while finishing off the lasagna I couldn't eat.
Then it was a walk home in the dark ….
We got back to the cottage and Andrew ate some of his carrot cake and they opened a bottle of whisky they had bought in Oban ….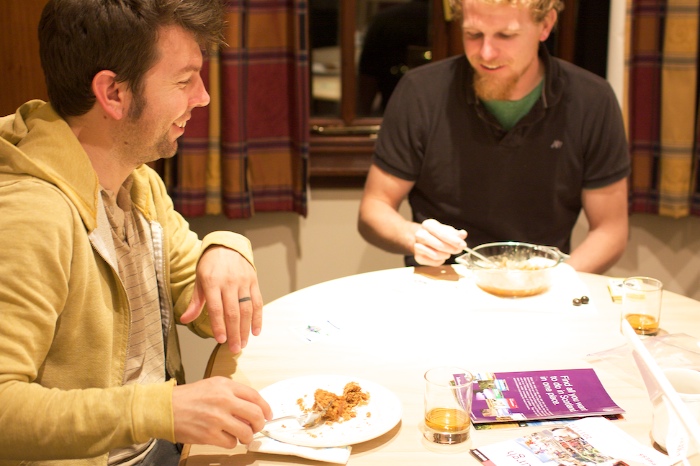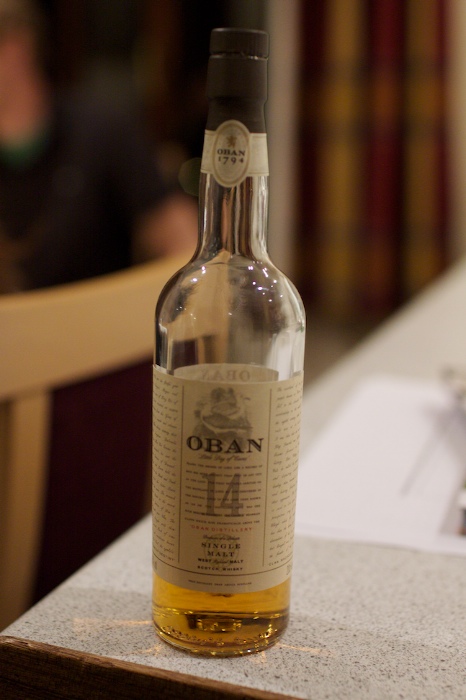 Then to bed for our early morning the next day for Edinburgh!