When we booked our cruise, I was a bit disappointed that such a big piece of Wednesday would be taken up with "scenic cruising" – bah! Scenic cruising is just another way of saying they want to keep us on the ship to spend more money on drinks and gambling.
Turns out I was wrong….
Wednesday morning was one of the coolest parts of the trip and the #1 reason I'm so glad we got a room with a balcony!
The ship entered Tracy Arm Fjord about 6am for about 4 hours of scenic cruising …
Andrew and I woke up not long after 6am and bundled up to sit out on our balcony to watch the ice float by, keep our eyes peeled for wildlife and enjoy the scenery…
I got up first, and as soon as I saw these HUGE blocks of ice I gasped audibly and called to Andrew!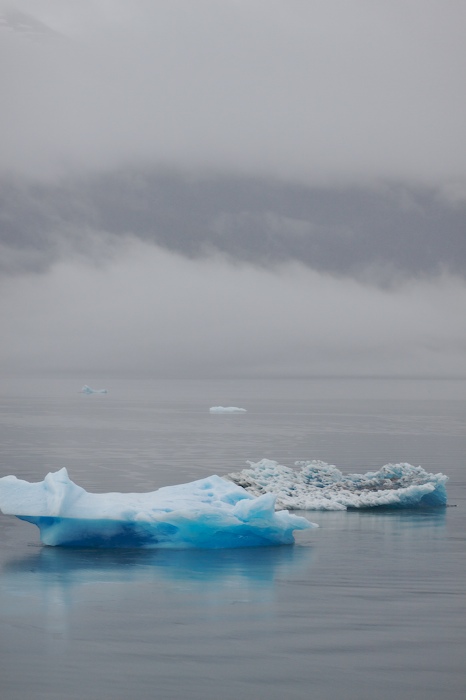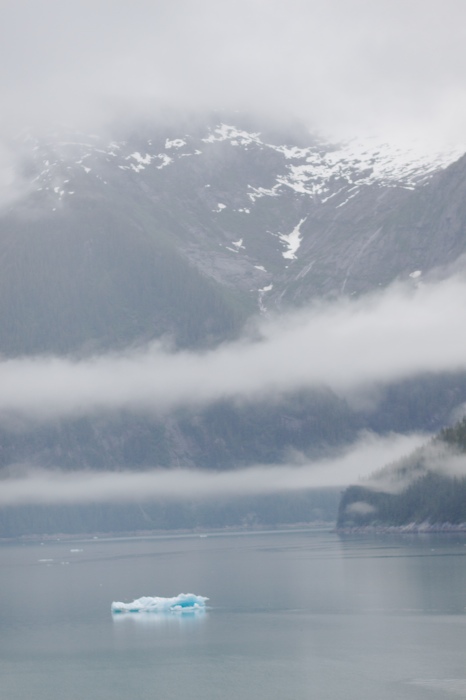 Since it was early morning …. at times the clouds were so thick it was like sailing into THE NOTHING (video below)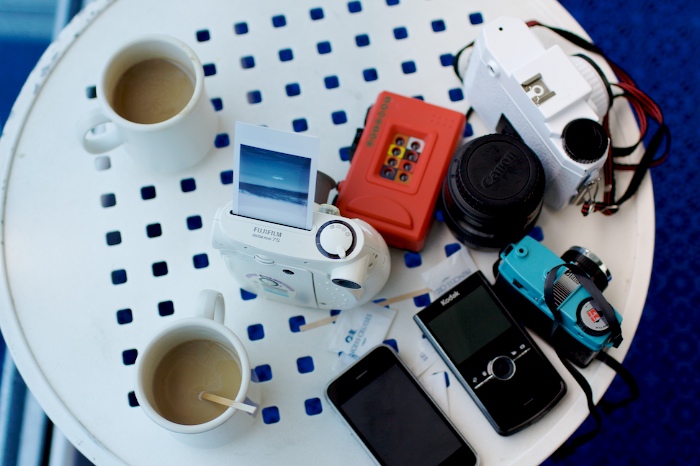 Farther down to the mouth of the Arm were bigger pieces of ice which had clearly broken off from the Sawyer Glacier much longer ago and floated all the way out, melting all the way …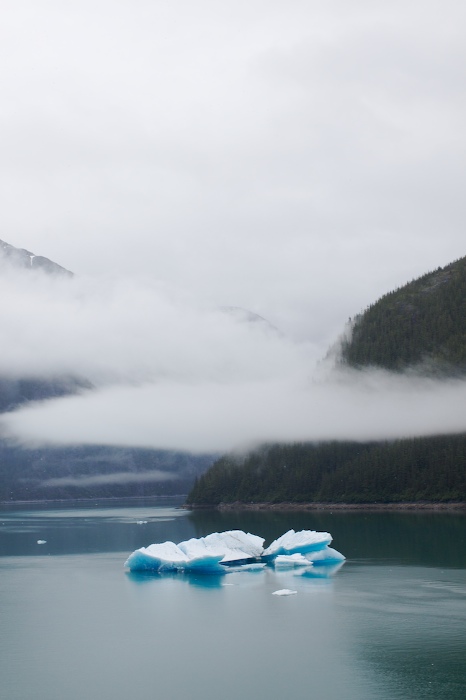 (I loved seeing Andrew excited about taking photos on the trip)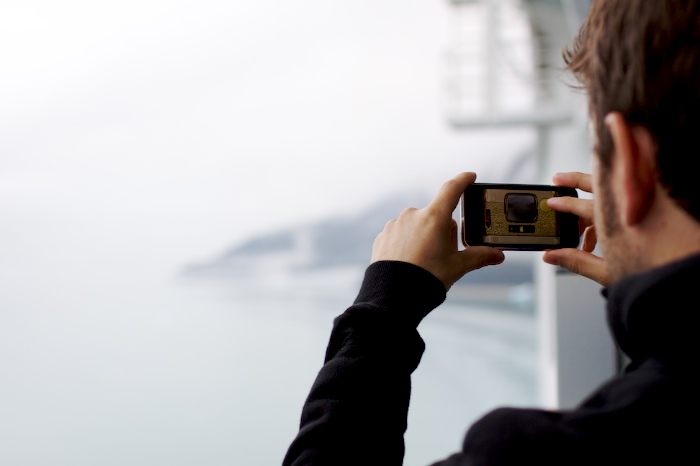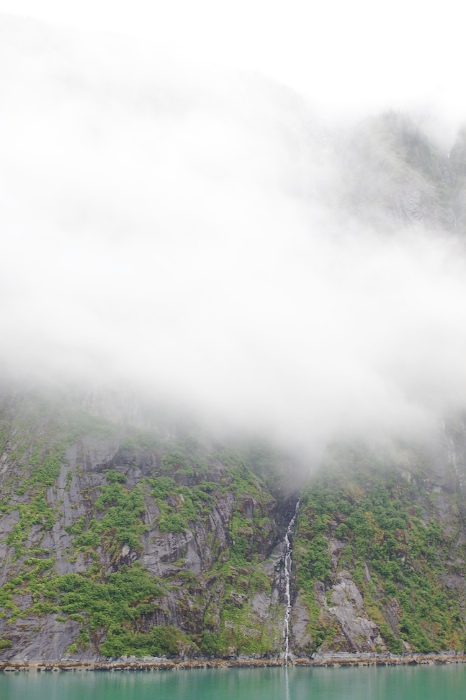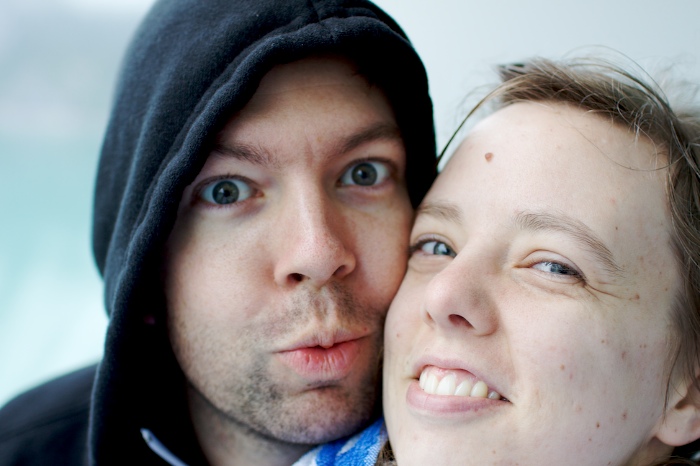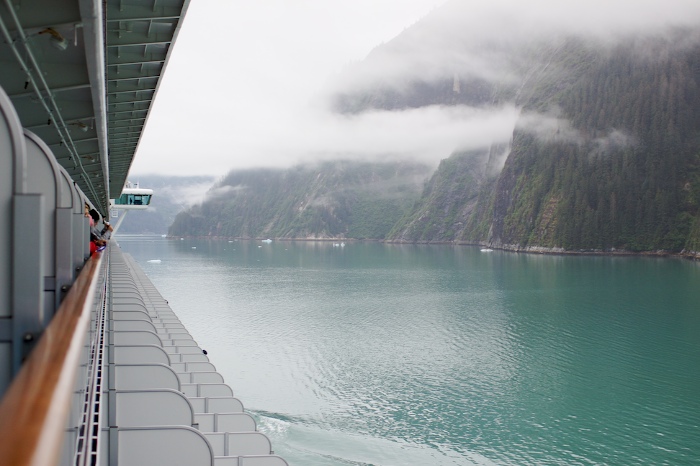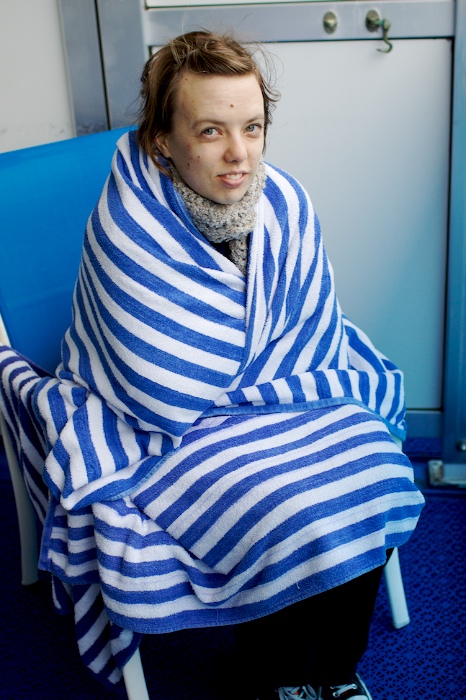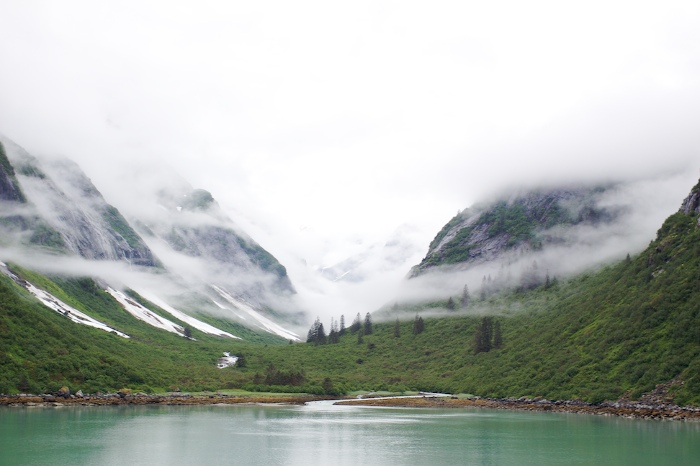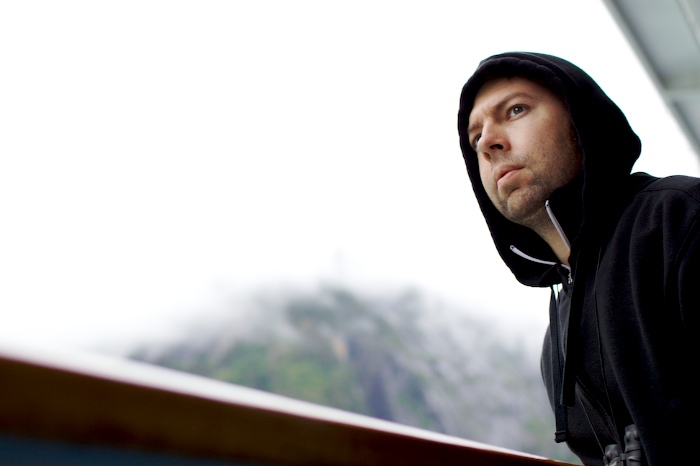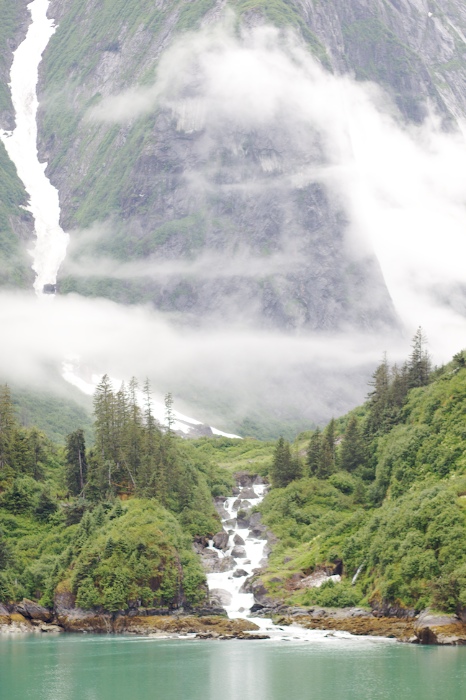 We got room service breakfast delivered about 7:30a … and by that time we were well into the corridor….
and I was wearing PJ pants, a hoodie sweatshirt and wrapped in 3 beach towels to keep warm…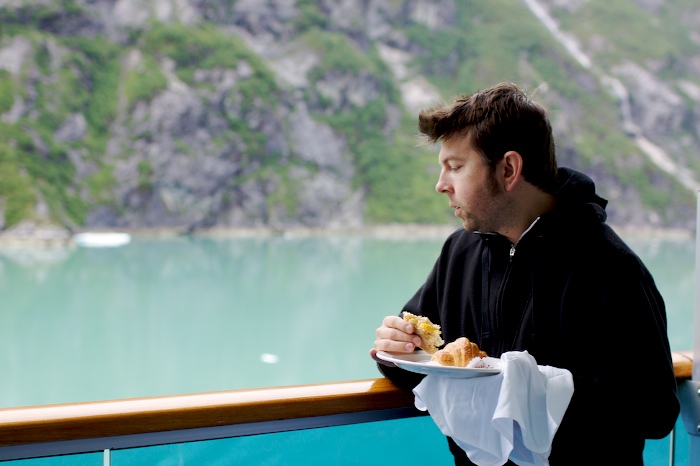 As we got closer to the Glacier the water seemed almost covered with ice. I'm so amazed that we got as close as we did to the glacier.
I heard someone say that when we entered Tracy Arm a different ship captain took over for the VERY different kind of sailing.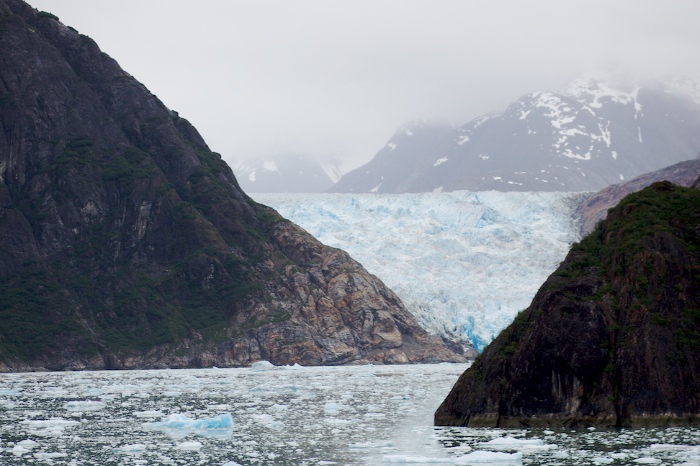 As we got closer to the glacier, there were seals perched about on various pieces of the ice (adorable)…. Andrew and I went up to the prow of the ship for the best view of the glacier before the ship turned around.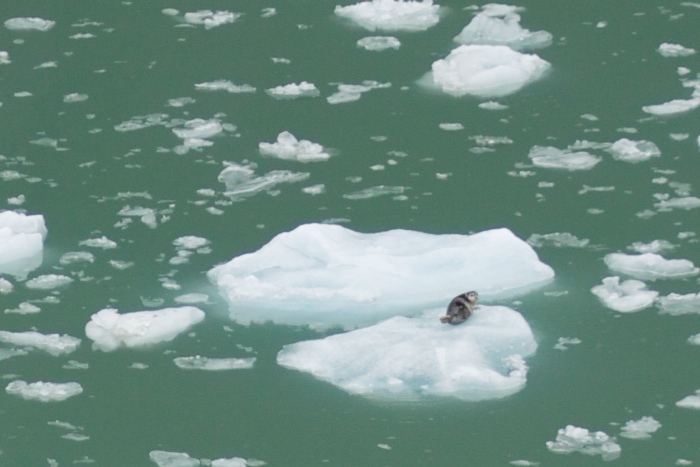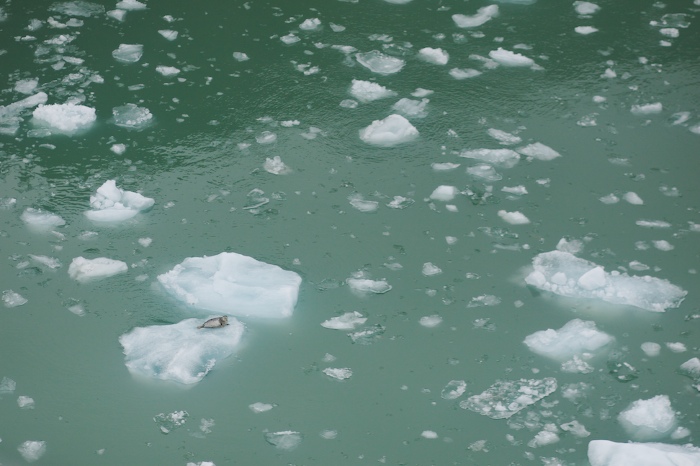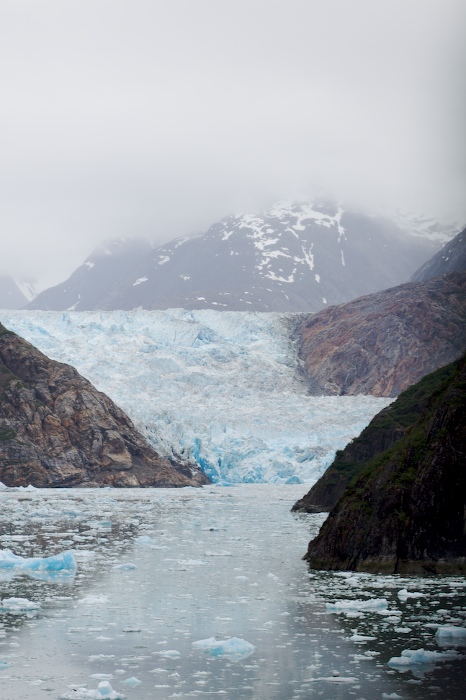 While we were up on the prow of the shop we even saw a bear! In the wild! Walking along the edge of one of the sheer granite mountains that lined either side of the channel….
(close up photo below, then wider shot below that)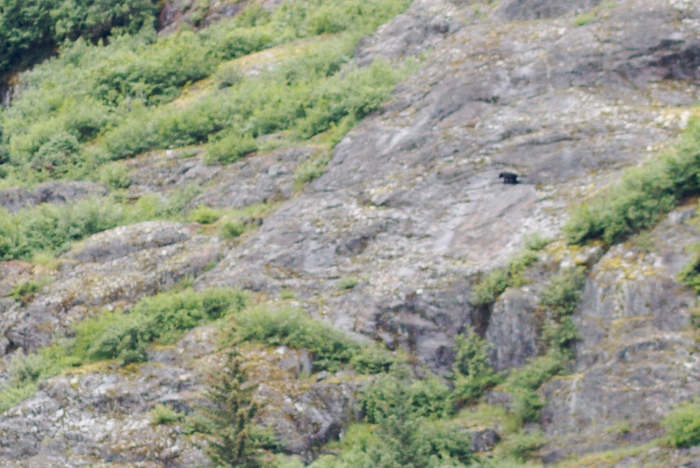 Very small to our eyes and rather far away … but still very clearly a bear…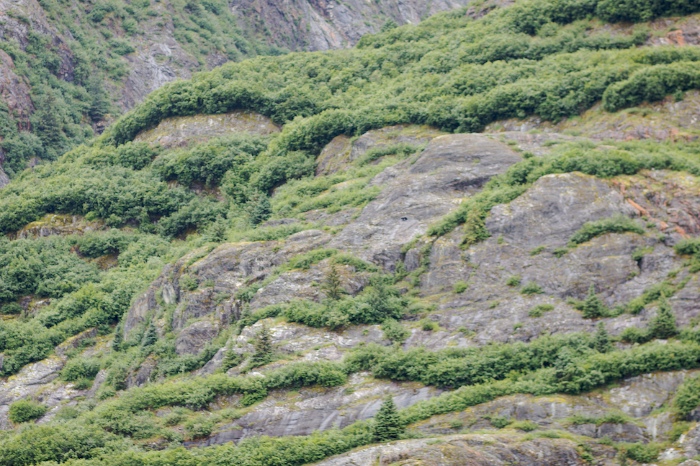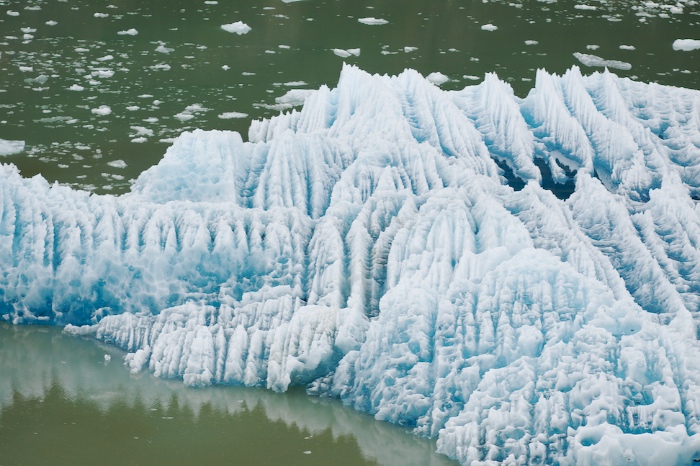 We turned around to go back down the channel around 8a or 9a … at which point I went back to bed…
Got to rest up for the rest of the day in Juneau!