Thursday morning – our last Alaska port
Before the trip, I was SUPER excited about visiting Skagway. It was my favorite part of the 2002 Alaska cruise I took with my family, and I tried to impress upon Andrew and Julie and Kaitlin how awesome Skagway is…
This was another early-morning docking.
After breakfast and all we got off the ship probably around 8a or 9a….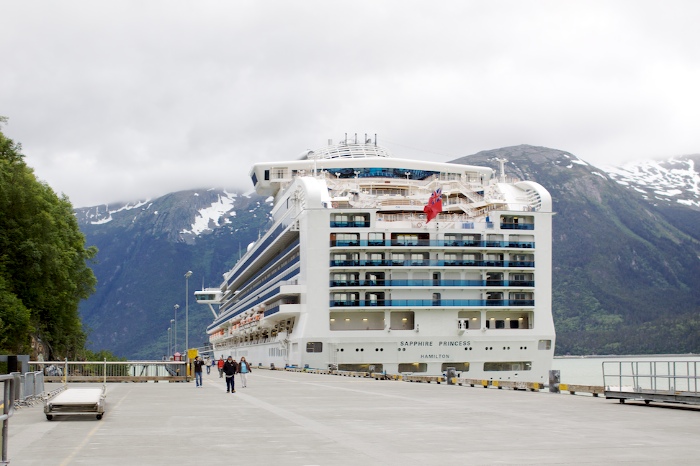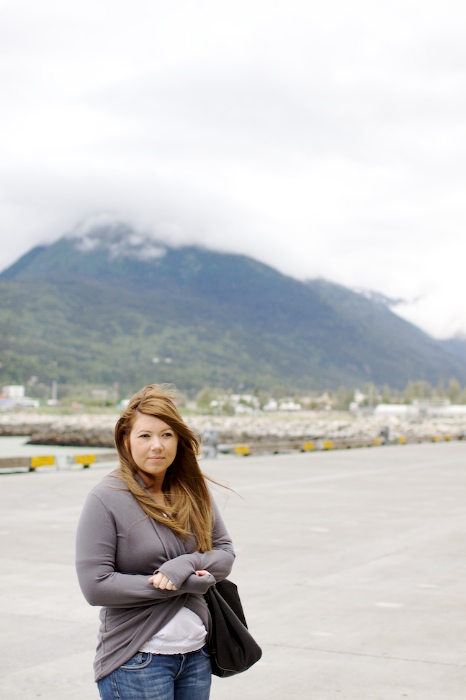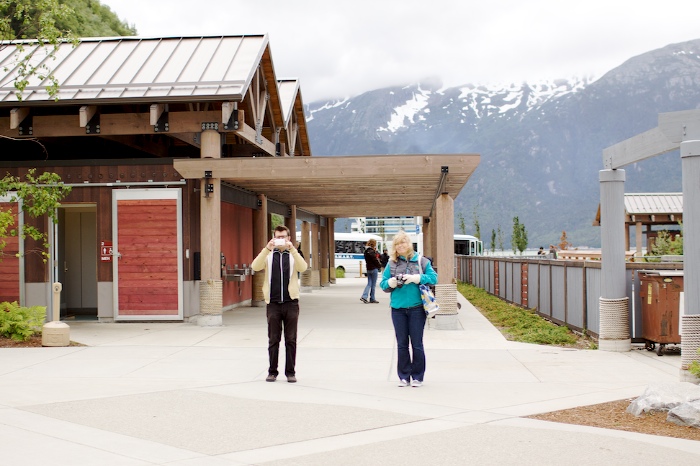 Skagway is tiny …. TINY.
Population 800 people and a city center of really just a few blocks…
We knew we wanted to do some kind of history/wilderness guided tour but weren't 100% sure on which.
We passed several way-too-flashy TOURS booths and got all the way into town …. along the old gold-rush era wooden board walk sidewalks no less ….
We found a small store front advertising guided tours and booked a 2-3 hour tour in a little mini-bus up to the Canada border and back….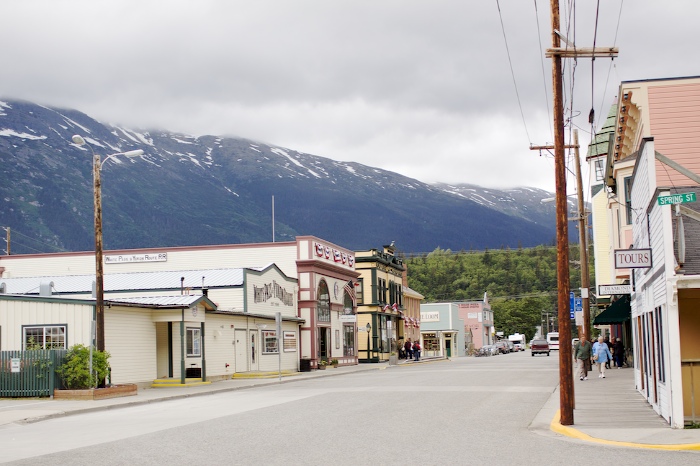 There were only 12 people on our tour (including the 4 of us) and our tour guide Joe was just adorable ….
Joe had this definite Boston accent and we learned he visited Skagway on a cruise in 2004 and has worked here every summer since then …. (lives in Oklahoma the rest of the year)…
PLUS! He drove us by his "house" …
Due to private land limitations, house/rent prices are actually absurdly high in Skagway. Apparently most summer tourism workers live in tents or trailers all summer!
Can you picture this 60 or 70-something year old retiree, probably a widower, snowbird getting bored with all his free time so he starts working summers in Alaska?
so cute!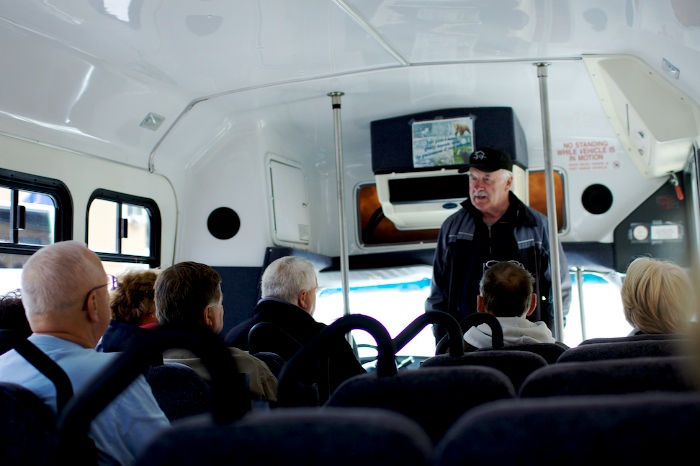 Our guided tour took us first to the Gold-Rush-Era cemetery outside of town.
It's pretty small – since most of the people were shipped back to the lower 48 to be buried with family.
But there is this HUGE and absurd monument to Frank Reid.
Reid was a criminal and a bully and manipulator in his own right, but he killed Soapy Smith – the far worse mob-type leader in town – and so earned the gratitude of Skagway.
History is funny that way….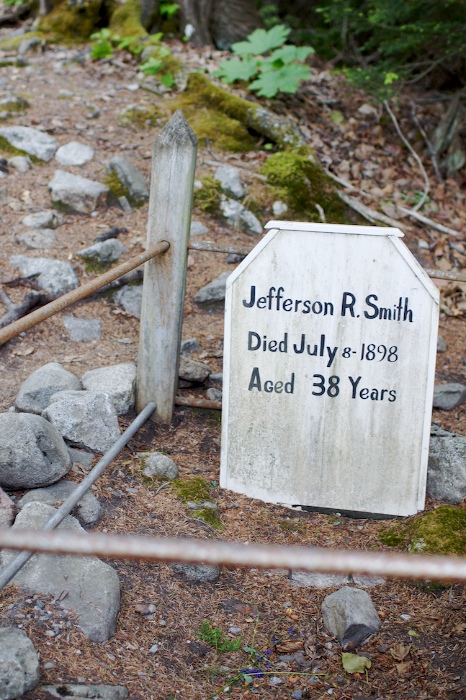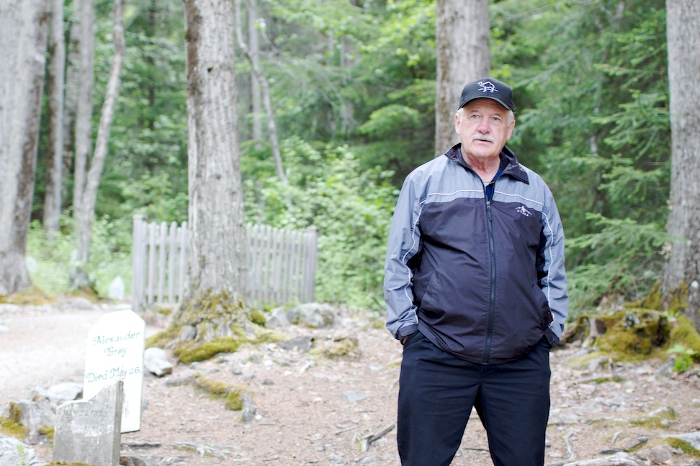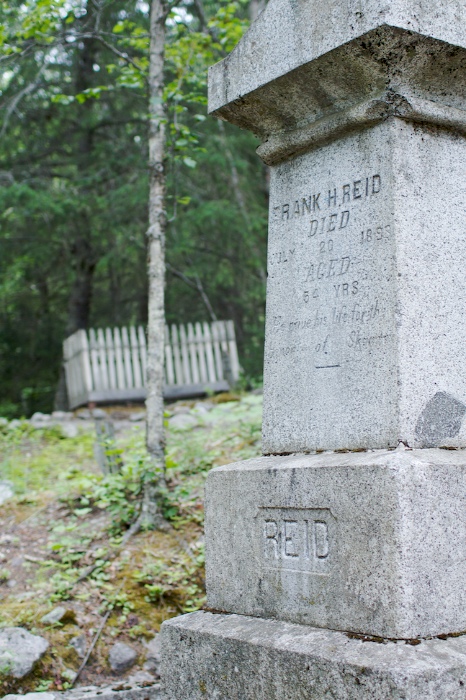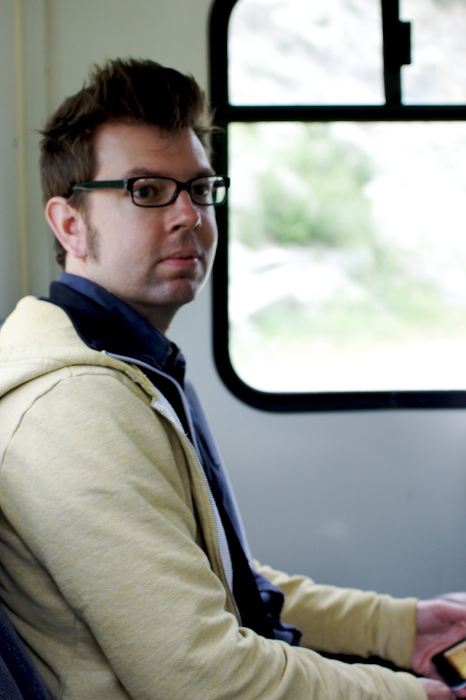 Pitchfork Falls …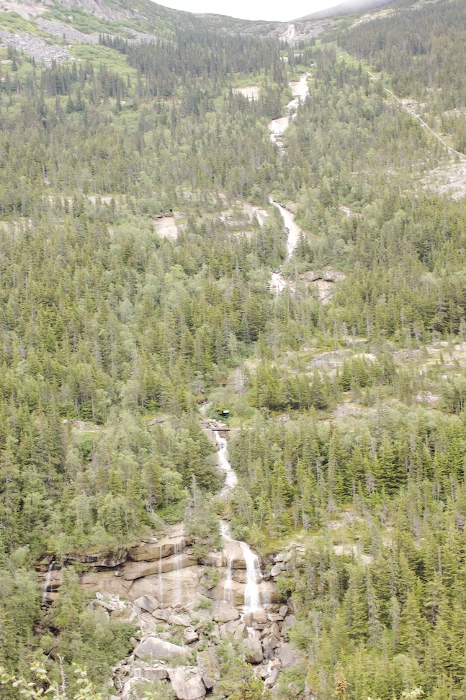 Our guided tour took us up the road that paralleled the trail that prospective miners would take to reach the Yukon and their gold strike. They would have to make SEVERAL (5? 6?) trips up to the top, then back to town and back to the top, etc.
There was a required 1 ton of supplies that were required before the Canadian government would let them move forward.
It seems just crazy.
And intense…
… and bizarre.
Something like 4000 people went up there searching for gold and only 25 or so left Skagway with any wealth…. Crazy, no?
I must not have an adventurous spirit. There's no way I'd ever climb Mt. Everest, either ….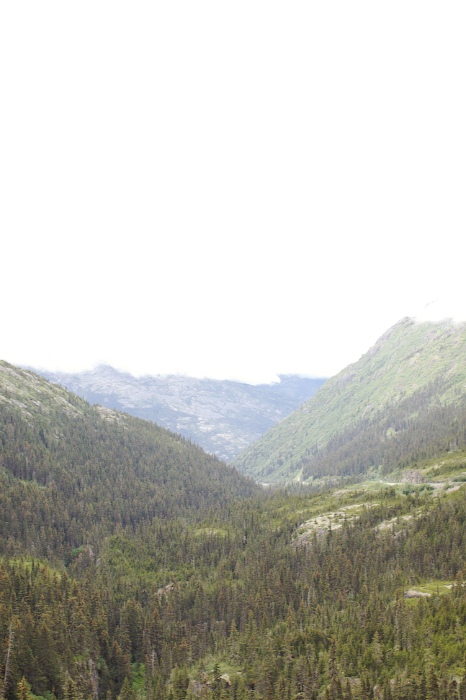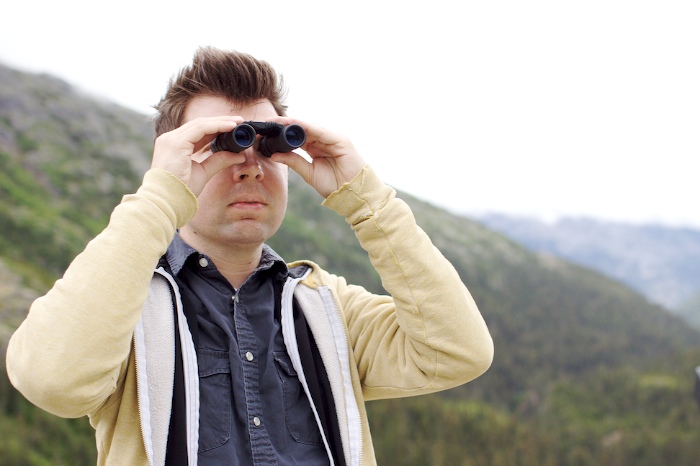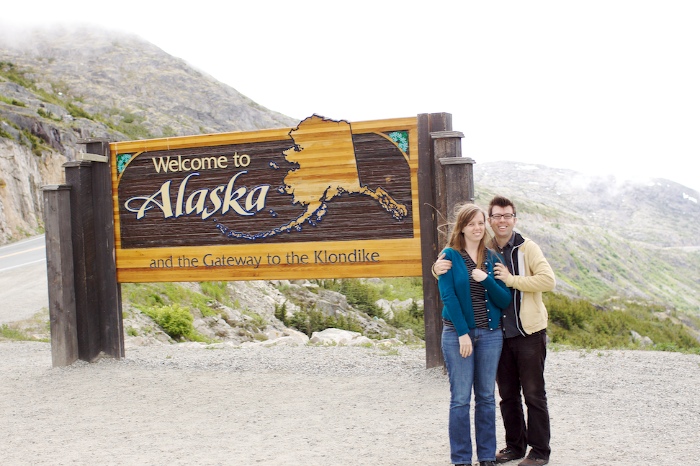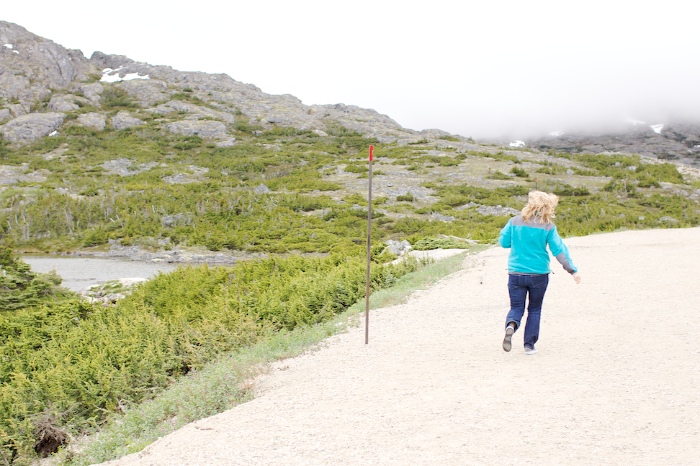 The landscape up and back was just breath-taking at every turn. Steep mountains carved by a glacier centuries ago. Chance of wildlife (bears, mountain goats and moose) even though we didn't see any …. and up to this high-altitude region where the trees only grew about knee-high.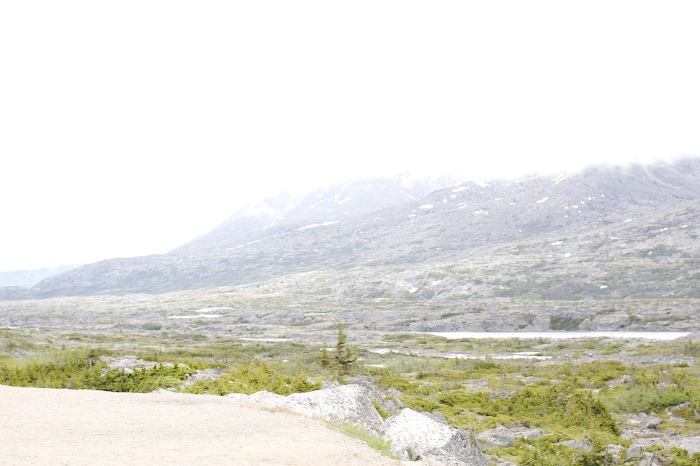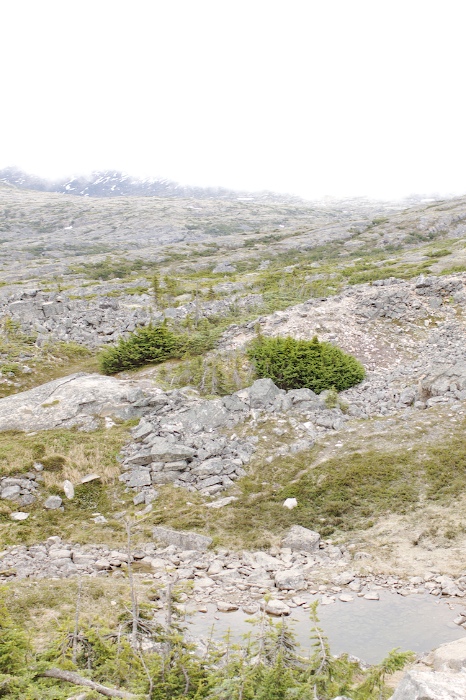 Below is ….International Falls (I think) ….
This river comes down the side of the hill and breaks into 2 different streams… and the only river that feeds both the Atlantic AND the Pacific oceans.
Kinda cool ….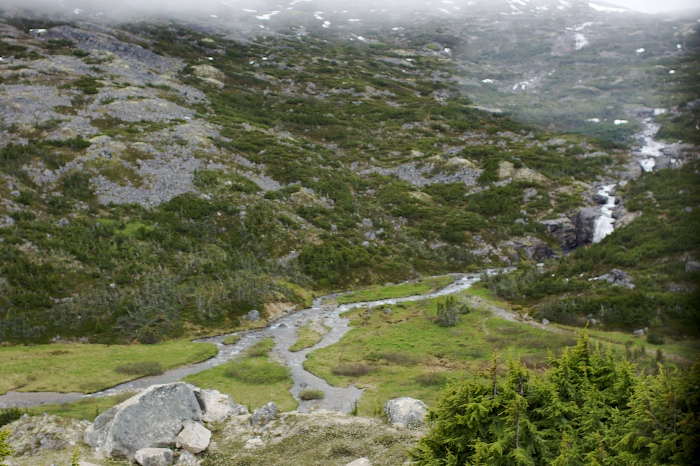 We drove up to the Canada border and back down …. More on Thursday ….