Recipe is from Smitten Kitchen (reposted below with my own notes and adjustments)
Smitten Kitchen's "Perfect Blueberry Muffins" are aptly named.
The biggest change I made was to double the recipe. She seems to think her half-recipe of 9-10 muffins is enough. ha! Clearly not.
I doubled the recipe and made almost 3 dozen small muffins (perfect sized, really)
Perfect Blueberry Muffins
Adapted from Cook's Illustrated
Makes ~32-36 small muffins
Ingredients:
10 tablespoons unsalted butter , softened
1 cup  sugar
2 large eggs
1 1/2 cup sour cream or plain yogurt*
1 teaspoon grated lemon zest
3 cups all-purpose flour
3 teaspoons baking powder
1/2 teaspoon baking soda
1/2 teaspoon salt
1 1/2 cup blueberries, fresh or frozen (if frozen, don't bother defrosting)*
*As far as ingredients go:
Trader Joe's has this AMAZING Vanilla yogurt (in the image above) that genuinely tastes like cream cheese frosting. It's heavenly and it's what I've been using. My one big problem w/ this yogurt is you can't really buy a lot. The TJs near us sells this yogurt in small (about 1/2 size) cups, as half of a 6-pack (with blueberry yogurt). I would buy gallons of this stuff if they let me !
For blueberries … I've only ever used fresh. And for this type of ingredient, I really prefer to just use the package amount than measure out an exact cup-and-a-half. You'll see what I mean when I post my recipe for Mexican pasta salad. This muffin recipe calls for about 7.5 oz; the fresh blueberries at the grocery store come in containers of 6oz and that is good enough for me.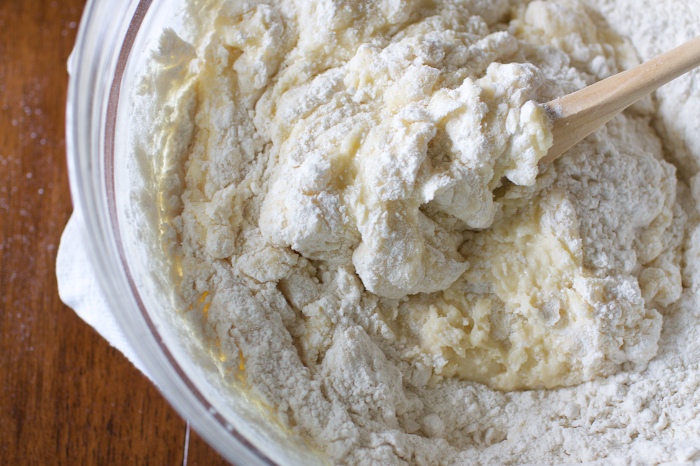 Directions:
Preheat oven to 375°F.
Line a muffin tin with 10 paper liners or spray each cup with a nonstick spray.
Beat butter and sugar with an electric mixer until light and fluffy.
Add egg and beat well, then yogurt and zest.
Put flour, baking powder, baking soda and salt into a sifter and sift half of dry ingredients over batter.
Mix until combined.
Sift remaining dry ingredients into batter and mix just until the flour disappears.
Gently fold in your blueberries.
The dough will be quite thick (and even thicker, if you used a full-fat Greek-style yogurt), closer to a cookie dough, which is why an ice cream scoop is a great tool to fill your muffin cups. You're looking for them to be about 3/4 full, nothing more.
Bake for 25 to 30 minutes, until tops are golden and a tester inserted into the center of muffins comes out clean (except for blueberry goo).
Let cool on rack (ha), or you know, serve with a generous pat of butter.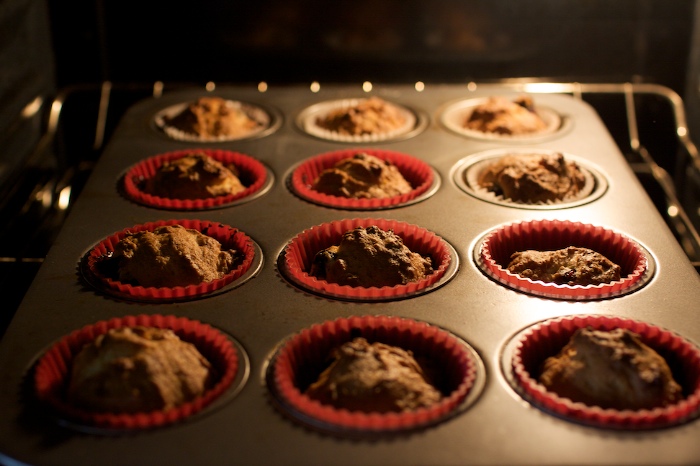 I think I probably ate 4 of these as they were coming out of the oven…
But as you can see, I'm only getting about half-sized small muffins so eating 4 isn't *quite* as bad as it sounds.
It's not GOOD, of course

Andrew will be eating these every morning til they are gone ….
Smitten Kitchen's Perfect Blueberry Muffins
If you make some, be sure to comment below and let us know!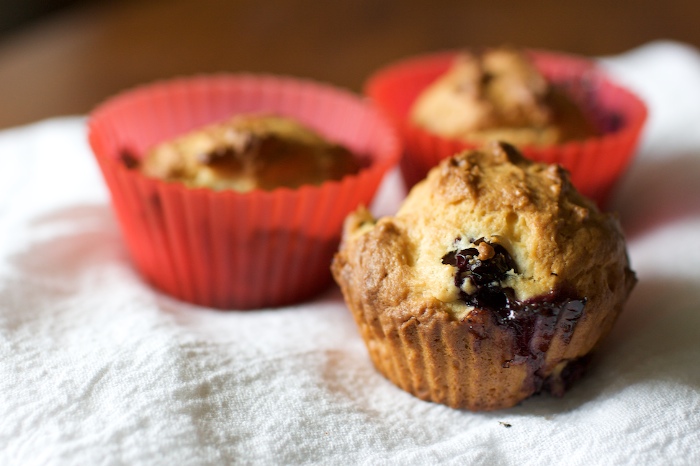 Do you have a favorite muffin recipe?