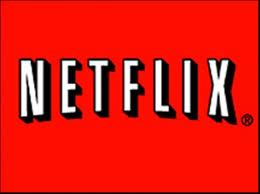 It's no secret Andrew and I love Netflix.
Obviously.
It's pretty much one of our favorite things. We won't pay for cable TV because Netflix is enough ….
And then Netflix did one better and offered unlimited instant streaming via the internet.
And THEN … they hooked up with Nintendo and let us do it with our Wii.
It's magic.
And it lets us watch so many more movies and TV shows than we ever would be able to ….
Top 5 Favorites:
Reasons we love Netflix Instant Streaming
We can stream it through the Wii - We don't have to watch it on the computer, but can actually watch any movie on Instant streaming on our television. The wireless internet signal gets sorted through our Wii (which we have had for several years now) and it's SUPER easy!

We get unlimited instant streaming time – Days off can easily turn into movie marathons because all the Netflix plans now include unlimited instant streaming hours. When we originally signed up for Netflix there were limited hours available depending on your plan, but Netflix has expanded the Instant streaming hours to unlimited every month. It's magical. And dangerous.

We can watch a movie anywhere we have a computer + internet - Anywhere. For example, in Palm Springs, when we were at the ACE Hotel. Or even on my phone, during my lunch break at work. Anywhere. AND Netflix remembers where I am in the movie. So if I start it at work on my phone, and then watch some more at home on the TV, Netflix knows where I have left off.

The Instant selection is getting so much better! – Netflix has REALLY been focusing on their Instant movies. The entire series of TV shows like XFiles, Lost, the Cosby show, etc are all available. It's SO MUCH FUN! I have plans to go online this weekend and see what Elizabeth Taylor movies are available. Every time I go on the Netflix queue there are more and movies I want to watch.
We can watch a movie or TV show on demand – Any time we are craving a particular kind of movie or TV show we can just turn on the TV+Wii. No more driving down to any video rental store. It's all there. Just at a couple clicks.
LOVE IT.