Our last little bit of Monday in Rome ….
We finished out guided tour of Palatine Hill, the Roman Forum and Colosseum after about 2.5 or 3 hours … and then Andrew and I had just enough time to walk back to Trastevere, get lunch, pick up our luggage, and make it to the train station in time for our train to Florence.
Busy busy!
Walking away from the Colosseum (image below the Colosseum is behind me with the Palatine Hill on the right) …. we walked right under one of the Roman Aqueducts
From Rick Steves:
Rome's mighty aqueducts kept water flowing into the thriving and thirsty ancient city of one million. They also eventually provided a handy Achilles' heel for invading barbarians: Simply break an arch in the aqueduct, and life becomes very tough within the city walls.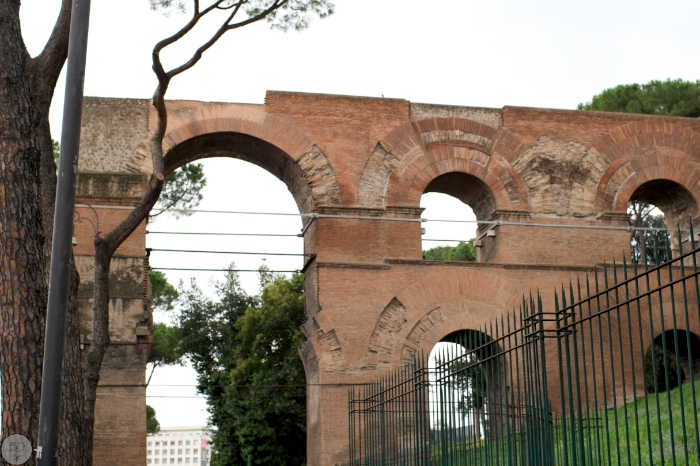 (to get an idea of the size:)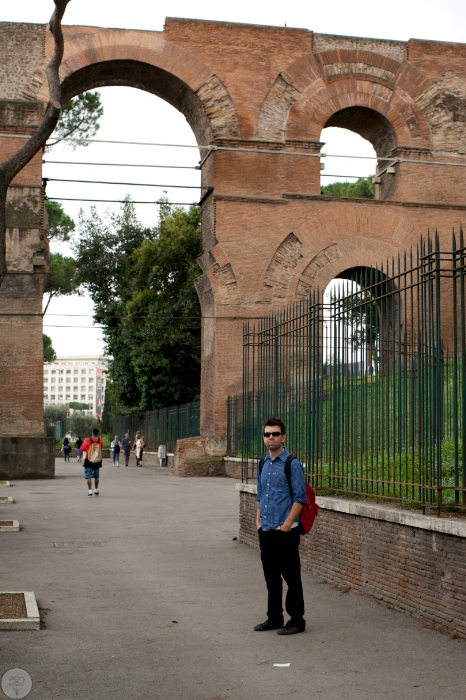 So we walked back to Trastevere along Circus Maximus, again ….. Circus Maximus is pretty much just a big field.
From Rick Steves:
If the gladiator show at the Colosseum was sold out, you could always get a seat at the Circus Max. In an early version of today's demolition derby, Ben-Hur and his fellow charioteers once raced recklessly around this oblong course.

The chariots circled around the cigar-shaped mound in the center (notice the lone cypress tree that now marks one end of the mound).  Bleachers (now grassy banks) originally surrounded the track.

The track was 1,300 feet long, while the whole stadium measured 2,130 feet by 720 feet and seated 250,000 people. The wooden bleachers once collapsed during a race, killing thousands.

The horses began at a starting gate at the west end, while the public entered at the other end. Races consisted of seven laps (about 3.5 miles total). In such small space, collisions and overturned chariots were common. The charioteers were usually poor lowborn people who used this dangerous sport to get rich and famous. Some succeeded. Most died.

The public was crazy about the races. There were 12 per day, 240 days a year. Four teams dominated the competition – Reds, Whites, Blues and Greens – and every citizen was fanatically devoted to one of them. Obviously, the emperors had the best seats in the house; built into the palace's curved facade was a box overlooking the track. For their pleasure, emperors occasionally had the circus floor carpeted with designs in colored powders.
You can see the steps built into the slope below …. that's a totally modern street (cars parked along) under the row of trees ….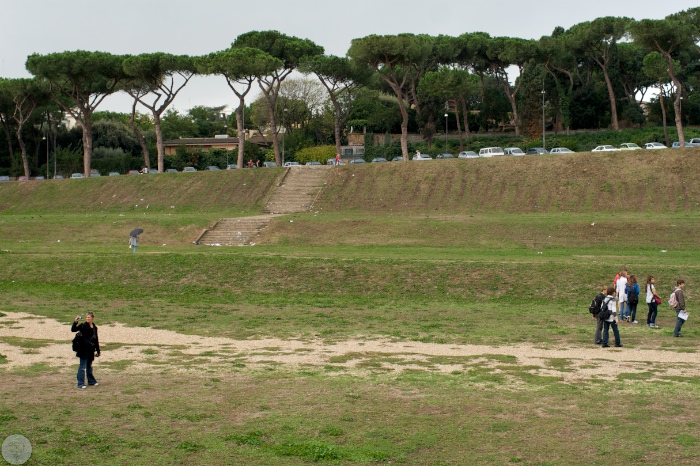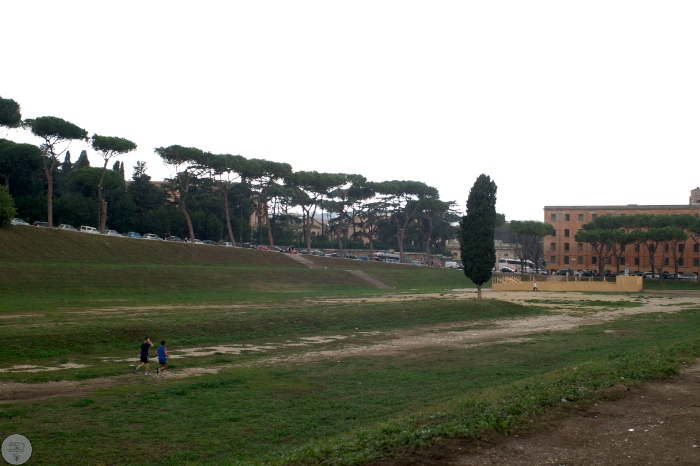 Just after I took the image above – the sky opened up and POURED water on us.
Poured.
And we had no umbrella. Or hood. Or even had a real jacket. Neither of us.
In the image below, on the left side is a long row of trees between the street and Circus Maximus.
That was our sole cover from torrential rain.
I wish I had an umbrella just to protect my camera so I could have taken a pic …
But, really, in spite of the lack of protection – these are the magic moments that make traveling such a memorable experience. And there isn't anyone I'd rather be with than Andrew …. the next time I'm walking along the street adjacent to Circus Maximus in Rome and I get stuck in a rainstorm …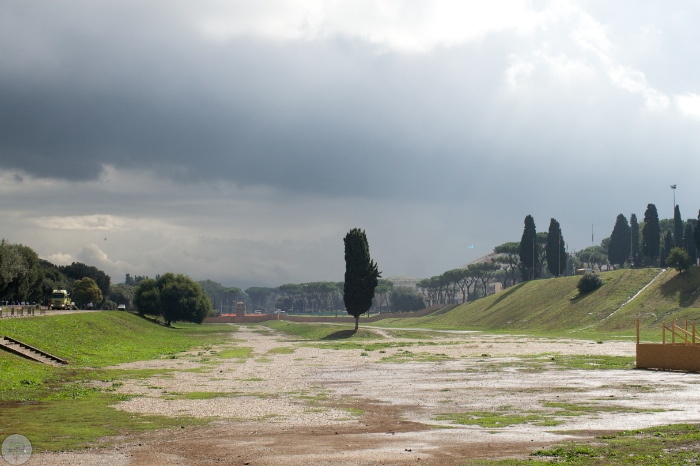 evidence of the storm: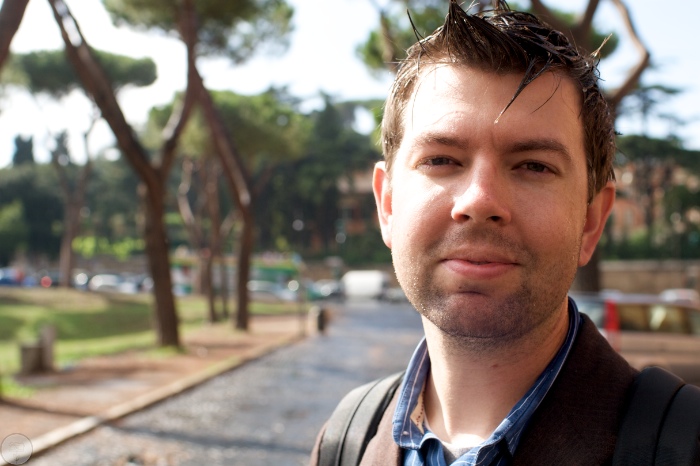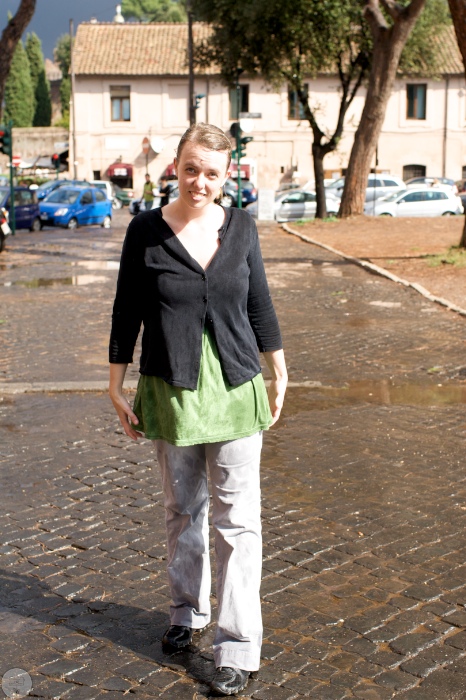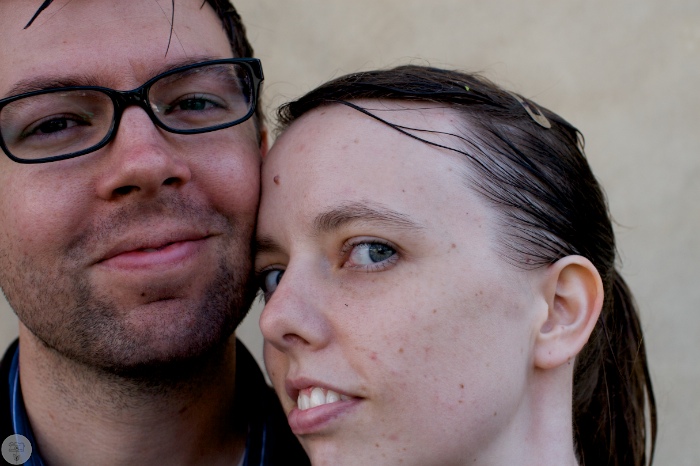 We continued our walk back to Trastevere … through Rome, across the Tiber, past another fountain and temple and ruins which are EVERYWHERE in this city …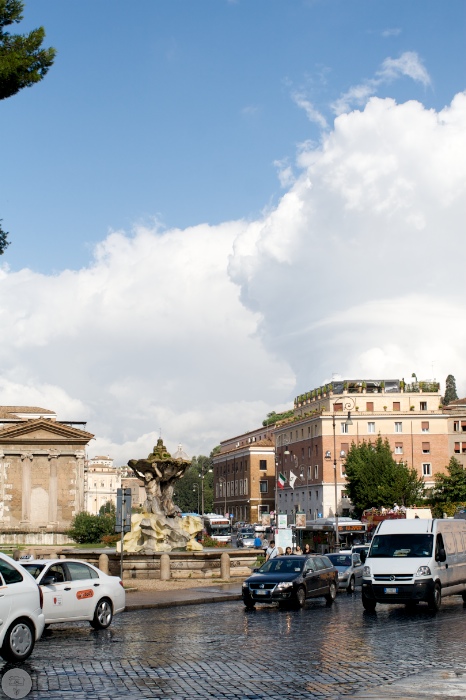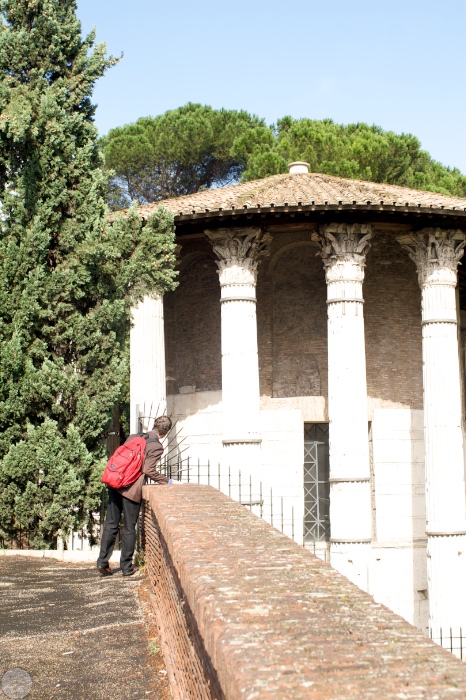 As we walked through Trastevere, we just kept our eyes open for a little restaurant that would be open (not all the places open before 12:30) …. As we turned down Via Salumi (or 'Street of Cold Cuts') we came across this cute little restaurant front …
Called Sette Oche (Seven Eight), the chairs/tables basically create the edge of the road …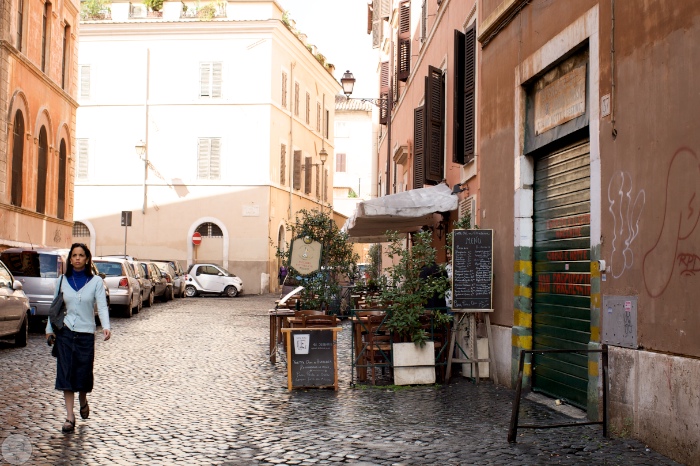 The first table Andrew chose was already taken …. so we moved down to the next one …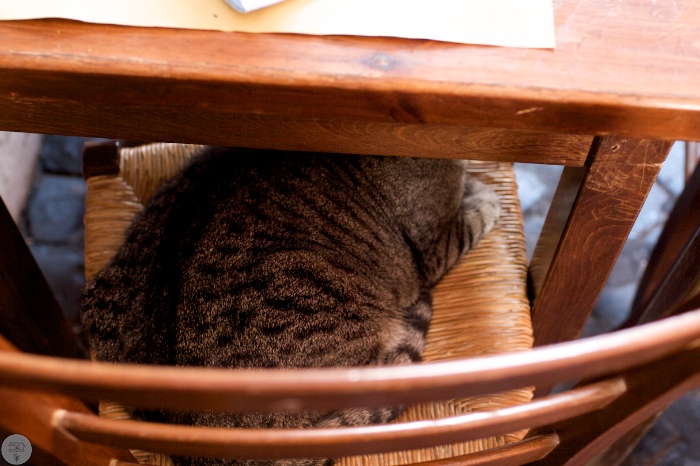 This is what my wet hair looked like after I took it out of the pony tail ….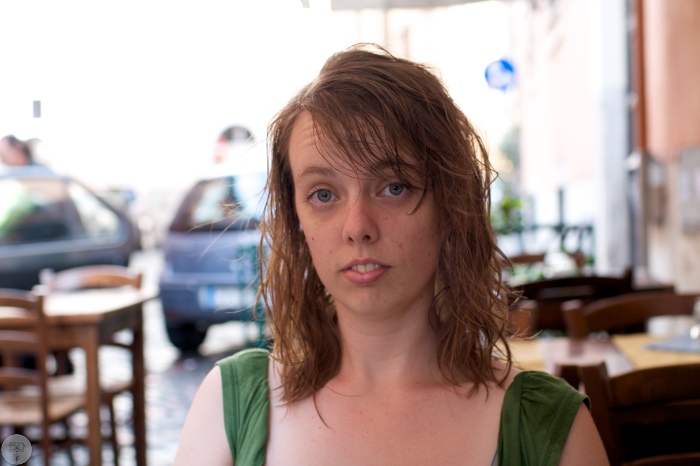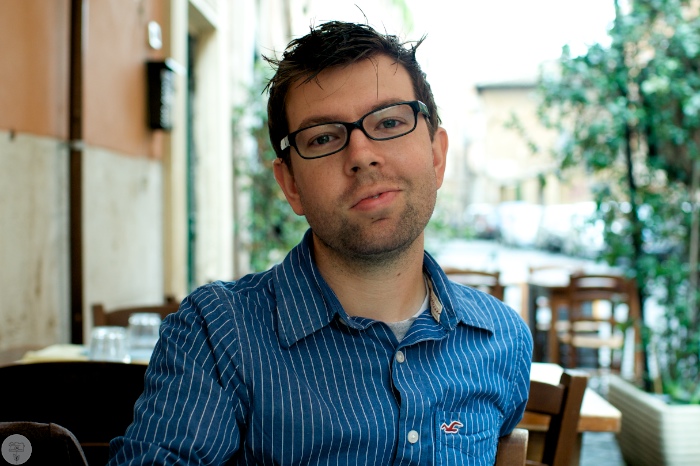 Lunchtime.
First of all …. Rick Steves encourages his readers to look for off-the-main-street restaurants, for places that don't proclaim "We speak English!" and other touristy indications. The food tends to be more authentic and usually fresher (because they're not holding/keeping a bunch of stuff just to please the tourists).
Andrew and I were pretty good at finding places to eat, for the most part.
This restaurant, in particular, was the only place we went to the whole week that didn't have ANY English on the menu.
This was also one of 2 restaurants we went to the whole week that I didn't care for.
So much for that rule.
We got Ravioli, some other kind of noodle in tomato sauce, and a tray of meat. …. photos below.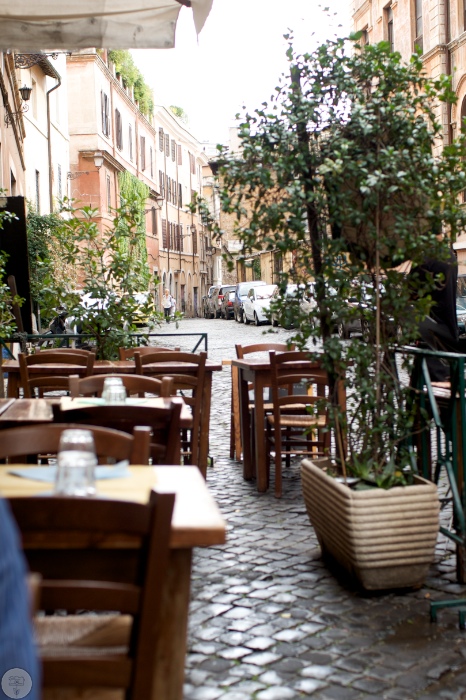 Right across the street from the restaurant was this school ….
From Rick Steves:
This red-brown building (pretty ugly unless you're a fascist) is a school from the Mussolini era. The fascist leader believed in the classical motto 'mens sana in corpore sano' ('a healthy mind in a healthy body'), and loved being seen fencing, boxing, swimming and riding. He endowed school buildings with lots of gyms.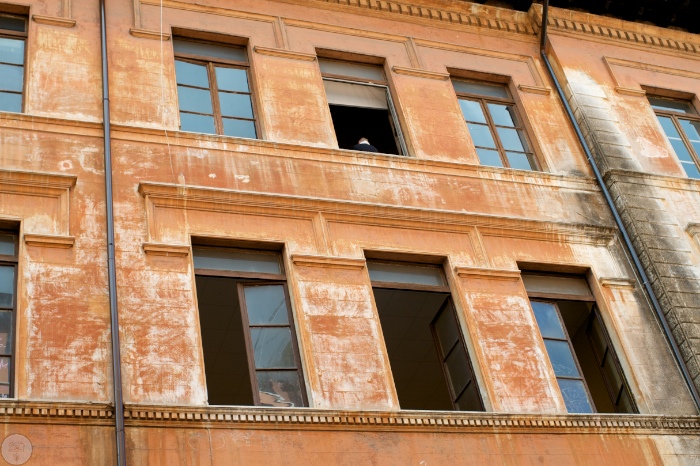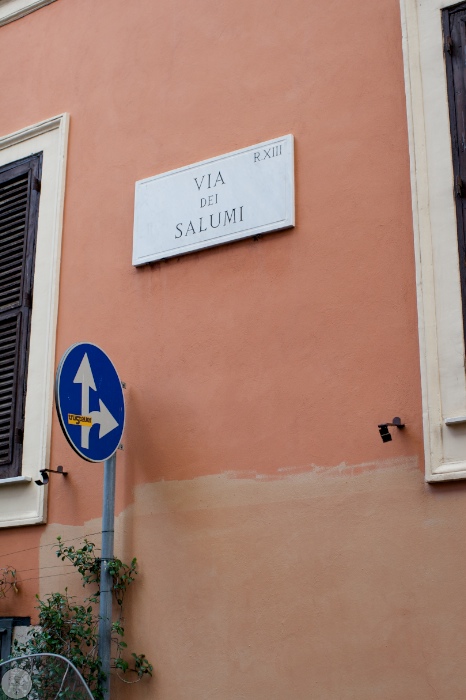 After lunch, it was just a short walk to our bed and breakfast to pick up our luggage and drop off our keys.
We ended up being a little early, but still not early enough to walk to the train station, so the plan was to take a cab ….
Andrew has blogged about driving in Rome …. it was truly unforgettable.
Roma Termini (images below) is the main, central, larger train station in Rome … This is where we caught our 3p train to Florence.
Man, oh man. I wish we had a better train system in America. I love (love) being able to travel somewhere without having to worry about driving. Not that I drive when Andrew and I travel somewhere. But still.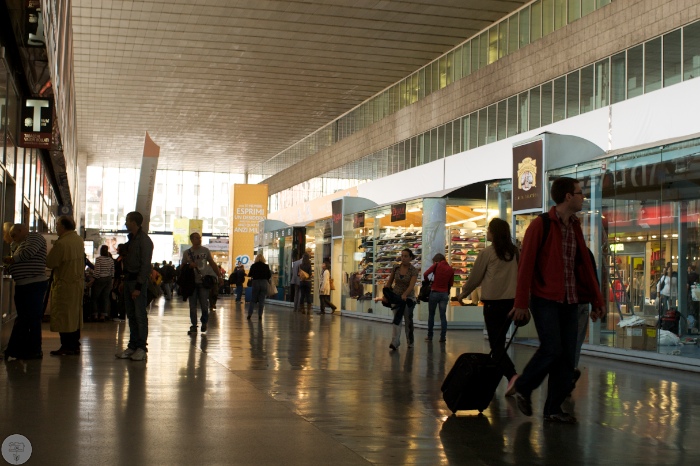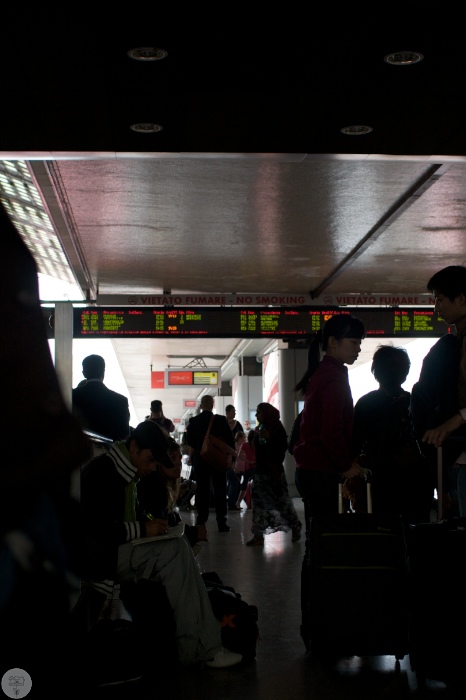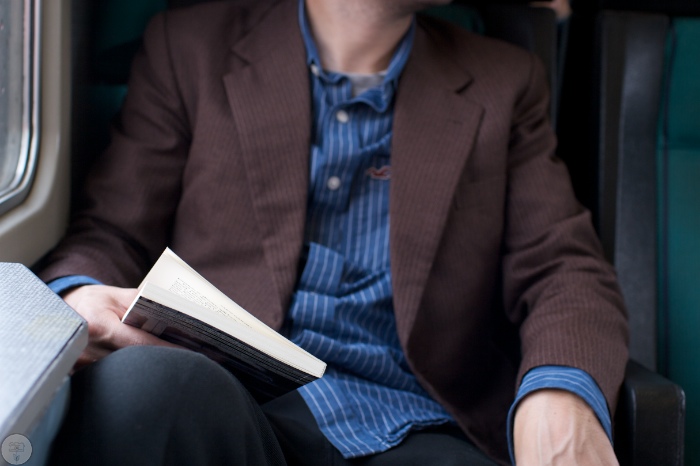 We got some more rain on the train, speeding through the Italian country side …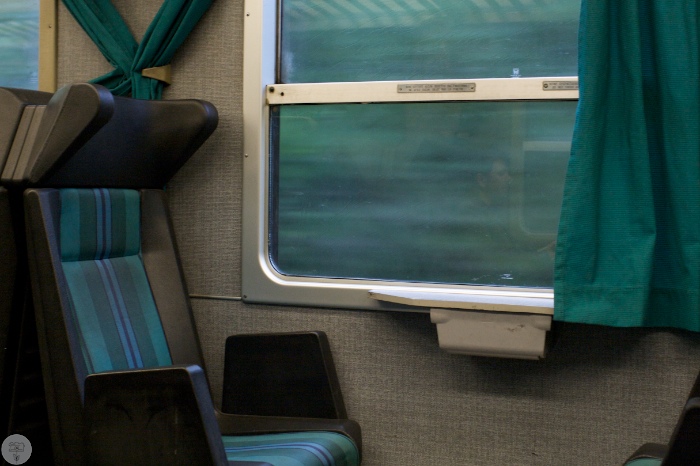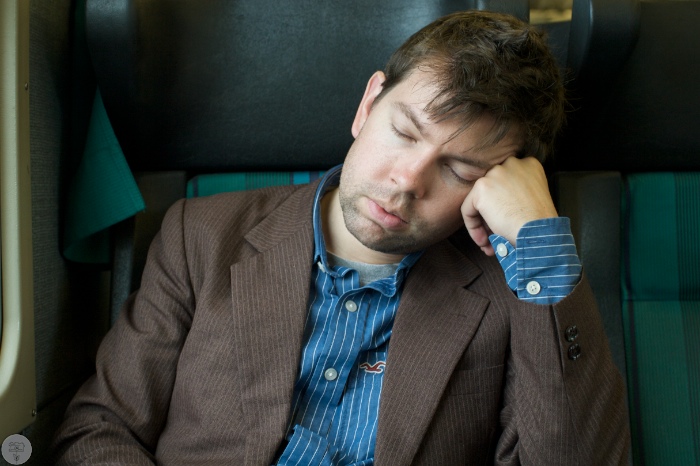 We arrived in Florence after dark …. photos and more to come!