First thing on the agenda Monday morning – a guided tour of the Roman Forum and Colosseum.
I've mentioned this before, but I am definitely the kind of girl who loves a good guided tour … I love being able to listen to someone who knows what they're talking about and NOT having to read a bunch of little plaques, or having my nose in the guidebook. I love the entertainment factor + people watching (everyone else in the group). Love it.
While Rick Steves has several English-speaking tour companies referenced in his guidebooks, how do you choose?
Luckily for us, Angela had been before – she used Angel Tours and LOVED them ….
From their site:
Our walking tours are always small groups of 8 -15 people. Sometimes even smaller, if you are lucky. This makes the tour more personal and private. We are not affiliated with any shops or restaurants, and we won't bring you to any souvenir stands. If we recommend something it is simply because, in our opinion, it is good.
This is an Irish owned company, and many of their guides are from the UK. They also run tours in Dublin, if you happen to be there …
This is what I love about Angel Tours:
native English speakers – WITH super cute accents (Scottish and Irish for our 2 tours)
small tour groups
laid back (we saw lots of groups of 30+ people where everyone had a little headset in, while the guide had a microphone. WAY too high-maintenance for me)
Entertaining (seriously, one of the guys getting all worked up about Michelangelo was fantastic)
Anyway . …. super fun. Not super cheap, but comparable to all the other guided tours … Highly recommended.
The tour we scheduled/reserved for Monday morning was of the Roman Forum and the Colosseum. Starting at 9a and going about 2-3 hours. Well worth the 50euro (plus entrance ticket costs) for both of us, I think.
We ended up getting to the meeting place for the tour at 9:01a. …. and we were one of the first ones there. Ha! Good thing we power-walked the whole way.
Oh well.
We pretty much got to 'rest' through the tour since we were the youngest on the tour by 20-ish years. *cough* I mean … uh … *cough*. ….well. YOU know.
Our tour guide (in the photos below) was Ken – from Scotland – and he was great. I was afraid Andrew would slip into his Scottish accent while on the tour … but he spared me.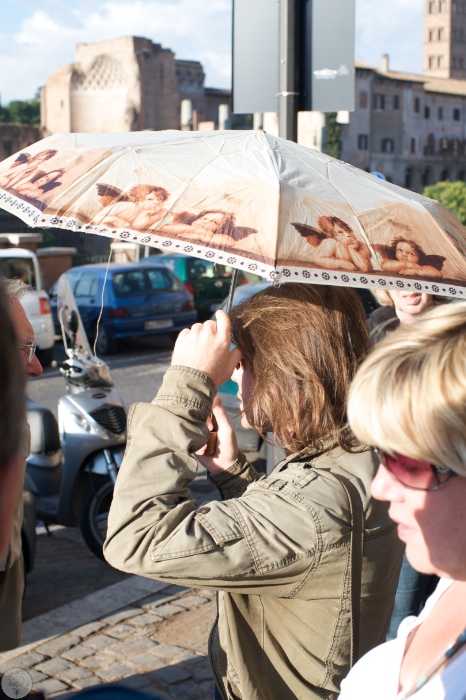 We met at the Metro station just across the street from the Colosseum … nice view, huh?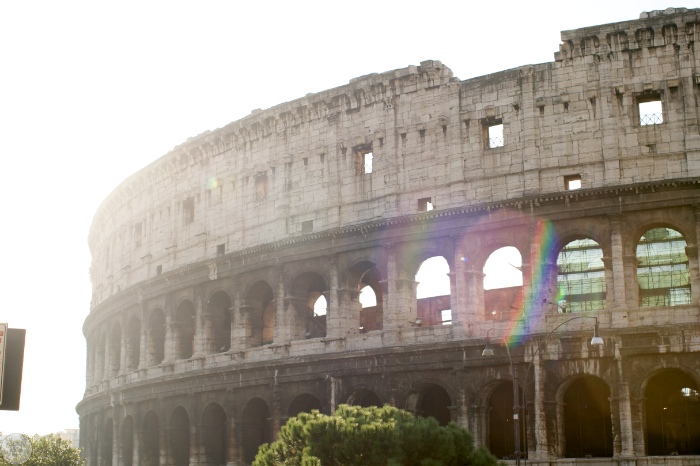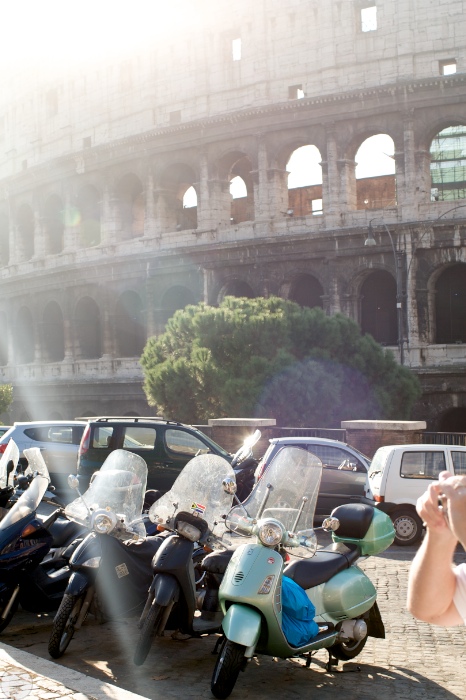 Some of the ancient cobblestone roadway passing between the Colosseum and the Forum … Take a look at the person's feet in the top of the shot and just picture how big these are! And not at all even. Pretty interesting.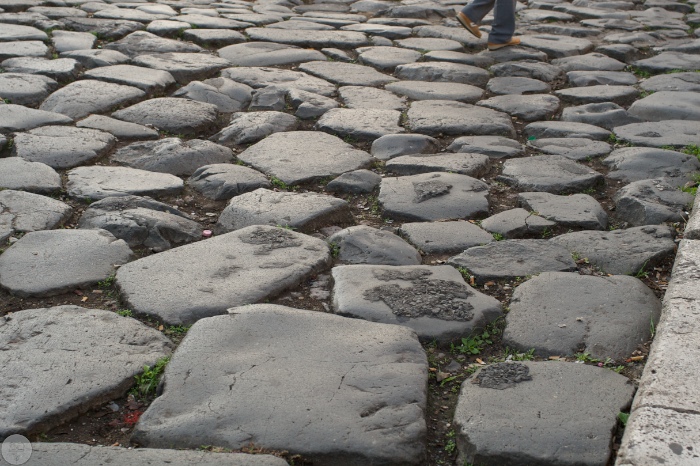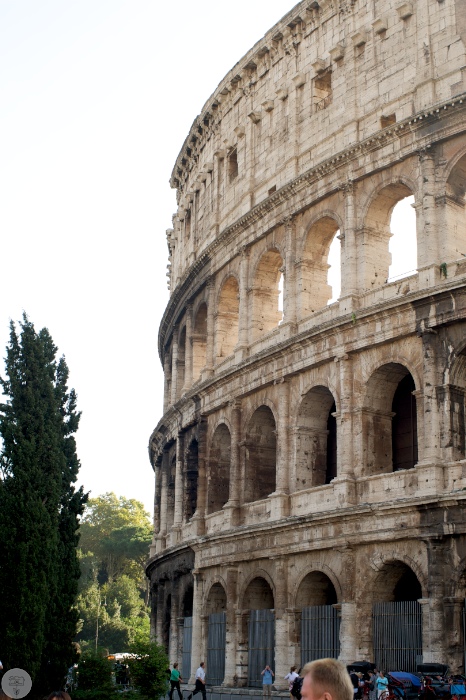 Below is a panorama of the Colosseum and Arch of Constantine. The first image that appears to be just a tree is actually the site of the colossus bronze statue of Nero (where the Colosseum got its name).
BTW – Nero was a maniac and we kept hearing about him everywhere in Rome.
We'll be coming back to the Colosseum, so I'll save the details til then.
The Arch of Constantine (pictures below) is pretty important to anyone who is a Christian or lives in a Christian-based society (i.e. pretty much most Americans). It was erected to commemorate Emperor Constantine's victory in 312AD – he then went on to become the first Christian emperor of the Roman empire.
Of course, 'Christian' is relative – since Constantine ordered his wife and son killed, and the Arch of Constantine contains images of various Roman Gods (Diana, Apollo, Hercules). But he did stop the religious persecution of his predecessor and make it the official religion of the empire… so that's something!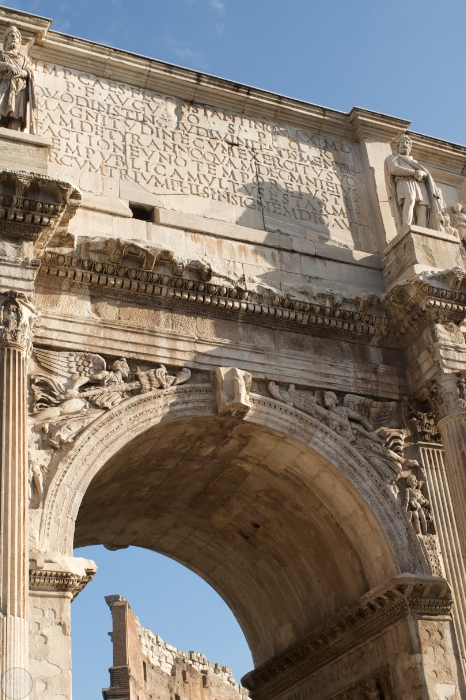 From Rick Steves:
This newly restored arch is like an ancient museum. It's decorated entirely with recycled carvings originally made for other buildings. By covering it with exquisite carvings of high Roman art – works that glorified previous emperors – Constantine put himself in their league. Hadrian is featured in the round reliefs, with Marcus Aurelius in the square reliefs higher up. The big statues on top of of Trajan and Augustus.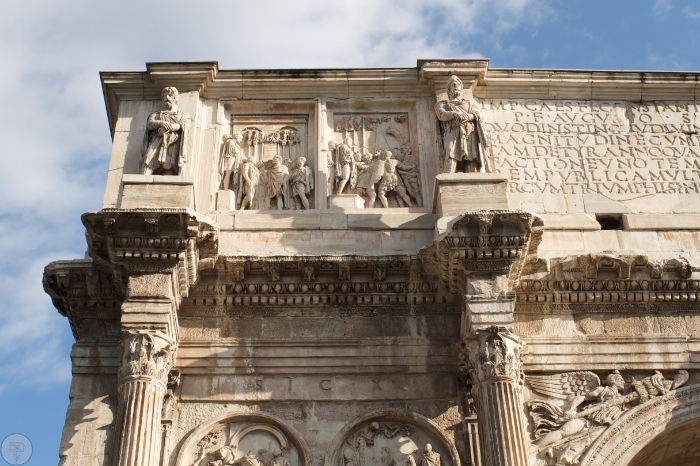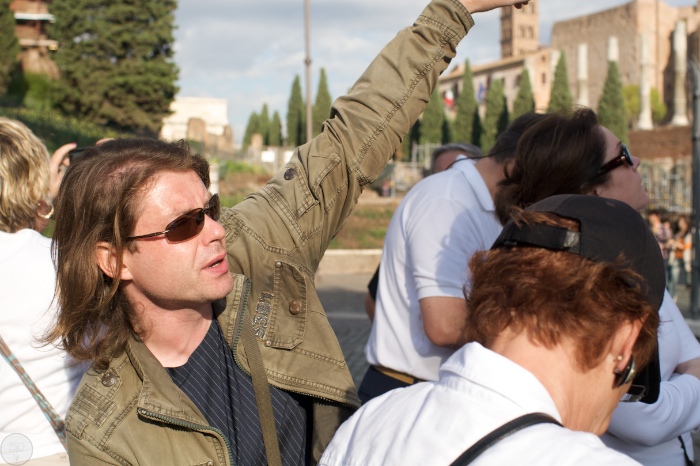 Next up: The Roman Forum and Palatine Hill