The last post about our apartment. I promise. The final corner and 'room' to be profiled.
When you walk into our front door, straight in front of you is probably going to be a bicycle, and then just past that is our kitchen.
It's a decent sized kitchen. Plenty of storage space for us – especially since there's no oven and a tiny fridge, there's not really a huge need for all this kitchen storage space. …
The microwave cart lives under the front window, right next to Andrew's record player. Which is probably why there is a tape player sitting right on top of the microwave.
Inside the microwave cart is our CrockPot and counter-top, plug-in stovetop. I've used it once.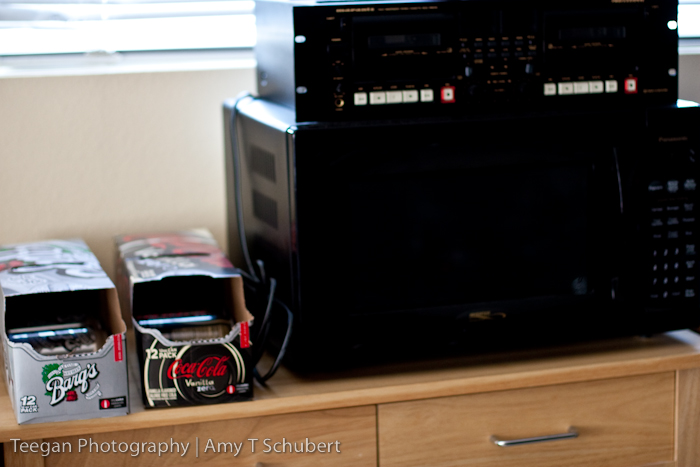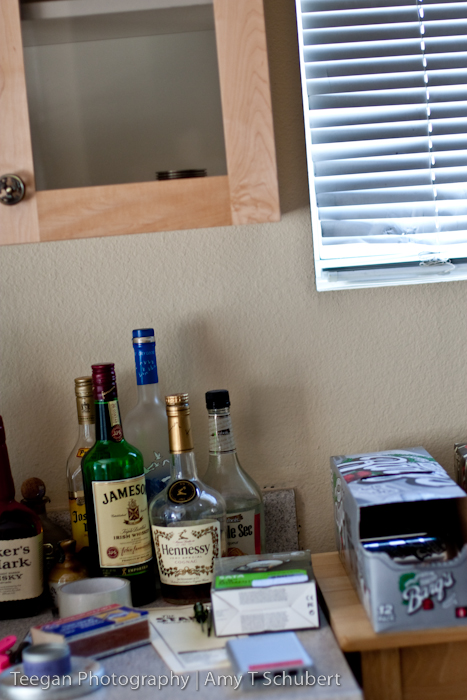 The 2 appliances that we keep out and use often are the coffeemaker (daily) and the toaster. The toaster is brand new. Just bought it. Andrew was using it everyday, until it got too hot to leave the bread and butter out on the counter. Now that those live in the fridge, I think he has forgotten about his toast phase..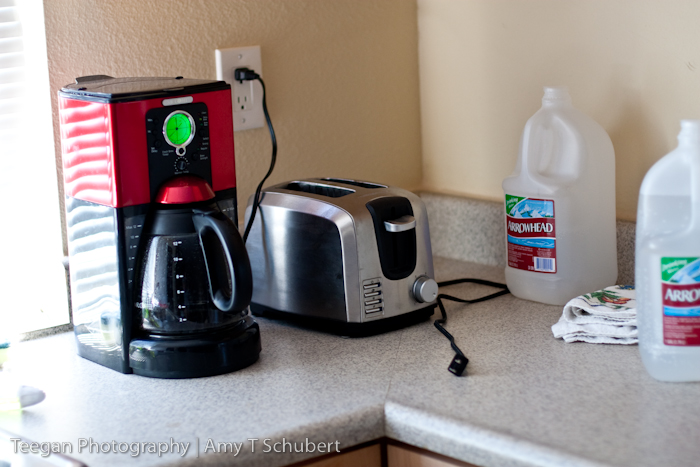 This sink is just under our side window. It opens towards our landlords' driveway – so we pretty much keep the blinds closed all the time. Plus, it is East-facing, and the sun in the morning coming through the window tends to make the kitchen kind of hot …
The sink is … interesting. There's no garbage disposal and no 2-sided sink wells (which would make dishwashing a lot easier, since we have to do it by hand). …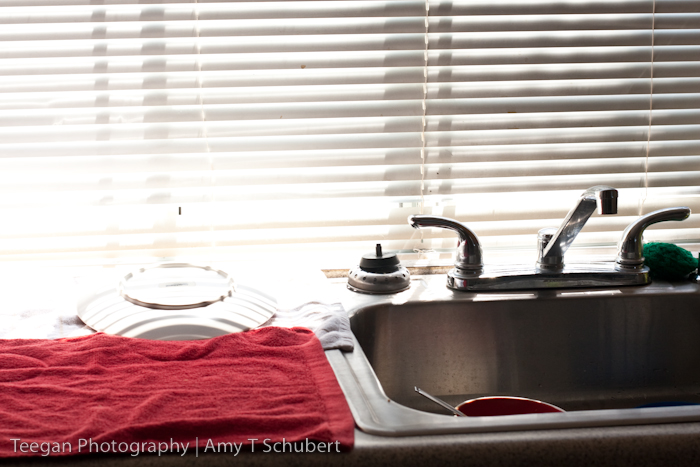 Just next to the sink on the other side is this tiny little book shelf.
I have no idea what the intention of this shelf is.
It's too shallow for anything (except maybe spice jars), but if it was any deeper it would block the already small closet.
So far we have a couple tapes there…. that's probably all that will live there.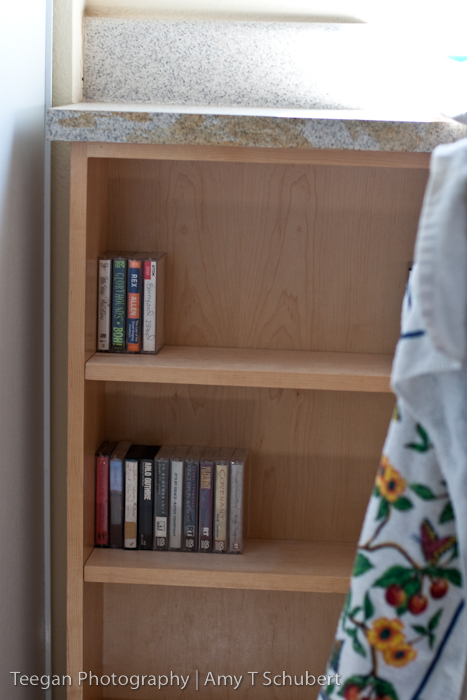 Our refridgerator is dorm-size. It lives under the counter, and the freezer is basically non-existent. Luckily both Andrew and I eat at work very often, and so far the fridge size has just been a tad annoying, instead of completely unmanageable. Ex: We bought GardenBurgers that need to stay frozen, so I had to take them out of the packages and put them in ziploc sandwich bags (2-to-a-bag) to fit them in the freezer.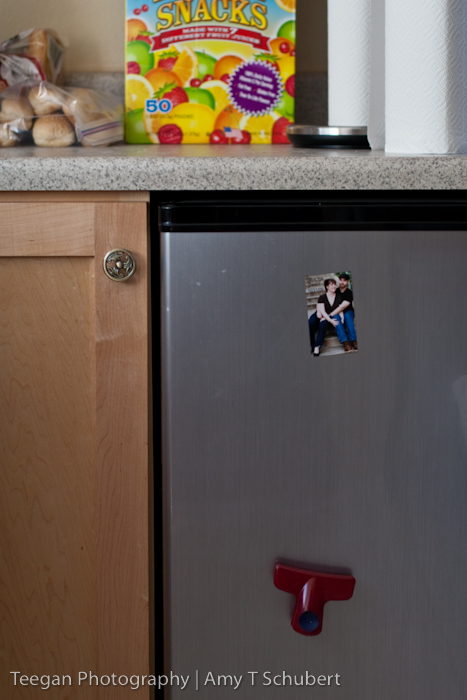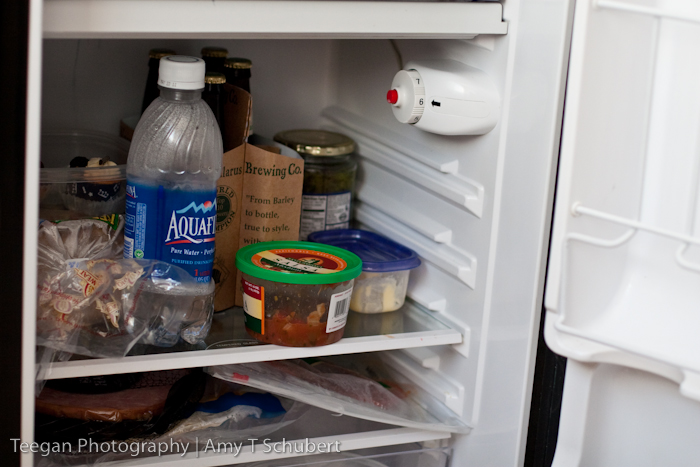 Like I said, plenty of storage space.
We have several completely empty shelves…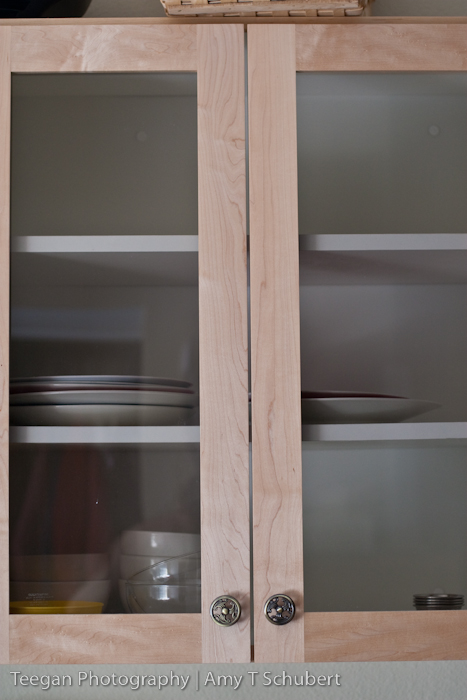 And finally, also in the kitchen, backing up to the wall of the bathroom and facing the sink area, is our closet.
It's smaller than our past closets, so our clothes are pretty well smashed in there. Andrew says he's just been wearing the same things over and over, so he doesn't have to worry about getting clothes in and out …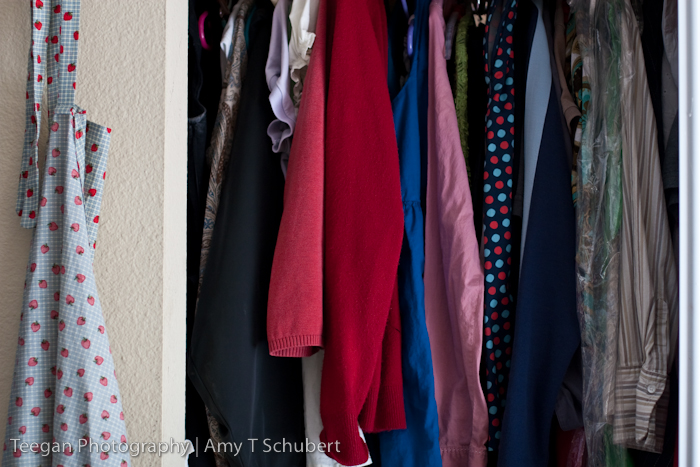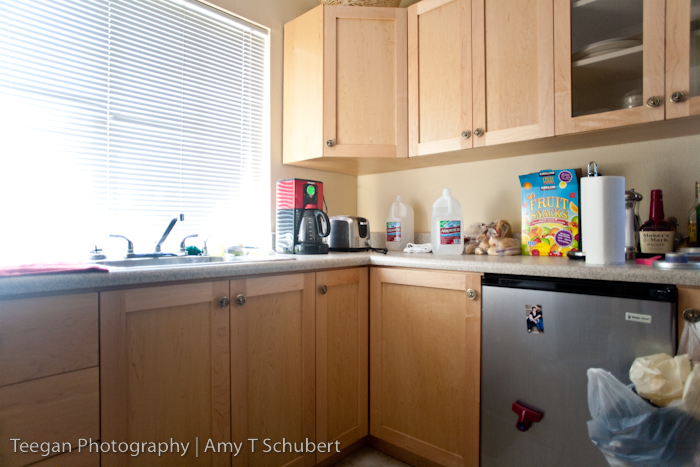 There you go.
A full and detailed look of where we are living now.
You are welcome to come visit us, but you'd probably have to sleep on the kitchen floor. Next to the bicycle.
This is really just a temporary space for a year or so until we buy a house. So the smaller, cheaper and more uncomfortable it is, the more motivated we will be to do the scary thing that is homeownership.