You have probably gathered by now that I love being married to Andrew and we love living in Southern California.
Sunday, by chance, we both happened to have the day off… we were productive (trip to Costco), we were lazy (watched 'All About Eve') and then all of a sudden it was 5p.
Andrew is fantastically creative and spontaneous and no day with him is ever dull …. so…
(his idea)
For dinner, we picked up pizza at Mulberry Street Pizzeria (a little hole-in-the-wall on Ventura Blvd that he has been wanting me to try) and drove out to Malibu to have dinner on the beach at sunset.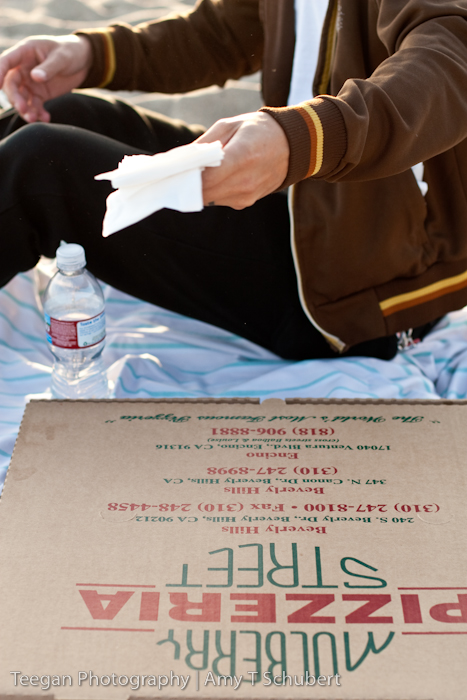 Pros:
A lot of people were leaving by that time of day, so we didn't have to fight for parking or a spot in the sand.
Sunset in Malibu? GORGEOUS
The weather/temperature was lovely and much cooler than at home.
inexpensive date night with almost no pre-planning required.
Cons:
The pizza was just OK (not great) and was almost cold by the time we finally got to the beach.

Next time, we'll just find/try a new place actually in Malibu

Andrew got tar-foot from the sand.
Already added to my unofficial list of adventures I love in Southern California.